Commentary
Villarreal spicing up predictable La Liga
Updated:
January 12, 2011, 10:59 AM ET
By
Michael Cox
| Special to ESPN.com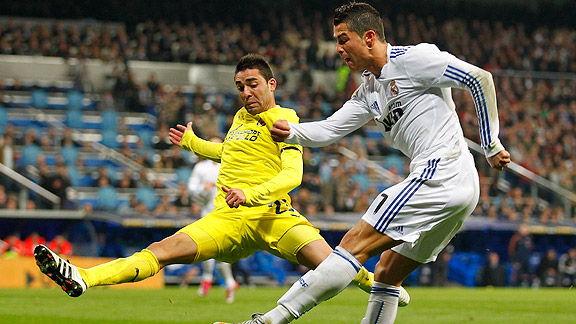 Angel Martinez/Real Madrid/Getty ImagesVillarreal might not win La Liga, but the Yellow Submarine is playing with flair -- and it could still sink the title hopes of either Real Madrid or Barcelona.
It's proving increasingly difficult not to like Villarreal. The team is in a distant third place behind Barcelona and Real Madrid in La Liga and therefore receives relatively little media coverage outside of Spain. But in a league that has been simply too predictable this season, Juan Carlos Garrido's side continues to excite with its beautiful, attack-minded football.
Garrido's favored formation is best described as a cross between an old-fashioned 4-4-2 and a South American 4-2-2-2. The wide players -- interiores -- have a responsibility to defend the wide zones and protect their fullbacks when Villarreal is without the ball. But when the Yellow Submarine wins the ball, Cani and Santi Cazorla scamper into the middle of the pitch into central playmaking roles, providing obvious forward passes for the central midfielders and the back four and dragging the opposition fullbacks out of place.
That leaves Villarreal with little width in midfield, but this problem is solved because Joan Capdevila and Angel Lopez play extremely attack-minded fullback roles, stretching the play. In the 4-2 defeat to Real Madrid this past weekend, Lopez was up against Cristiano Ronaldo. Any other right back would have decided to play a more conservative role against one of the world's best attackers, but Lopez spent the first half bombing up the touchline and instigating fast breaks down the flank. Real didn't know how to cope.
Villarreal's combination of forwards is also interesting -- Giuseppe Rossi is partnered with Brazilian striker Nilmar, and both spend their time drifting toward wide zones in order to move the opposing center backs out of position. This forward duo lacks height, but makes up for it with speed, footballing intelligence and finishing ability. Besides, when Villarreal has possession, the ball rarely leaves the ground.
With the wide midfielders coming inside, the fullbacks moving forward and the strikers drifting out wide, it's natural for the opposition to only focus on dealing with those six players and making sure none of them become unmarked.
But that strategy misunderstands the nature of Villarreal's tactics. The two key players, in fact, are the two holding midfielders -- two of Marcos Senna, Borja Valero and Bruno Soriano -- who remain in position at all times, always making themselves available for a pass and keeping moves flowing. The amount of movement elsewhere on the pitch means that ball retention is vital. There's no point shifting your whole formation if you only keep possession for 20 seconds.
[+] Enlarge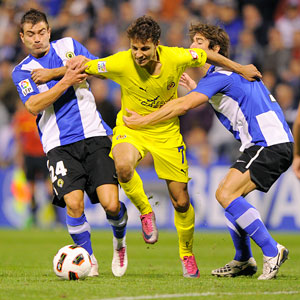 Jose Jordan/AFP/Getty ImagesMake way: Nilmar likes to drift into wide zones to force opposing center backs out of position.
The double pivot means Villarreal can keep it simple with its distribution, and like Sergio Busquets and Xavi Hernandez for Barcelona, the team's calm passing style is vital to allow the attacking players to express themselves and to force the opposition on the back foot.
This concept even managed to outfox Jose Mourinho over the weekend, albeit only for a brief spell. Mourinho sets his sides out to defend relatively deep -- they don't look to press high up and instead focus upon getting positioning right in their own third of the pitch. Ronaldo and Mesut Ozil barely have any defensive responsibilities, as they're given license to drift around, looking for space, ready to spring quick counterattacks. Against Villarreal, however, this didn't work. Lassana Diarra and Xabi Alonso dropped deep and let Bruno and Valero have time on the ball, resulting in Villarreal outplaying Real in the first half. The Yellow Submarine went ahead 1-0 and 2-1, but went in at halftime all square because of defensive lapses.
"A fairer scoreline at halftime would have been 3-1 to Villarreal," Mourinho told reporters after the match. He realized he was giving Villarreal's central midfielders too much freedom, and altered his strategy. "During the break, I spoke with the players. I told them that it was a false scoreline and that I wanted to change the system, and especially the way we pressurized them, and the game changed completely."
Villarreal ended up losing 4-2, but when so many teams arrive at the Bernabeu and sit back to play for an 0-0, its endeavor and bravery are admirable. It was the same story in November when Villarreal lost 3-1 to Barcelona at Camp Nou. The Yellow Submarine came out and attacked, producing one of the most entertaining games of 2010. Garrido rarely changes his formation for specific matches, instead preferring to impose a belief among his players that they can pick up results without compromising their natural style.
In that sense, Villarreal epitomizes Spanish football. Rossi is the only player on the squad who is neither Spanish nor South American. This team composition results in exactly what you'd expect -- exciting football full of flair.
Style points can only get you so far, of course. Despite a promising start to the season, a title charge is beyond Villarreal. But with both Barcelona and Real Madrid having to travel to Estadio El Madrigal in the final two months of the season, the Yellow Submarine might well have a crucial impact on the title race.
Michael Cox is a freelance writer for ESPN.com. He also runs zonalmarking.net.