Commentary
Gunners will end their trophy drought
Updated:
January 19, 2011, 5:28 PM ET
By
Michael Cox
| Special to ESPN.com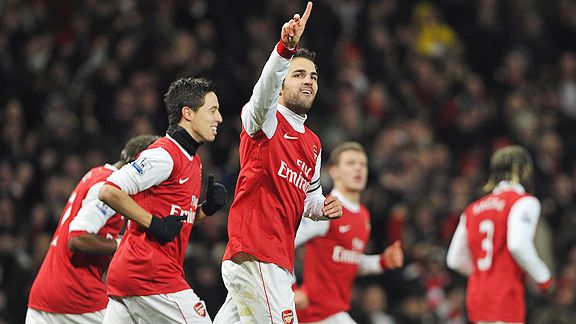 Carl De Souza/AFP/Getty ImagesThe Gunners are clicking at just the right time this season.
It took half a season before he could assemble his Fab Four, but Arsene Wenger seems to have found a winning combination for Arsenal. Football has long been a squad game, but it's always been easy to identify Wenger's first-choice starting XI and, in particular, his front four.
Arsenal's last two successful title campaigns were characterized by the quartet of Freddie Ljungberg, Robert Pires, Dennis Bergkamp and Thierry Henry, while Wenger's first English Premier League winners saw Bergkamp combine with Ray Parlour, Marc Overmars and Ian Wright.
What about the Gunners' current squad? Well, Arsenal's 3-1 win at home over Chelsea on Dec. 27 might prove a turning point for this season. Along with the psychological boost that came from beating traditional title rival Chelsea at long last, it was the first time in the 2010-2011 campaign that Cesc Fabregas, Theo Walcott, Samir Nasri and Robin van Persie were used together. Since then, the quartet has been used three more times in convincing 3-0 away wins over Birmingham and West Ham and in a goalless draw with Manchester City that the Gunners dominated but somehow couldn't find their way past keeper Joe Hart.
[+] Enlarge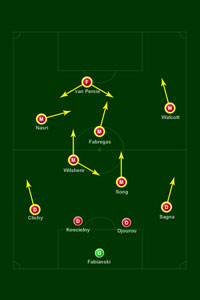 ESPN(Click image to enlarge)
Van Persie, Fabregas, Walcott, and Nasri have combined to give Arsenal a fluid and threatening passing style.
The return of van Persie is important. Before the injury that prematurely ended his 2009-2010 season, the Dutchman had mastered the false nine role, starting as the Arsenal player highest up the pitch but dropping deep and drawing defenders out of position, while linking play and setting up others. He started last season with six goals and seven assists in 11 games, but his injury problems -- and the arrival of Marouane Chamakh -- meant his place on the side was up for debate.
Van Persie hasn't been so prolific in recent games, but even in his goalless run his teammates were quick to point out how important he is to the team. "It's working quite well with me on the right and him up top," Walcott told reporters. "He's set up a lot of my goals over the past few years, such as the one at Blackburn earlier in the season, when he dropped back and played me the ball. I think we have a good, natural understanding."
With Walcott, Nasri and Fabregas offering goal threats from deep, van Persie's intelligent movement and link-up play are vital.
The combination of Nasri and Walcott on the flanks also works well for Arsenal. When the Gunners use two wide players who like to cut in, they are often too predictable and easy to defend against. But while Nasri generally ends up in the center of the pitch, Walcott is more comfortable staying in a wider position and stretching the play, looking to make diagonal runs in behind the opposition's left-back. His quality was exaggerated by Wayne Bridge's awful display at Upton Park on Saturday, but Walcott's positioning and pace stretches the opposition's defense, creating larger gaps for the other three to pass their way through.
Nasri and Walcott's strong form means an open place on the bench for Andrei Arshavin, the Russian winger who continues to frustrate Arsenal fans with his attitude and performance. The common criticism of Arshavin is that he is lazy, which might appear to be a lazy criticism. But when you consider Arsenal's increased focus on pressing high up the pitch, his work rate becomes more of an issue.
The Chelsea game saw Arsenal play almost entirely in the opposition's half because it was so good at closing down Chelsea's defense whenever it got the ball, forcing misplaced passes and winning possession quickly. If Arshavin isn't defending from the front, Arsenal's game plan is compromised. An in-form Arshavin might compensate for that with his goals and assists, but his recent displays have been dreadful.
Arsenal's traditional fluidity has extended to the midfield zone this season. At the start of the last campaign, Alex Song was used as the sole midfield anchorman, with two players (generally Fabregas and Denilson or Abou Diaby) clearly ahead of him. This season, Song has played in a double pivot alongside Jack Wilshere, and the two take turns going forward. Song remains the more defensive of the two but has charged forward to score four league goals in 2010-2011 (having only scored two before this season in his entire career), leaving Wilshere to drop in as the holding player. Earlier this season, this system was leaving Arsenal's back four too readily exposed, but the Gunners are now pressing better as a unit, meaning the defense steps up and leaves no space between the lines.
The defense is possibly still Arsenal's main worry, despite that the Gunners have kept three clean sheets in a row for the first time in nearly two years. Thomas Vermaelen hasn't played since August and will be out for at least another month, but the form of Johan Djourou has been a boost. The Swiss international has offered a calm, reliable presence alongside the slightly impetuous Laurent Koscielny.
Only Nasri could be described as having a truly excellent season for Arsenal; the rest of the team has been good, and great in patches. The signs, though, are that Arsenal is finally coming together into a cohesive side, and Wenger's teams have always been at their best when that is the case, rather than relying on individuals to carry the day. As the only side in England left competing in four separate competitions, Arsenal's long run without a trophy will surely end this season.
Michael Cox is a freelance writer for ESPN.com. He also runs zonalmarking.net.
SPONSORED HEADLINES
MORE SPORTS HEADLINES
MOST SENT STORIES ON ESPN.COM