Commentary
Weekend of the living dead
Updated:
February 7, 2011, 3:02 PM ET
By
David Hirshey
| Special to ESPN.com
I was really never a fan of zombie movies until I spent 24 surreal hours watching the EPL's Weekend of the Living Dead.
There I was in my purple shroud, administering last rites to Arsenal's Prem title hopes after the Gunners pulled the greatest choke in league history, when Arsene Wenger's body suddenly twitched back to life. It turned out first-place United had lost to last-place Wolves, throwing away a one-goal lead and its 29-game unbeaten streak in the process.
Then Sunday morning, Liverpool, a team that was flirting with historic catastrophe only six weeks ago, continued its remarkable rise from the ashes of mediocrity by beating defending champion Chelsea 1-0 and creating a new nickname at the Bridge: Fernand-who.
So pass the shovel and let's exhume the corpses.
Newcastle beats Arsenal, 4-4
When I walked into my local pub on Saturday morning to watch Arsenal play Newcastle, I had no idea I was entering my own private circle of hell. Oh sure, there was almost an hour's worth of boundless delight as I bought beers for my fellow Gooners after each glorious goal. Somewhere I could hear a bird singing, a cat purring, a small child laughing.
Then in the mind-boggling span of 20 minutes, my hopes and dreams collapsed like Joey Barton after a nudge from Abou Diaby and the only sound I could hear was that of David Moyes cackling.
The Everton manager was apoplectic this past week over halftime comments by Cesc Fabregas that the Toffees had paid off officials in Arsenal's 2-1 win last Wednesday, but even Fabregas couldn't blame the referee for all the goals (OK, maybe one) that the Gunners surrendered in their second-half meltdown against Newcastle. There is simply no excuse for a performance so egregious it makes Arsenal's 4-4 draw in 2008 against Spurs -- in which Tottenham scored twice in the final 90 seconds to equalize -- look like an honest mistake.
Say what you will about Barton's shuddering tackle of Diaby that bent the Arsenal midfielder's leg at a grotesque angle -- and I say it merited at least a yellow card -- but Diaby clearly deserved to be sent off for grabbing Barton by the neck and shoving him away. The fact Barton fell over theatrically only made the referee's decision easier. Still, you'd expect a team with Arsenal's pedigree to be able to cope for 40 minutes with 10 men, especially against a Newcastle side it had dominated up to that point.
Yes, the second penalty was a little soft, but you can't blame the official for Leon Best's garbage goal that made it 4-2. That was the fault of a jittery defense missing the composure of Johan Djourou who had been injured two minutes into the second half. I wonder if watching his best central defender limp off, Wenger regretted not opening his change purse in the transfer window to purchase reinforcements (French, of course) for his brittle rear guard.
Even more alarming than the lack of depth in defense was the total absence of any forceful leadership on the field. There was no one exhorting the young Gunners to keep their cool in the face of Newcastle's second-half surge, no one to impose his authority on the game as it was slipping away. The one player you typically look to in these stress-inducing situations is the captain, but Fabregas has been strangely mute this season unless you count screaming at the officials.
So as much as it pains me to admit, Arsenal got what it deserved on Saturday even if at the end of the weekend it closed the gap on United by a point.
But that is scant comfort given the tough road ahead and the difficulty of chasing a title when your team appears to have lost its mojo.
Give it up for the Vincibles
Repeat after me, United fans: We never cared about going undefeated as long as we win the title.
Yeah, right.
Tell that to Sir Alex, who wants to see his name next to every gaudy achievement in the EPL record book.
Last month, I had the audacity to suggest that United looked more like the Vincibles than the Invincibles, the great Arsenal side of 2003-04 that had a 49-game unbeaten streak. OK, so I was off by a few weeks. But the point was that for all its superiority at the top of the table, I didn't think United had the depth or swagger to stay the course. Aside from encouraging me to do all sorts of things I'm anatomically incapable of, United supporters helpfully pointed out that only a fan of a team that hadn't won a trophy in five years cared about things like going undefeated. Which is why United was no doubt relieved after seeing its unbeaten run ended by, of all teams, a relegation-endangered species.
Now United can finally concentrate on winning games instead of on trying not to lose them, starting with the Manchester derby next Saturday. City, on the strength of a Carlos Tevez hat trick, beat West Brom 3-0 and closed to within five points of its crosstown rival. The light blues will be buoyed by United's inability to break down a lowly opponent and its frustration that culminated in Paul Scholes' shameless attempt in the 85th minute to Maradona the ball into the net with his hands.
But give the Wolves credit. They worked tirelessly and made their few chances count. Their admirable resilience notwithstanding, this was a game United should have put away after Nani struck inside of three minutes with a laser shot into the bottom right-hand corner.
Ironically, it was their normally fortress-like defense that let the Red Devils down. Who knew Gary Neville would be missed so badly? Or perhaps it had more to do with Rio Ferdinand injuring himself during pregame warm-ups and United being forced to partner Nemanja Vidic with Jonny Evans, whose confidence seems to be eroding every time he steps on the field.
The question for Sir Alex now is: With the undefeated monkey off its back, can United summon the rally monkey and win another title?
[+] Enlarge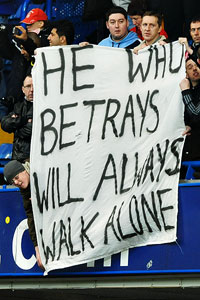 Laurence Griffiths/Getty ImagesLiverpool fans show their feelings toward Fernando Torres.
Liverpool 1, Team Torres 0
Well, so much for the conventional wisdom that Kenny Dalglish had been out of soccer too long to understand the modern game. Either the game hasn't changed all that much in the 13 years since he last managed in the Prem or Liverpool's talent was better than anyone realized under Roy Hodgson. What a brilliant psychological gambit by Dalglish not to throw Luis Suarez into the deep end of Stamford Bridge after the Uruguayan scored in his debut midweek. Astonishingly, the Reds didn't need him or their $55 million injured striker Andy Carroll to beat Team Torres on Sunday.
History was made at the Bridge, as Liverpool secured its second league double over Chelsea, the only club to have managed the trick during the Roman Abramovich era. Dalglish basically employed the same bunch of players (with the notable exception of Fernando Torres) who had stifled the Blues 2-0 at Anfield in Uncle Roy's one memorable moment in charge. The difference, of course, is that when Dalglish wins with this collection of workhorses and international stragglers, it's the result of motivation, confidence and tactics -- not sheer dumb luck. With its fourth consecutive win of the King Kenny 2.0 era, Liverpool is now in sixth place, only six points behind Chelsea and those two beautiful words, "Champions League," are no longer spoken by just deluded Reds supporters.
This overly hyped meeting was always going to be about the turncoat Spaniard, especially after his midweek references to "going to a big club" and "kissing the badge." It looked friendly enough in the pregame handshakes, but clearly Liverpool had something else in mind for Fernando to kiss.
It was, truth be told, a dull, ragged affair. After Saturday's pyrotechnics, which included 41 goals scored around the league, the tedium of the match made for long stretches when the traveling supporters drowned out the home congregants, booing Torres' every touch and willing the likes of Jamie Carragher, back from injury, into a heroic performance at the back.
Carlo Ancelotti made it easy on Liverpool's three center backs by returning to the dreaded diamond formation with little boy lost Nicolas Anelka at the tip. Frank Lampard was nowhere to be found as the presence of Steven Gerrard must have had the poor man thinking he was wearing his England shirt. Chelsea lacked width, imagination and even a hint of danger, and surely Roman expected a greater return on his $80 million investment -- perhaps something more than a single shot on target.
David Hirshey

For more from David Hirshey, check out his columns on all things soccer.
• The All-EPL Team, 2011-12
• Saying goodbye to Chinaglia
• Time to dethrone King Kenny Dalglish?
• In praise of Fulham
• The comeback artists
• Call it a comeback
• Death by Manchester
• The battle for third
• Spurs' title credentials
• EPL's best starting XI
• City handed first EPL loss
• Chelsea pushed to brink
• Fragile egos crossing
• City and United
• Is Newcastle for real?
• The bad-behavior derby
On balance, Liverpool deserved to take home the three points. Maxi Rodriguez missed a goal so open that Dalglish may take away his Argentine passport and make him Welsh. But Raul Meireles continued his run of being the best player on the field during Liverpool's resurgence. On the sole goal of the match, it was his relentless effort and run that allowed him to latch onto Gerrard's vicious cross as Petr Cech could only scramble across his goal mouth.
Ironically, Liverpool showed the very grit and character that Torres complained was lacking as he thrust himself out the Kop front door. Such was the speed at which he racked up goals at Anfield that there's little doubt Fernando will eventually find his scoring tough -- and ability to smile. But on Sunday, I'm afraid he was dead on arrival.
David Hirshey has been covering soccer for more than 30 years and has written about the sport for The New York Times, Time, ESPN The Magazine and Deadspin. He is the co-author of "The ESPN World Cup Companion" and played himself (almost convincingly) in the acclaimed soccer documentary "Once in a Lifetime."
MOST SENT STORIES ON ESPN.COM