Commentary
Three's company for Liverpool
Updated:
February 10, 2011, 3:45 PM ET
By
Michael Cox
| Special to ESPN.com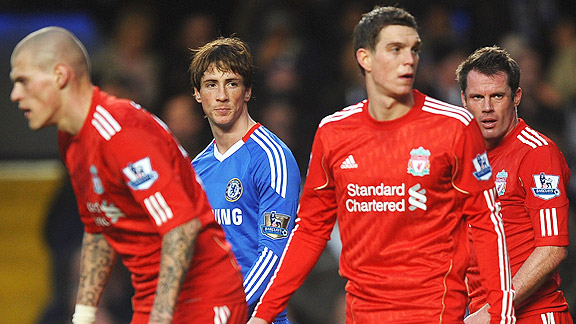 Laurence Griffiths/Getty ImagesLiverpool's three-man back line of Martin Skrtel, Daniel Agger and Jamie Carragher was enough to stymie former teammate Fernando Torres. Will Liverpool keep using this unorthodox formation?
"Liverpool played a good game, with three at the back," Fernando Torres told reporters after Chelsea lost to his old club this past Sunday. "We were not expecting that and maybe they took advantage."
The encounter at Stamford Bridge was the most tactically fascinating game of the year so far. This season's Premier League has consisted almost entirely of 4-4-2s, 4-5-1s and other shapes that are somewhere in between. However, the midfield clash on Sunday featured two diamond midfields, while Liverpool also used three center backs coupled with wing backs.
Torres' surprise at Liverpool's formation is somewhat perplexing. Although the Spaniard rarely, if ever, lined up in a Liverpool side featuring a back three in his three and a half seasons at the club, manager Kenny Dalglish did use the formation in the 2-0 home win over Stoke four days earlier. It's unthinkable that Chelsea -- one of the more intelligent clubs in the Premier League with its use of video analysis and opposition scouting -- would have been unaware of this. It was considered that the back three against Stoke might have been a one-off in order to deal with the aerial height of Stoke from set pieces, but Carlo Ancelotti must have given consideration to the prospect he'd be facing such a system.
From the moment the team sheets were released some 45 minutes before the match, it was clear Liverpool would be lining up that way again, and Ancelotti's refusal to respond appropriately is probably his biggest single failing since he arrived in English football.
The back three has yet to be tested with the logical formation to expose it -- a side playing a forward three spread across the park. Stoke played one man up front, and Liverpool responded to the surplus at the back (you don't need three center backs marking one striker) by having Daniel Agger bring the ball forward into the midfield. That day the Liverpool shape looked like a square in midfield with Lucas and Fabio Aurelio holding, and Raul Meireles and Steven Gerrard driving forward. For the game against Chelsea, the four "tilted" to cancel out Ancelotti's diamond with an identical situation in the middle of the pitch.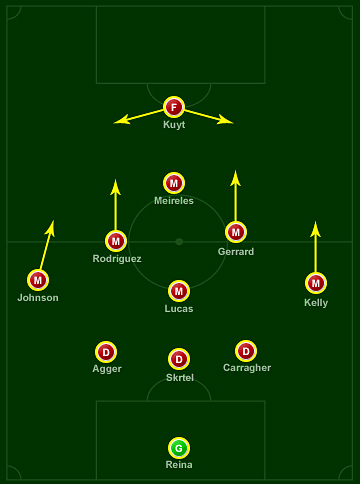 Michael Cox, Zonal MarkingLiverpool's three-man back line works well when you have a willingness to score through the use of plenty of midfield runners.
Some teams in the World Cup had success with three at the back when playing defensive football (see New Zealand stifling Italy, Uruguay doing the same to France and North Korea holding Brazil until late in the game). Liverpool's tactics against Chelsea were much more cautious than the free-flowing football we expect under Dalglish.
There's nothing wrong with that, however, when combined with a willingness to score through the use of plenty of midfield runners. It was Gerrard and Meireles who got into the final third to combine for the winner, while Gerrard had earlier set up Maxi Rodriguez for an open goal that was somehow missed. Besides, the Reds' defensive display was excellent, as they limited Chelsea to one shot on target in the game, an attempt from a narrow angle from Florent Malouda that Pepe Reina blocked without needing to move.
How regularly this system will be used going forward remains unclear. The biggest question is how his two new signings, Andy Carroll and Luis Suarez, will fit into the side, though Napoli has shown how to play a 3-4-2-1 with a central striker and a wide attacker this season.
When Dalglish took over at Liverpool in January, some predicted he would be a tactical dinosaur considering he hadn't managed in the Premier League for more than 10 years. His use of a back three does hark back to the period around the turn of the century when English clubs were obsessed with 3-5-2 formations. But then, there's nothing wrong with using a system that was successful in a previous era. When Greece stunned the world to win the European Championships in 2004 with a strict man-marking system, UEFA technical director Andy Roxburgh famously stated that "the Greeks had posed a problem the rest of the world had forgotten how to solve."
Is a back three the same concept? That's the thing with tactics -- rather than it being a continual progression with the newest craze capable of beating all previous systems, each formation has its strengths and weaknesses. It's a bit like rock-paper-scissors. Paper beats rock, and rock beats scissors, but that doesn't mean that paper beats scissors. Quite the reverse. In tactics, being one era behind is a disaster, but being more than one behind might be strangely useful.
Not that Dalglish is a man of the past. His triumphant, fan-driven return to management was compared to Kevin Keegan's ultimately unsuccessful second stint at Newcastle in 2008. Keegan, however, admitted that he "hadn't watched a live game for three years" -- a particular problem as when he arrived at Newcastle's training ground, "I didn't know all the players, I'll be honest with you." In stark contrast, Dalglish has been actively involved at Liverpool since the summer of 2009. His strong knowledge of the side, combined with a break from the pressure of full-time management, appears to have rejuvenated him -- and Liverpool -- more than anyone expected.
Dalglish might not be a dinosaur, but he's got other Premier League managers running scared.
Michael Cox is a freelance writer for ESPN.com. He also runs zonalmarking.net.