Wayne Rooney leads Man U
Updated:
February 12, 2011, 4:21 PM ET
Associated Press
LONDON , England -- Wayne Rooney said it was the best goal he's scored and Manchester United manager Alex Ferguson called it the greatest strike he's seen in 25 years at Old Trafford.
Manchester City goalkeeper Joe Hart didn't even move.
Rooney used a spectacular bicycle kick with his back to the goal for the 2-1 win over rival Manchester City Saturday.
[+] Enlarge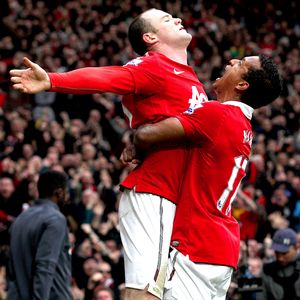 Alex Livesey/Getty ImagesMan U manager Alex Ferguson said the goal by Wayne Rooney, left, with Nani, was 'stunning.'
The Manchester United and England striker leaped to meet a right-wing cross with an overhead strike that flew into the top corner after 77 minutes.
"I saw it coming over and I thought why not? Nine times out of 10 they go into the stand," Rooney told Sky Sports.
Manchester United defender Rio Ferdinand, who sat out the game with an injury, posted his reaction on Twitter.
"Wow....what a goal by ROOOOOOONEY!!! What a way to win the derby!!" he tweeted, before adding: "That bicycle kick was one dirty strike...POW...what a strike what a goal what a netbuster!!"
Even golfers Lee Westwood and Rory McIlroy, playing in the Dubai Desert Classic, commented. McIlroy simply tweeted; "BOOM!!!!!!!!"
Ferguson said the quality of the strike reminded him of United great Denis Law, who scored 171 goals in his stellar career with the club.
"It was stunning," Ferguson said. "We've had some fantastic goals here but in terms of execution ... you'll never see that."
Nani had given United a first-half lead with a neat control and finish, before Manchester City equalized with a deflected effort in the 64th.
"[Nani's goal] was an unbelievable goal, but nobody in their right sense will even talk about it," Ferguson said. "All the talk will be about that winning goal -- unbelievable."
Rooney's winner dented City's title hopes, but manager Roberto Mancini said his side had been beaten by a "moment of genius."
"When a fantastic player like Rooney scores a goal like that, you should clap," the Italian said. "He scored a fantastic goal."
It was all the more surprising given Rooney's indifferent season so far. Coming off a disappointing 2010 World Cup performance, he'd scored only four league goals until Saturday.
In October, the 25-year-old former Everton player threatened to leave Manchester United because he was not given the assurances he wanted about the club's future.
Two days later, he changed his mind and signed a new five-year contract, with reports suggesting it could be worth up to $400,000 a week.
His form slowly picked up, but he has been overshadowed by Bulgarian striker Dimitar Berbatov. He has a league-leading 19 goals this season, including a stunning overhead kick of his own in a hat trick against Liverpool at Old Trafford.
Ferguson took a risk by leaving Berbatov on the bench against City. He gave Rooney a lone striker role and it paid off.
But the United manager still wants more offense.
"I hope that is Wayne back to his best," he said. "I have to say, what I need to get out of Wayne and Berbatov are performances away from home that are as good as they are at home."

Copyright 2011 by The Associated Press