Commentary
World Power Rankings
Bayern Munich makes its way back
In a week that was relatively light on game action, there nevertheless was plenty of upheaval in the world order of soccer as another slate of Round of 16 Champions League games was played and several favorites failed to deliver. In our rankings of the hottest teams of the past few weeks, eight squads switched places and Bayern Munich burst back into the top 10 (at the expense of Spurs) on the back of a sterling 1-0 win over Inter in the aforementioned tournament. Only Napoli remained stagnant.
1. (Last week: 2) Barcelona
21 wins, 1 loss, 2 draws (league); 4-1-2 (Champions League)
The difference between a tie with fifth-place Athletic Bilbao on Sunday and the win Barcelona ultimately got was -- no surprise -- Lionel Messi. Were it not for his fine 78th-minute finish on a Dani Alves cross, Barca would have dropped La Liga points for the second consecutive weekend and thus allowed Real Madrid to close to within three points when the difference had once stood at seven. But none of that came to pass, as Messi rectified a penalty that Sergio Busquets incurred at the behest of an awful Eric Abidal pass, which had equalized after an early David Villa goal on more Alves service. So in the end, all was well in Barcelona this week.
[+] Enlarge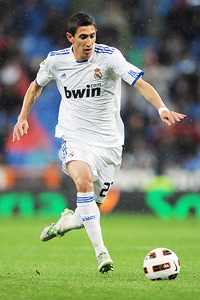 Denis Doyle/Getty ImagesReal relied on Angel di Maria's fancy footwork to capture an early lead and ultimately best Levante on Saturday.
2. (1) Real Madrid
19-2-3 (league); 5-0-2 (Champions League)
Real set the pace for Barcelona against Levante on Saturday when a splendid Angel di Maria weaved through enough people in the seventh minute that not even Karim Benezema could fail to capitalize on his service. Before the break, Cristiano Ronaldo did Ricardo Carvalho the same favor, making for a simple 2-0 win. On Tuesday, however, Real engaged -- or disengaged, in this case -- Olympique Lyon in a tepid game of on-field chess. The teams exchanged sparse chances, with Ronaldo twice creating danger on free kicks and Sergio Ramos sending a header off the bar, while Batefimbi Gomis skied a shot from 10 yards. In the 65th, Benzema darted through the box and finished in a manner not seen from him since he played for Lyon. But in the 83rd, Gomis got his boot on a twice-deflected free kick for a simple 1-1. As such, OL -- which knocked out Real at this stage last year to make it six consecutive seasons in which the Merengues failed to survive the Round of 16 -- looks like another giant hurdle to Real's progress as we head to Madrid for the return.
3. (4) Arsenal
17-5-5 (league); 5-2-0 (Champions League)
Arsenal picked up three more points in its chase of league leader Manchester United by beating Stoke 1-0 on Wednesday, thanks to a goal by Sebastien Squillaci and more excellent goalkeeping by Wojciech Szczesny -- but at what cost? An injury forced pivotal playmaker Cesc Fabregas off the pitch after just 15 minutes, and winger Theo Walcott twisted his ankle late in the game. In-form striker Robin van Persie skipped the game because of a strained hamstring. Walcott will miss Sunday's League Cup final against Birmingham City and could miss the return leg against Barcelona in the Champions League on March 8, too. There is no diagnosis on Cesc yet.
4. (3) Manchester United
16-1-9 (league); 4-0-3 (Champions League)
A banner week for United it was not. In the fifth round of the FA Cup on Saturday, its reserves almost let Crawley Town, a fifth-tier club, equalize late in the game and barely hung on for a 1-0 win, having created fewer chances than its tiny opponents. That was followed by a miserable 0-0 draw with Olympique Marseille on Wednesday, in which the sides had no ambitions beyond holding on to the ball and completing a few passes -- a goal often out of their reach. United has a one-point lead over Arsenal in the league and has a game in hand, but it will have to do better than it did this week to maintain it.
5. (6) FC Porto
18-0-2 (league); 6-1-1 (Europa League)
Porto had played an extra game in the Liga Sagres and so had the weekend off, giving it a few days of welcome rest wedged between two Europa League contests with Sevilla. On Thursday, Porto went ahead in the 58th minute on a tap-in from a set piece and got a winner from Freddy Guarin, who slotted it home after James Rodriguez was taken out in the box. In the return leg Wednesday, Porto lost 1-0 at home on a Luis Fabiano goal but held on to its aggregate lead, putting the Dragons into the Round of 16.
6. (7) Borussia Dortmund
17-2-4 (league); 2-1-3 (Europa League)*
Juergen Klopp has fashioned a side that harkens to the Dynamo Kiev teams of the 1970s and '90s, a ruthlessly efficient and role-defined collective that is far greater than the sum of its parts. That machine rolled on in a simple 2-0 victory against St. Pauli, with help from Paraguayan goal-getter Lucas Barrios, who scored the opener -- his 10th of the year -- and saw another shot go in off a defender for an own goal. Still 10 points clear with 11 games to go, Dortmund snapped its three-draws-in-four-games "skid" and remains on pace for the title.
7. (5) Inter Milan
15-6-5 (league); 3-3-1 (Champions League)
The head of steam Inter built up after Leonardo took over from Rafa Benitez appears to be wearing off. On Saturday, Inter struggled to an unconvincing 1-0 win over unintimidating Cagliari -- and got it only because of a somewhat fortuitous seventh-minute goal by Andrea Ranocchia. On Wednesday, it stumbled. Inter played a strong game at home against Bayern Munich, keeping up for 90 minutes but failing to match the quality of its opponents' chances (despite some good moves from Samuel Eto'o). The all-important away goal for Bayern came when the usually reliable Julio Cesar spilled a last-minute shot by Arjen Robben, allowing Mario Gomez to put it away for the winner.
[+] Enlarge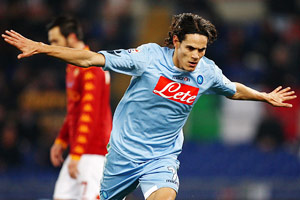 Paolo Bruno/Getty ImagesAlthough Edinson Cavani's recent scoring binge came to an end, Napoli held serve this weekend and could be poised for a move in Serie A.
8. (8) Napoli
16-6-4 (league); 1-1-4 (Europa League)
On Thursday, Napoli got a 0-0 result against Villareal in the Europa League despite Edinson Cavani's being put through on goal by Ezequiel Lavezzi twice (he was halted by strong goalkeeping both times). On Sunday, Napoli consolidated second place in Serie A with a 1-0 win over audacious Catania, which nearly went ahead. Although Cavani went off-script by missing a penalty -- and thus failed to score for the first time in six league games -- Napoli scratched out the victory on a Juan Zuniga finish. Given the poor form of its fellow Serie A contenders, now might be the time to strike for Napoli, which is three points off the lead.
9. (--) Bayern Munich
12-5-6 (league); 6-1-0 (Champions League)
Bayern maintained its torrid league form against Mainz on Saturday, winning 3-1 on goals by Bastian Schweinsteiger, Thomas Muller and Mario Gomez. If only Bayern hadn't been so dreadful in the early going of the Bundesliga, it surely wouldn't have been in third place and a full 13 points behind Dortmund after its current run. In the aforementioned bout with Inter on Wednesday, Bayern showed off the form that brought it to within a game of the treble last year, tormenting Inter on the right wing and soundly winning the possession battle. In its current form, Bayern will be hard to deny in Europe.
10. (9) AC Milan
16-3-7 (league); 2-3-2 (Champions League)
As it did last week in losing 1-0 to Tottenham in the Champions League, Milan looked its age again this weekend. Its lone consistent performer, Zlatan Ibrahimovic, appears tired -- while the rest of the squad just looks plain old. On Sunday against Chievo, it took an overlooked handball to allow Robinho to score the go-ahead goal. Chievo got a 61st-minute equalizer before Pato -- inexplicably left on the bench again -- came on, danced through three men and made it 2-1 off the inside post in the 82nd minute. Milan may still be in first place in Serie A, but it is fading fast.
---
* eliminated from continental competition
The continental competitions and top-tier leagues from the following countries were included for consideration in the above rankings: Argentina, Australia, Brazil, CONCACAF Champions League, Copa Libertadores, Denmark, England, France, Germany, Italy, Mexico, Norway, Portugal, Russia, Scotland, Spain, Sweden, Turkey, UEFA Champions League, UEFA Europa League, Ukraine, United States.
Leander Schaerlaeckens is a soccer writer for ESPN.com. He can be reached at leander.espn@gmail.com.

Contributing writer, ESPN.com
Leander Schaerlaeckens is a contributing writer for ESPN.com. He has previously written for The Guardian, The Washington Times and UPI.
MOST SENT STORIES ON ESPN.COM