Commentary
A bloody good victory
Updated:
March 7, 2011, 1:52 PM ET
By
David Hirshey
| Special to ESPN.com
Quick -- name the worst injury suffered at Anfield on Sunday.
Was it the bloody gash on Nani's shin, a hideous-looking flesh wound that was an inch or two away from turning into a broken leg?
Nope.
As shameful as Jamie Carragher's challenge was, Nani will surely be able to play -- dive -- again for United before too long.
What about the merciless battering Liverpool inflicted on United's hopes for a record-setting 19th title with its 3-1 victory?
Well, it's true that two demoralizing defeats in a row -- the first time that has happened to Man U all season -- may have caused the league to put the trophy engraver on hold, but United still sits three points atop the Prem. And the good news for the Red Devils is that no matter how hard they to try to give away the title, Arsenal seems unwilling to accept their largesse. With a glorious opportunity to close the gap to a single point, the Gunners choked on chance after chance against Sunderland before settling for a 0-0 draw.
Which is why, in a game of bone-shredding tackles and frayed emotions, it turned out that the biggest casualty Sunday was the beating several Prem myths took.
Consider that going into this most bitter of rivalries, the conventional wisdom among armchair pundits (and Andy Gray acolytes) was that:
David Hirshey

For more from David Hirshey, check out his columns on all things soccer.
• The All-EPL Team, 2011-12
• Saying goodbye to Chinaglia
• Time to dethrone King Kenny Dalglish?
• In praise of Fulham
• The comeback artists
• Call it a comeback
• Death by Manchester
• The battle for third
• Spurs' title credentials
• EPL's best starting XI
• City handed first EPL loss
• Chelsea pushed to brink
• Fragile egos crossing
• City and United
• Is Newcastle for real?
• The bad-behavior derby
1. Luis Suarez may have scored a boatload of goals for Ajax in the Eredivisie, but the pace and power of the Prem will make it difficult for him to be anywhere near as lethal in the EPL.
2. Kenny Dalglish may have enjoyed a promising start to his second managerial stint at Anfield, but after nearly 15 years away from English soccer's top tier, he doesn't have a sufficient grasp of the modern game to transform Liverpool into a dominant team.
3. Dirk Kuyt may be the hardest-working man in the Prem, but he is too wasteful in front of goal to be anything more than a role player.
4. Liverpool can't win a big game unless Steven Gerrard is their driving force on the field.
When you then factor in that Liverpool's most impressive performances this season (the double over Chelsea, holding Arsenal to a point) are eclipsed by their humiliations (beaten twice by Blackpool, hammered by West Ham and slapped around by Stoke and Wolves), it all amounts to further proof of their mid-table mediocrity, right?
The trouble is, the Kop tore those myths a new one Sunday:
1. It took Suarez all of three EPL games to find his dazzling feet as he tormented United's emergency center back pairing of Chris Smalling and Wes Brown. Suarez's skill set was so overwhelming that Fergie reached for John O'Shea off the bench to contain the onslaught. That's like trying to stop a heart attack by showing it a picture of some baby aspirin.
But it's doubtful that even United's world-class defensive duo of Nemanja Vidic and Rio Ferdinand -- who sat out Sunday's game due to suspension and injury, respectively -- could have done anything short of amputation to prevent the Messi-worthy dribbling wizardry that set up the first goal. Surrounded on the touchline by three United defenders, the Uruguayan pirouetted around Rafael, shimmed past Michael Carrick, left Brown sprawled on the turf and poked the ball through Edwin van der Sar's legs for Kuyt to tap over the goal line.
It's moves like those that get you your very own chant, and the Kop obliged by busting out this little ditty:
From Uruguay it was a trek
Suarez, Suarez
He'll bite you on the f------ neck
Suarez, Suarez
The mind boggles at the thought of the terrifying strike partnership Suarez could ultimately form with $57 million battering ram Andy Carroll, who made his long-awaited Anfield debut in the 73rd minute and gave an immediate hint of his potential menace with a leaping header on goal.
[+] Enlarge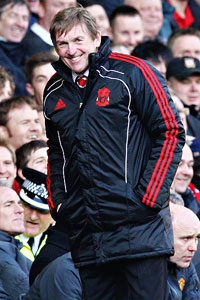 John Peters/Getty ImagesAfter 15 years on the shelf, Kenny Dalglish needed no dusting off before his EPL re-entry.
2. Dalglish's savvy deployment of two busy, energetic forwards against a defense lacking in confidence and composure showed that good managers don't lose their tactical acumen sitting on the beach. King Kenny has Liverpool playing with the old verve and intensity that made Anfield rock like no other ground in England. Look for an announcement any day now that the team's new owners John Henry and Tom Werner have sent him a belated 60th birthday card with a multiyear contract inside.
3. Kuyt recorded his first hat trick in a five-year Liverpool career that is better known for his displays of indefatigable grafting than any demonstrations of clinical finishing. Imagine the odds you could have gotten before the game if you had turned to the guy on the next barstool and said, "Care to wager that Dirk Kuyt bags a hat trick today?" Only a mustachioed killjoy would point out that Kuyt's trifecta was knocked in from a combined distance of 8 inches.
4. Liverpool's next wave of Anfield legends, in particular Lucas and Raul Meireles, masked the all-points bulletin of a Steven Gerrard missing-persons report with smooth, assured performances. Add Carroll's bright and breezy cameo and the memory of a certain nancy band-wearing Spaniard seems like a bad dream.
But let's not overpraise Liverpool for Sunday's early-morning romp. United certainly contributed to its own immolation. Their brittleness at the back is no secret whenever either Vidic or Ferdinand is not in the lineup. And this was the first time both were sidelined. The writing may have already been on the Paisley gate.
And a tip of the Kop to Nani for gifting Kuyt with his second goal; the Portuguese trickster's attempted clearing header from the edge of his own box looped backward right onto Kuyt's noggin for the Dutchman to nod home with insulting ease.
Nani had barely recovered his composure when Carragher tried to detach his right leg at the knee by raking his studs down his shin.
Nani went down in a heap but then miraculously sprang to his feet and ran over to referee Phil Dowd to show him his mangled leg in the hope of getting Carragher sent off.
He certainly had a bloody good case, but he quickly subverted it by collapsing to the ground and then bursting into tears.
Where was John Terry to scream "Man up!" when we needed him?
As heinous as Carragher's late tackle was, you have to wonder what the deal is with these Iberian ball artists who sob more than John Boehner. Anyone remember Cristiano Ronaldo turning on the waterworks after United lost in the 2005 FA Cup final to Arsenal? (And, yes, I'm well aware that it was the last trophy the Gunners won.)
ESPN FC on Twitter
Don't miss a moment of the latest soccer coverage from around the world. Follow us on Twitter and stay informed. Join »
Though Sir Alex was too shy to talk about his role in the Liverpool victory -- he refused to speak to the press and forbade his team from doing so as well -- that doesn't mean his contribution should go unnoticed. After a bitter referee-abetted road loss to Chelsea on Tuesday that prompted his latest media boycott, the fiery Scot was remarkably taciturn again Sunday, for the most part sitting sphinx-like on the United bench, chewing gum like he was jacked up on tiger's blood. Even his fabled dressing room oratory failed to scare his patchwork side into a second-half comeback.
Without Nani, United was dependent on Wayne Rooney and Dimitar Berbatov to spearhead the attack. But the former seems to have reverted to his pre-overhead-kick-seen-round-the-world slump, giving the ball away cheaply and dropping deeper and deeper into his own half of the field. United finally did score in stoppage time, thanks to an unmarked header by Javier Hernandez, but by then the week was already in tatters.
All that remains to be seen is whether another piece of conventional wisdom takes a pounding in the next few weeks. That would be the widely held belief that United are at their mentally strongest in the final stages of the season.
David Hirshey has been covering soccer for more than 30 years and has written about the sport for The New York Times, Time, ESPN The Magazine and Deadspin. He is the co-author of "The ESPN World Cup Companion" and played himself (almost convincingly) in the acclaimed soccer documentary "Once in a Lifetime."
MOST SENT STORIES ON ESPN.COM