Commentary
Arsenal paid the price for its tactics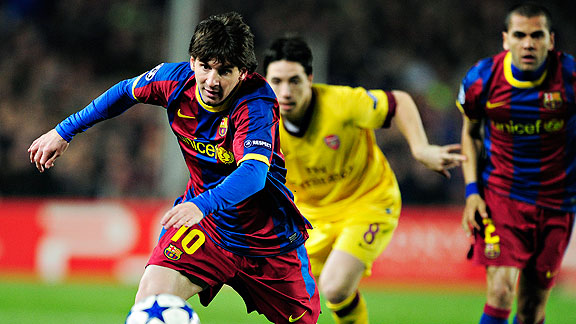 Josep Lago/AFP/Getty ImagesLionel Messi and Barcelona played attacking football, while Arsenal sat back and paid the price in the Champions League.
What a difference two weeks make. Whereas in the first leg of its round of 16 Champions League tie, Arsenal had attacked Barcelona venomously, it decided to sit back this time around and try to coast its 2-1 aggregate lead into the quarterfinals. What an error in judgment that was.
Under Arsene Wenger, Arsenal hasn't often been accused of cowardice. The coach always has subscribed to the school of thought that soccer is best played by attacking rather than defending and has preferred to play positive, attractive soccer. That's how Arsenal beat Barca 2-1 in London. That's how it might have made it through at Camp Nou if Wenger hadn't reversed course.
In the opening phase, it became apparent that Wenger has become cynical at long last, facing the only club that is pure of mind and spirit, is built on domination of possession and buys its goals in bulk. Barcelona predictably hogged the ball, and Arsenal, unlike in its last bout, didn't try to do anything about it.
The funny thing is, for a while there, it worked too. Thanks to hero central defenders Laurent Koscielny and Johan Djourou, who time and again kept David Villa and Lionel Messi from putting the finishing touches on yet another attack, Arsenal successfully staved off being overrun by Barcelona. The Gunners played well organized and well aware that they were in the enviable position of needing fewer goals than Barcelona did.
Maybe Arsenal's approach was simply realistic. After all, if you keep betting, the house's superior odds will eventually bankrupt you. The house, of course, was Barcelona. And it's usually better to walk away with your winnings while you're ahead. But Barca wouldn't let Arsenal trudge through its exits that easily. It would have to survive for 90 minutes at the craps table first.
Arsenal's razor-sharp defending almost put both teams back in the dressing room with no notches on the scoreboard. Therein it would have been helped by the referee (more on him in James Martin's accompanying reaction) overlooking Djourou's takedown of Messi in the box in the 33rd minute. Hell, Arsenal even looked like it was overcoming the injury to the most reliable goalkeeper it has, Wojciech Szczesny, after he was replaced by the most unreliable one, Manuel Almunia, who would have an excellent night.
Arsenal's physicality visibly perturbed Barca. Until, inevitably, Messi found a few inches that he could squeeze his tiny body into. Three minutes into the first half's extra time, he wriggled through the back line after Cesc Fabregas had given the ball away on a needless back heel outside his own box, and Andres Iniesta swiftly snapped it up and popped over to Messi. The world's best player left nothing to chance on the volley in front of an open goal from a few yards out.
ESPN FC on Twitter
Don't miss a moment of the latest soccer coverage from around the world. Follow us on Twitter and stay informed. Join »
One can't help but wonder what might have happened on the night if Arsenal had avoided that dagger on the brink of halftime. Taking an aggregate lead into the second half would have put the pressure and all the perils it carries squarely on Barcelona.
Instead, Arsenal was forced to look for a goal. Improbably, a Samir Nasri corner found Sergio Busquets's head for an own goal that put Arsenal ahead again. But it never looked all that likely that the Gunners would actually sneak out of Barcelona with the win. It looked even less so when ineffectual Arsenal striker Robin van Persie got his second yellow card of the game. He kept playing after being called offside, making the credible claim that he'd not heard the whistle. That was his second infraction after he gave Dani Alves a slap in the first half.
Barcelona is hard enough to defend with 11 able-bodied men. But outnumbered and outplayed, Arsenal never had a chance, even though it did find itself ahead. The Gunners' spells on the ball turned increasingly brief; their wingers dropped all the way back so as to play beside the defenders, while the central midfielders were not five yards ahead of the back line.
Yet even that wasn't enough to contain Barcelona's jabs, as Xavi was played into space and saw his effort deflected slightly by Bacary Sagna for the equalizing 2-1 goal in the 69th minute. Not two minutes later, the ever-so-awful ref called for a goal kick only to change his mind and turn it into a penalty after Pedro was taken down in the box by Laurent Koscielny, who somehow escaped a second yellow. On the kick, Messi obliged.
And so Arsenal's beautiful spirit, turned dark by evil ideas of just playing not to lose on the night, was broken. It needed just a lone goal to take the tie, but it just didn't look up to the task. Nicklas Bendtner got a run on goal after a nice ball from Jack Wilshere but put in a poor first touch. At the other end, Barca squandered heaps of promising chances, knowing it could do so without repercussions.
By abandoning its ethos that attack is the best defense, Arsenal abandoned all hope of winning and played right into Barcelona's strength. If only it could have replicated what it showed in the first leg, we might have seen some real fireworks.
Leander Schaerlaeckens is a soccer writer for ESPN.com. He can be reached at leander.espn@gmail.com.

Contributing writer, ESPN.com
Leander Schaerlaeckens is a contributing writer for ESPN.com. He has previously written for The Guardian, The Washington Times and UPI.
MOST SENT STORIES ON ESPN.COM