Commentary
World Power Rankings
We welcome back Shakhtar Donetsk and Tottenham Hotspur to the top 10
Another glorious week in the beautiful game produced sufficient upheaval on the European front to knock two clubs, Bayern Munich and Napoli, out of the top 10 and invite back Shakhtar Donetsk and Tottenham Hotspur. Here are the hottest teams right now.
1. (Last week: 1) Barcelona
24 wins, 1 loss, 2 draws (league); 5-1-2 (Champions League)
On Saturday, Barca rested several regulars at Real Zaragoza. Seydou Keita's lone goal helped the Catalans eke out a meek win against a punchless opponent, the second 1-0 league result in a row for Barcelona. But on Tuesday, armed to the teeth with all of its available regulars, Los Cules had to overturn Arsenal's 2-1 aggregate lead in the Champions League Round of 16. Pep Guardiola's men showed the superiority of their belief system once more as they patiently picked apart the shockingly negative Gunners. Lionel Messi rumbled in the first goal after fellow La Masia product Cesc Fabregas had given the ball away to Andres Iniesta just before the half. In the second, Arsenal got a most fortuitous equalizer on an own goal from Sergio Busquets, but lost Robin van Persie to a harsh second yellow card, too. After that, it was never a contest, even though the 3-1 outcome (4-3 aggregate) would suggest otherwise.
2. (2) Real Madrid
21-2-4 (league); 5-0-2 (Champions League)
When your team is without Cristiano Ronaldo and Kaka and you don't really notice the loss of playmaking ability and the lack of creativity, it's rather safe to say your club is well endowed with talent. Making an appearance in Santander against Racing on Sunday, Mesut Ozil happily picked up the slack of the absentees by feeding Karim Benzema and Emmanuel Adebayor dead-simple goals, after which Angel di Maria did well to set up Benzema, who put a handsome flourish on a third Real tally. Santander missed a PK and got a nice goal back through Kennedy Bakircioglu, but it was never in doubt that Jose Mourinho's men would win. On the back of a 7-0 win over Malaga on March 3, the Madrid Mercurials are back on track … for now.
3. (5) Inter Milan
17-6-5 (league); 3-3-1 (Champions League)
Maybe it's that Inter got a little bored after winning the Serie A title five years in a row and the treble last year. Or maybe it's simply losing its edge. Either way, the Nerazurri have developed an incredible penchant for making things hard on themselves this season. Against Genoa on Sunday, Inter let its opponents go ahead, toying with their emotions, as it were. In the second half, Inter decided Genoa had had its fun and broke out with a vintage Samuel Eto'o display. First he fed Maicon, who handed Giampaolo Pazzini the equalizer. Then Eto'o, with the luck of a champion, pounced on the rebound of a shot to make it 2-1, and then won the ball near Genoa's box and, winding past two defenders and a goalkeeper, made it 3-1. Game over. Oh, and it ended 5-2.
4. (3) Borussia Dortmund
19-2-4 (league); 2-1-3 (Europa League)*
Dortmund had nothing to fear from host FC Koln, which didn't make any pretenses of wanting anything but a scoreless draw this past Friday. While Borussia couldn't convert the bulk of its chances, it never looked like losing, either. In the end, Robert Lewandowski's volley made the 1-0 difference. But if it hadn't been for the excellent Koln goalkeeper, Michael Rensing, the damage could have been much worse. That said, Dortmund's lead is now 12 points with just nine games left. Bayern Munich? It's sinking without a trace, losing to Hannover 3-1.
5. (4) FC Porto
20-0-2 (league); 6-1-1 (Europa League)
In a pivotal turn in the Portuguese league this weekend, FC Porto all but decided the title race in its favor by beating fourth-place Guimaraes on Saturday, while the last other contender standing, Benfica, lost 2-1 at Braga, snapping its 11-game unbeaten streak in the league. That means Porto is now 11 points clear with eight games to go. Its win over Guimaraes wasn't at all convincing, however. It took the Hulk-less Dragons until the second half to secure their 10th consecutive win when Falcao and Cristian Rodriguez scored.
[+] Enlarge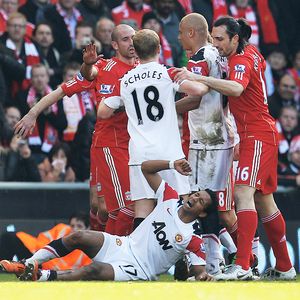 Alex Livesey/Getty ImagesNani ended up being stretchered off in United's loss to Liverpool.
6. (6) Manchester United
17-3-9 (league); 4-0-3 (Champions League)
United's week of reckoning got off to a poor start with a 2-1 loss to Chelsea this past Tuesday and ended with a 3-1 loss at Anfield, where Nani was stretchered off in tears. But Jamie Carragher's poor tackle aside, Liverpool was the better side. The transcendent Luis Suarez had a hand in all three goals -- all scored by the indefatigable Dirk Kuyt -- as he cut through United's defense time and again, proving to be a constant threat. While Javier Hernandez built on his solid season to make it 3-1 late in the game, it was a rather sad affair for the Red Devils. Undefeated until Feb. 2, they once again lacked the spark that has been so conspicuously absent ever since Cristiano Ronaldo left before the 2009-10 season. What's more, their once-commanding lead over Arsenal has shrunk to three points, with the Gunners having a game in hand.
7. (--) Shakhtar Donetsk
18-1-1 (league); 7-1-0 (Champions League)
As the Ukrainian league resumed after its three-month winter layoff, so did its defending champion Shakhtar Donetsk. It again leads the league with just a single loss (the same amount as in all of last season) and has an eight-point lead over second-place Dynamo Kiev. Last Thursday, it beat FC Sebastopol 1-0 away to make it 12 straight league wins. Not that Shakhtar had spent the winter ducking the cold. It had been romping through the Champions League and on Tuesday took its seventh win of the year, the most of any other club in the competition. Hapless Roma came to Donetsk, where Shakhtar is undefeated this year, having already conceded three home goals in its 3-2 loss in the first leg. Not surprisingly, Roma was easily beaten 3-0, with some help from a red card for Philippe Mexes and a missed penalty by Marco Borriello.
8. (7) Arsenal
17-6-5 (league); 5-3-0 (Champions League) *
On Saturday, Arsenal missed out on a chance to come within a point of Manchester United in the Premier League standings with a game in hand. The blame can be spread around -- the ref, who denied Andrei Arshavin both a chance on goal for a bogus offside call and a penalty when he was shoved in the back by Titus Bramble, and the Gunners themselves, who missed a handful of good chances to get on the scoreboard. The match ended 0-0. On Tuesday, Arsenal was the antithesis of its own philosophy, choosing to park the bus instead of attacking Barcelona. Of course, defending was the order of the day after Arsenal was reduced to 10 men. But the referee's terrible call shouldn't detract from what was another brilliant Barcelona performance.
ESPN FC on Twitter
Don't miss a moment of the latest soccer coverage from around the world. Follow us on Twitter and stay informed. Join »
9. (--) Spurs
13-6-9 (league); 4-1-3 (Champions League)
On Sunday, two lovely curls from Jermain Defoe and a thump from Roman Pavlyuchenko had twice put Tottenham ahead at Wolverhampton Wanderers. But those pesky Wolves -- the giant killers of the Prem -- managed to equalize each time. In the end, Spurs were a little fortuitous to walk away with a 3-3 tie, given that a Wolves goal had been called off when Spurs keeper Gomes bear-hugged his opponent in midair, allowing the ball to trickle into the net. It was the second consecutive EPL game in which Spurs haven't won. But on Wednesday, Tottenham wrote another chapter in the fairy tale of its 2010-11 European campaign. Where archrival Arsenal had failed just the day before in holding off Barca for 90 minutes to preserve a narrow aggregate lead, Spurs did manage. William Gallas cleared a ball off the goal line in the first half, but other than that, AC Milan never got very close to scoring. The aesthetics of the match left something to be desired, but Tottenham's 1-0 aggregate win over Milan to advance to the quarterfinals of the Champions League was impressive.
10. (8) AC Milan
18-3-7 (league); 2-3-3 (Champions League) *
Away at once-frightening Juventus on Saturday, Milan managed to get through 90 minutes without giving up a single shot on goal. That meant all there was left to do for the Rossoneri was score once, which proved harder than it sounds. Eventually, it took Gennaro Gattuso of all people -- he hadn't scored a league goal since the 2007-08 season -- to skip one in from the edge of the box after good preparatory work from Zlatan Ibrahimovic. In London on Wednesday, Milan had the better of the play against Spurs, but it wasn't enough to make up for the 1-0 loss it had suffered in Milan. A ball cleared from the line in the first half, some poor luck and some sturdy defending from Spurs were enough to send Milan out of the tournament of tournaments.
---
* eliminated from continental competition
Disagree with our rankings? Argue your differences in the Comments section below. The continental competitions and top-tier leagues from the following countries were included for consideration in the above rankings: Argentina, Australia, Brazil, CONCACAF Champions League, Copa Libertadores, Denmark, England, France, Germany, Italy, Mexico, Norway, Portugal, Russia, Scotland, Spain, Sweden, Turkey, UEFA Champions League, UEFA Europa League, Ukraine, United States.
Leander Schaerlaeckens is a soccer writer for ESPN.com. He can be reached at leander.espn@gmail.com.

Contributing writer, ESPN.com
Leander Schaerlaeckens is a contributing writer for ESPN.com. He has previously written for The Guardian, The Washington Times and UPI.
MOST SENT STORIES ON ESPN.COM