Commentary
Drawing conclusions in Champs League
Updated:
March 18, 2011, 2:10 PM ET
By
Ravi Ubha
| Special to ESPN.com
[+] Enlarge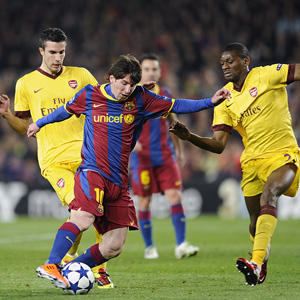 Pierre-Philippe Marcou/AFP/Getty Images)Lionel Messi and Barcelona took care of Arsenal in the last round. Now they face Shakhtar Donetsk in the quarters.
Football purists can temporarily breathe easy. Barcelona and Real Madrid avoided each other in the Champions League quarterfinals.
We can look forward, though, to the Spanish giants colliding in the semifinals, which is even better than the pair meeting in the final -- two games instead of one.
Barcelona will be favored to top entertainers Shakhtar Donetsk and Real Madrid to get past exciting Champions League debutant Tottenham. As for the pick of the quarterfinals, injury-hit Manchester United faces aging Chelsea in a repeat of the dramatic 2008 finale in Moscow. That winner battles either defending champ Inter Milan or Schalke 04.
Who'll win it all? We rank the elite eight after Friday's draw in Switzerland:
1. Barcelona (faces Shakhtar Donetsk in quarters): The Barcelona side that won the Champions League in 2009 was pretty darn good. This year's version has gone up a notch.
The Catalans demolished Real Madrid in league play in November, one of the best team performances of all time. And they dispatched Arsenal in the Champions league for the second season in a row.
The likes of Messi, Iniesta and Xavi have hardly looked better in unison, with David Villa a substantial improvement from Zlatan Ibrahimovic up top. Barcelona can look vulnerable at the back at times, but the opposition barely touches the ball enough to exploit that potential weakness. The best chance for anyone to beat Barca will be in the final, when it's a one-off match instead of home-and-away games.
2. Manchester United (faces Chelsea in quarters): This is a somewhat worrying time for United. Key central defender Rio Ferdinand could be out for the season, partner Nemanja Vidic is less than 100 percent and fullback Rafael is nursing an injury too. And the midfield is showing its age.
But as always with Fergie's teams, they find a way to win. That hasn't changed. No matter how poor United has been this season, the Scot is on his way to claiming another league title. What's more, Wayne Rooney has been showing signs of life, not just as a goal scorer but as a playmaker whose passing of late has been extraordinary.
United was unlucky not to beat Chelsea in London this month, getting two bad calls from a shaky referee. The Red Devils have also gotten a boost with winger Nani returning sooner than expected from his leg injury, and the sprightly Javier Hernandez is showing an instinct for the goal that will help his team kill off games.
If United beats Chelsea, it can book its ticket to Wembley.
3. Real Madrid (faces Spurs in quarters): Jose Mourinho parked the bus, truck, van, trailer, you name it, as he engineered Inter Milan's upset over Barcelona in last season's Champions League semifinal. Boring but effective.
ESPN FC on Twitter
Don't miss a moment of the latest soccer coverage from around the world. Follow us on Twitter and stay informed. Join »
Since Real Madrid plays Barcelona twice (in the league and King's Cup) before they'd meet in a possible Champions League semifinal, it gives Mourinho a little more time to figure out his tactics. Mourinho already did part one in Madrid, finally getting the team to the quarterfinals for the first time since 2004, and you wouldn't put it past him to undo Barcelona in Europe, even if the difference in class is apparent in La Liga.
When he's facing English teams in Europe, Mourinho doesn't stutter, so Real won't slip up against Tottenham in the appetizer.
Imagine how big his head would be if he leads three different clubs to Champions League glory. It'd be special, indeed.
4. Chelsea (faces United in quarters): For all its domestic success in the Roman Abramovich era, the Russian oligarch built this team to win the Champions League. And Chelsea has come close, losing to United in a gripping 2008 final.
But the Blues have lacked that little extra against the best, evidenced by their record of also falling to the eventual champion in 2009 (OK, so a Norwegian referee intervened) and in 2010. Chelsea certainly won't have an inferiority complex against United, coming off a morale-boosting victory over the Red Devils in the Premier League.
Also in Chelsea's favor -- Fernando Torres has to start scoring sometime. Doesn't he?
But the team's most dynamic player, defender David Luiz, who came on board during the transfer window, is cup tied. So Chelsea will have to find a way through United without him.
Still, just as we said with United, whichever team comes out of this quarterfinal victorious will be the favorite to reach the final.
5. Inter Milan (faces Schalke in quarters): Inter has been revitalized under Leonardo, who replaced Rafael Benitez (he of the excuse always at hand), and in Wesley Sneijder and Samuel Eto'o, Leonardo has two guys who can win matches almost single-handedly. Eto'o, shackles removed from his time under Mourinho, might hit 40 goals in all competitions this season. Plus, there's ample experience throughout the squad, which shouldn't be discounted.
History tells us, however, that repeating in the Champions League is difficult, and Inter -- even after its dramatic come-from-behind win against Bayern Munich in the round of 16 -- isn't as good of a team this season as it was last year.
6. Schalke 04 (faces Inter in quarters)
Everyone at Real Madrid wanted a homecoming for Raul. Goalkeeper
Iker Casillas
particularly hoped the legendary striker would return to the Bernabeu. Sure, Los Blancos want to see an old teammate, but Schalke is also the weakest team left in the competition. It is in disarray domestically, with manager Felix Magath getting the axe this week, replaced by Ralf Rangnick.
However, Schalke at least surfaced in the right part of the draw. It avoided Barcelona and Real Madrid and won't be daunted facing Inter, especially if Raul and Jefferson Farfan can continue to do the business up front.
7. Tottenham (faces Real Madrid in quarters): Know this: Spurs will at least go out swinging. Under Harry Redknapp, Tottenham has become one of the most watchable teams in Europe. Gareth Bale, recovered from injury, and Aaron Lennon are world-class wingers, and Rafael van der Vaart has been one of the best buys of the season.
Tottenham showed it can defend and be disciplined, too, gunning for and achieving a 0-0 draw against Milan in the second leg of their round of 16 pairing to reach the quarters. Michael Dawson is a gem in central defense. But Ronaldo's class and the Special One's pedigree in the competition mean this is where the journey ends.
8. Shakhtar Donetsk (faces Barca in quarters): Here's the good news for the Ukrainians (or should that be Brazilians?): Shakhtar actually tasted success at Camp Nou, downing Barca in a group game in 2008. Further, Shakhtar is invincible at home, not beaten since late that year.
Goals are spread throughout the team, with Yaroslav Rakitskiy attracting interest from bigger clubs and Dmytro Chygrynskiy anchoring the defense. Yet even if Shakhtar pulls off one of the biggest upsets in tournament history, Real Madrid and probably Manchester United or Chelsea await.
London-based Ravi Ubha covers soccer and tennis for ESPN.com.
MOST SENT STORIES ON ESPN.COM