Commentary
Back to the future for Wales
Updated:
March 25, 2011, 11:04 AM ET
By
Michael Cox
| Special to ESPN.com
There may be an extraordinary difference of 110 places in the FIFA World Rankings, but Saturday's Euro 2012 qualifying match between England and Wales is far from a foregone conclusion. Recent head-to-head battles between the two have been tight and, despite Wales' poor start in the Euro qualification group, it has a decent side. So expect the atmosphere at the Millennium Stadium in Cardiff to be fierce.
Wales' main team news ahead of the game is the injury to Gareth Bale, ruling him out of this encounter. Clearly, this is a big blow for Wales and a huge boost for England. Earlier this month, England manager Fabio Capello, rather amazingly, described Bale as "the No. 1 player in the world." It may have been pure mind games, but it underlines what a threat he would have been.
Bale's emergence as a top-class player is particularly frustrating for England. For the past two decades, England has struggled to find someone capable of playing on the left of midfield. This has often resulted in fielding star individuals out of position -- Paul Scholes was pushed out to the left under Sven-Goran Eriksson, while Steven Gerrard has frequently played there under Capello. It's an amazing coincidence that the star Welsh player throughout that period, Ryan Giggs, as well as their brightest talent at the moment, Bale, are both excellent left wingers.
For years, a common misconception suggested that Giggs turned down England to play for Wales. The rumor originated from the fact that Giggs represented (and captained) England Schoolboys, and was therefore seen as switching to Wales when he became a full international. In fact, Giggs was never eligible to play for England -- schoolboy football eligibility depends purely on where you go to school, and Giggs attended a school just outside Manchester. In fact, the only other country he could have represented at full international level is Sierra Leone, where his paternal grandfather originated from.
On the other hand, Bale could have represented England. His grandmother is English. He never intended to turn his back on Wales, however, and cites Giggs as his main inspiration. The injury news means this is a missed opportunity for him to show England what they might have had, though next summer's Olympic tournament -- where England, Scotland, Wales and Northern Ireland may contribute a historic combined team for the London games -- may see Bale on the left in a side packed with Englishman.
[+] Enlarge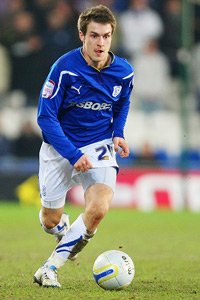 Stu Forster/Getty ImagesAt just 20, Aaron Ramsey has been named captain of Wales.
The announcement about Bale's injury on Thursday morning was swiftly followed by another -- this time on a more positive note. Previous Wales captain Craig Bellamy resigned his position earlier this year, on the grounds that he wouldn't be able to play every game for his country as he nursed a long-standing knee injury. Many expected the armband to go to either James Collins or Ashley Williams, but Wales manager Gary Speed surprised everyone by giving the nod to young Arsenal midfielder Aaron Ramsey.
It seems like a strange decision. Ramsey is just 20, has played around 50 league games in his career -- most as a substitute -- and is only just back from an extremely bad broken leg, sustained against Stoke City late last season. He is the youngest member of the 25-man Wales squad.
It's a brave move from Speed, but the logic is spot-on. This qualification campaign is a write-off for Wales, and for them it's all about planning for the future. It has a young manager, and with Bale, Ramsey, Chris Gunter, Neal Eardley, Jack Collison and Simon Church, Wales has its best generation of talent in decades. A young captain makes sense.
"As I have mentioned before, it is about the future and planning ahead," Speed told the British press on Thursday. "I spoke to Aaron before making the decision and told him there were certain responsibilities and duties that would go with it, and to see if he was happy with it ... I made the decision because I thought it was best for the team and the future of the team."
For Ramsey, it's a huge honor and a remarkable recovery from what many thought was a career-threatening injury last season. Because of the time he missed due to injury -- and the remarkable rise of Jack Wilshere in his place at Arsenal -- it's been forgotten how well Ramsey had played in a Gunners shirt. Combining a great passing range with an intelligent footballing brain, Ramsey is the type of player who can inspire a side and dominate a game from the center of midfield. Being awarded the captain's armband at such a young age -- like Steven Gerrard at Liverpool or Francesco Totti at Roma -- is a clear indication that Wales will be based around him for years to come.
ESPN FC on Twitter
Don't miss a moment of the latest soccer coverage from around the world. Follow us on Twitter and stay informed. Join »
As Wales' opponents in Cardiff know all too well, captaincy is also about conducting yourself properly off the pitch, too, and Ramsey is an immensely likable individual. Quiet and shy, but eloquent in interviews, he's hugely popular at both the club and international level. Like Bale, he seems every inch the consummate professional. He even speaks Welsh.
Ramsey is the perfect poster boy for a promising new generation of Welsh football.
Michael Cox is a freelance writer for ESPN.com. He also runs zonalmarking.net.
MOST SENT STORIES ON ESPN.COM