Commentary
Blueprint for the Blues
Updated:
April 12, 2011, 7:57 AM ET
By
Andy Brassell
| Special to ESPN.com
Manchester United is not used to leaving Chelsea's Stamford Bridge happy, but a rare win in West London last Wednesday makes the Premier League leaders favorites to progress to the Champions League semifinal on Tuesday at the expense of the current English champions. Turning this tie around will be one of the stiffest tests of coach Carlo Ancelotti's Chelsea reign. These are the key areas for him to ponder.
1. Figure out the Fernando Torres conundrum and cope with the loss of David Luiz
Whatever the snipes about Torres' difficulties in adjusting to life at Stamford Bridge, it cannot be doubted with any sincerity he will find his goal-scoring form at some point in the near future, just as he did for Liverpool in January after an indifferent beginning to the season. The first leg saw him get closer to his first Chelsea goal -- and in the league this past weekend, he had another couple gilt-edged chances -- but the question of how he fits into the strongest Chelsea lineup is the center of some debate.
Theoretically, Didier Drogba and Torres should be an ideal pair, certainly from the Spaniard's perspective. It's been well-documented that Torres questioned his future in the English game during his spell at Liverpool, pondering the paradox that his body struggles to cope with a full season in an environment in which his physical attributes have brought his game to a higher level.
Drogba should be the Spaniard's ultimate foil, taking the blows so Torres can concentrate on speeding past the last defender and finishing. But the Ivorian is not only used to being the main man at Chelsea on a symbolic level, he has hardly ever played in a 4-4-2 system in his top-level career.
Since arriving from Benfica at the same time as Torres, Luiz has been exactly the opposite of his fellow deadline-day signing: a massive hit. The Brazilian can sometimes overplay, such is his confidence with the ball at his feet, but the strength and determination that aided his rise in Portugal has enabled him to adapt to the Premier League with ease. It was easy to wonder how he would partner with John Terry, as both have been accustomed to playing the left center-back role, but the ease of adaptation of both can be a lesson to Drogba and Torres.
The cup-tied Luiz has become such a cornerstone of the Chelsea side that his sheer desire was badly missed in the first leg, particularly in the early stages, as Manchester United was the more assertive side. The Chelsea defense must be combative from the first whistle at Old Trafford if it is to stand a chance.
2. Stop Michael Carrick
It seems like an age ago that the England midfielder was stumbling aimlessly through the first leg of the last 16 CL match in Marseille. Put into the side in a nominally defensive role for his judicious use of possession -- as a Xabi Alonso-type figure -- Carrick frequently wasted the ball. Not a particularly strong player or renowned for his tackling, his very presence in the side was severely compromised by his passing radar going askew. And with his contract up at the end of the season, Carrick's future was thrown into doubt.
[+] Enlarge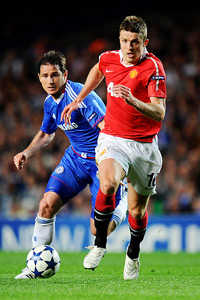 Mike Hewitt/Getty ImagesMichael Carrick's metronomic distribution and fine positioning allowed United a level of control it has not often enjoyed at Stamford Bridge.
While some players are often accused of playing for a contract and easing up when they have the new deal in the bag, 29-year-old Carrick's reaction has been the absolute opposite. He inked a new three-year deal at the beginning of March and has been important for Sir Alex Ferguson's side since then, never more so than in the first leg of this quarterfinal against Chelsea.
If Carrick's most eye-catching moment was the sublime cross-field pass to Ryan Giggs that allowed the Welshman to set up Wayne Rooney for the game's only goal, his metronomic distribution and fine positioning allowed his side a level of control it has not often enjoyed at Stamford Bridge, where it has drawn three and lost six of nine Premier League games since winning 3-0 there in April 2002. Certainly Chelsea pressured Manchester United in the second period, but the visitors were rarely in trouble.
At Old Trafford on Tuesday, Chelsea's plan must be to put Carrick under more pressure when he's in possession. Michael Essien may be required to aid Frank Lampard more in the attacking phase of the game, with Chelsea chasing, so either moving Ramires infield or starting John Obi Mikel -- perhaps at the expense of either Torres or Drogba -- could be the answer.
3. Get Ashley Cole into the game more
Many were surprised to see Nani on the substitutes' bench for the first leg at Stamford Bridge, but we should be past doubting Ferguson by now. The introduction of the less extravagant Antonio Valencia, who has regained his form instantly since returning from serious injury, was a great ploy to stymie the overlapping runs of Cole. More of Chelsea's threat came from Jose Bosingwa, on the right, and that was testament to the success of this tactic.
The situation demands the reintroduction of Florent Malouda at Old Trafford. The French international has not been able to match his stellar displays of the last campaign in this season, but he retains a strong understanding with Cole on the left-hand side. He was prominent in Saturday's win over Wigan Athletic, and his versatility could serve Ancelotti well against the Red Devils, too.
ESPN FC on Twitter
Don't miss a moment of the latest soccer coverage from around the world. Follow us on Twitter and stay informed. Join »
Malouda is a less flashy wide player than some; he is as industrious as he is effective. That owes plenty to the manner of his evolution as a top-level competitor. He played a number of games at left-back for Lyon, a position in which former Lyon boss Paul Le Guen thought he could make his career, in its Champions League run in 2003-04. Should United reprise its employment of Valencia to nullify Cole in the second leg, Malouda can drop back to keep the Ecuadorian occupied to allow Cole to push into the space in front.
If Chelsea can make the above adjustments, the Blues could very well stage a comeback and find themselves in the Champions League semifinals.
Andy Brassell is a freelance soccer writer for ESPN.com.
MOST SENT STORIES ON ESPN.COM