Commentary
Gooch's new lease on life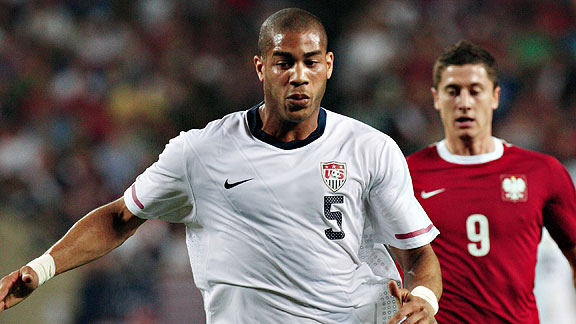 AP Photo/Nam Y. HuhAfter riding the bench at AC Milan, Oguchi Onyewu has jump-started his career at FC Twente. That's good news for Gooch as he prepares to lead the U.S. once again in a World Cup cycle.
Oguchi Onyewu won't stop talking. Standing tall in a hotel room in New Jersey, on the eve of the U.S.'s friendly against Argentina last month, he's been at it for about 25 minutes. His hair is shorn the same length as his closely cropped beard; his busted-up toes poke out of flip flops. He's wearing a faded black T-shirt through which his veiny arms regularly bring a Starbucks cup to his mouth. The sips are the only thing that interrupt the flow of his words.
I'm taken aback.
Because Onyewu never talks. On the field, that is, which is the only place most people get to see the guarded U.S. national team defender.
"He's not a guy that's going to talk a lot. He's not a guy that's going to be rah-rah in the locker room," said teammate Jozy Altidore. "But he's a guy who, when you look on the field for the guys who are coming to play, who are going to tackle and mark the best player on their team, that's what Gooch does. Without saying much, he sets an example for everyone else on the field."
"I'm a physically big figure," explained the 6-foot-4, 210-pound Onyewu. "But I try to be more observing and less vocal and to feel a situation out. I do like to lead by example in terms of my play and in terms of how I conduct myself."
That approach of leading by example has made Onyewu the bedrock of the U.S. back line. Since making his debut in 2004, he has averaged just under 10 caps per year. At 28, he will in all likelihood become the only member of the current defense to play in the 2014 World Cup, when he will have just turned 32. The other incumbents -- Steve Cherundolo, Jay DeMerit and Carlos Bocanegra -- will all be 35, and probably well past their prime. So if all goes as expected, Onyewu will be one of just four current U.S. internationals -- along with Tim Howard, Landon Donovan and Clint Dempsey -- to compete in his third consecutive World Cup.
"He's been there and done that, and his experience is important to us going forward," said fellow defender Jonathan Spector. "He's played in World Cups previously, he's been through qualifying cycles, Gold Cups."
"I see him as a guy who's going to be playing a long time for us," said Altidore. "I think he's got definitely another World Cup in him and another one after that. He keeps himself well."
When Brazil 2014 comes around, Onyewu will hope to perform better than he did in South Africa. After the first two group games, he was benched because he wasn't fully fit. Then again, it was remarkable that he was there at all.
ESPN FC on Twitter
Don't miss a moment of the latest soccer coverage from around the world. Follow us on Twitter and stay informed. Join »
During the U.S.'s final World Cup qualifier against Costa Rica on Oct. 14, 2009, a day after Charlie Davies barely survived a car crash, Bob Bradley's men clinched the top spot in CONCACAF qualifying. But Onyewu had ruptured the patellar tendon in his left knee. "It was by no means just a meniscus tear or anything like that," Onyewu said. "A torn patellar tendon is really serious and sometimes players don't come back to play at the same level that they did."
While Onyewu healed well and surprisingly quickly, the grueling recovery process made for "a very dark year," he said. That was partially because of the injury, and partially due to his club employer, AC Milan. After his surgery, Onyewu spent two months rehabbing alongside Davies in Delaware. He was cleared to return to Milan in February. "They were kind of reluctant and hesitant to progress me as fast as I was going because they didn't want me to reinjure myself," said Onyewu. "[Former Brazilian/Milan striker] Ronaldo had the same injury at the club and he did the same injury twice. So they were really passive in terms of my progression with the injury."
Onyewu returned to the U.S. to finish up his recovery under the watchful eyes of the U.S. national team staff. He didn't go back to Milan until April.
Upon his return, he found himself in the same spot as he'd left -- on the outside looking in. Brought in as a free agent from Standard Liege in the Belgian league in 2009, he served as cover for other central defenders. Before his injury, he'd played just a quarter of an hour of competitive soccer. After it, he played none.
With his club career stalled, Onyewu focused on his international career. "My first objective was to make the roster for the World Cup, so that was a definite high point in terms of the whole recovery process," said Onyewu, who was noticeably rusty in the pretournament friendlies.
And after the tournament, he reclaimed his place in Milanese purgatory. "The second season came around and they changed managers. So it wasn't the coach that brought me in," said Onyewu. "I could sense from the beginning that he wasn't [keen on me]. He didn't know me and I didn't play the season prior, so he didn't have anything to base it off."
So Onyewu remained glued to the bench. "Some days it gets to you and it seems like it's never-ending," he said. "It's definitely not the easiest thing being used to playing all the time and then coming to a situation of that not being the case."
[+] Enlarge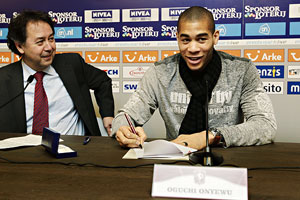 Vincent Jannink/AFP/Getty Images)The turning point: In January, Gooch was loaned to FC Twente, where he's getting regular first-team football.
Getting match fit without playing actual first-team matches is rather tricky, Onyewu found, frustrating both his ambitions and the completion of his recovery process. "As months went by, I could see I wasn't going to be given the opportunity that I wanted with this coach," said Onyewu. "That's happened to me when I was younger in France and I made transitions, so that's what I did again. I didn't want to use that as an excuse to set me back and I said, 'Fine, right now it's not working out here. It's time for me to make a transition and switch gears and find a better situation in terms of my playing.'"
That's when Dutch champion FC Twente came along, offering a January transfer-window loan in which "all the components just fit," Onyewu said. Many saw it as a demotion. Onyewu viewed it as the opposite. "A lot of people said jumping from AC Milan to Holland is a jump back," he said. "I was like, 'Those people are really looking at it the wrong way because I think being on AC Milan and not playing to going to Holland and playing day in and day out in Europa League all the time is a step [up].' I found myself in the most ideal situation at this moment, in this period of my career."
So comfortable was Onyewu with his new surroundings and his reunification with Michel Preud'homme, who had coached him at Standard, too, that he didn't even mind a switch to left back when the need arose.
A return to Milan to play out the final year of his contract when his loan is up at the end of this season is unlikely. "I wouldn't want to go to Milan just to be a squad player. I want to be given the opportunity to prove myself on the field and if that's not going to happen then I have to re-evaluate my position. It all depends on the coach and if he's still there," Onyewu said of Massimiliano Allegri, who has the club in first place in Serie A. "Five months ago, I obviously wasn't one of his top choices and if you asked me now if [I think] that would change in the summertime, I'd say no."
The key for Onyewu is that he keeps getting first-team games and stays sharp. It's the best way to stay in the national team picture. What's more, the central defender finally believes he's made a full recovery. "I feel like if I'm not back to where I was in the summer of '09, I'm just about there," he said. "There haven't been any issues with [my knee] whatsoever. I've been playing a run of games every three days or four days and able to play 90 minutes all the time with no setbacks or repercussions. I consider myself fine."
And playing a new position has made him a better defender. "It's given me an opportunity to become more versatile in terms of my playing style," Onyewu said. "It's allowing me to become a better one-on-one defender since playing on the outside you're a lot more isolated than in the middle.
"I definitely don't think I've peaked yet in terms of my talent, in terms of my career and I feel like I have so much more progressing to do," said Onyewu. "And I'm anticipating on making those strides and those steps in this next [World Cup] cycle."
Those strides include taking on more of a leadership role as the U.S. embarks on trying to qualify for Brazil '14. "On the team, I'm one of the more veteran players so I'm definitely going to be filling into that leadership role for the younger players," said Onyewu. "I think that regardless of whether we want to see it or not, they look up to us [veterans] to see what we do by example and how we conduct ourselves."
"There's a lot of us who need to continue to grow as leaders and Gooch is one of them," said Donovan.
Hell, he might even start talking more.
"Now, since there is so much more youth coming into the program, not everybody can read actions," said Onyewu. "So perhaps I need to be more vocal and I might need to take more of an interactive role to help them progress."
Yes, it's decided: Oguchi Onyewu will talk more. "But not necessarily be louder," he quickly added. "Because nobody likes a loudmouth."
Leander Schaerlaeckens is a soccer writer for ESPN.com. He can be reached at leander.espn@gmail.com.

Contributing writer, ESPN.com
Leander Schaerlaeckens is a contributing writer for ESPN.com. He has previously written for The Guardian, The Washington Times and UPI.
MOST SENT STORIES ON ESPN.COM