Commentary
Time to say good riddance to Becks?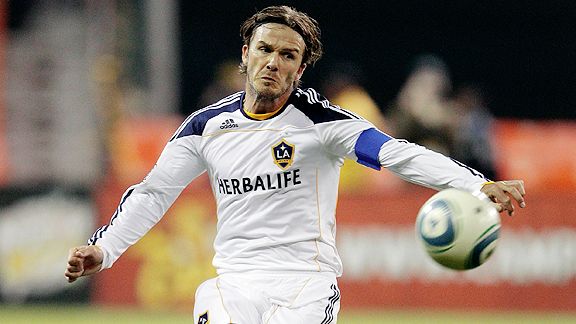 Rob Carr/Getty ImagesDavid Beckham might want to stay, but should MLS want him to?
David Beckham, the eminence grise of Major League Soccer, has proclaimed that he might deem it worth his time to slum it with the Los Angeles Galaxy for a while longer.
Beckham's monster $32.5 million five-year contract will run out at the end of this season, and we know he has options in Europe. Harry Redknapp, venerable manager of Tottenham Hotspur, has already said he wants him back, after Beckham trained there during the offseason. And it isn't hard to imagine dozens of other European managers, threatened by unemployment or mediocrity, going hat in hand to whatever skyscraper the Beckham empire is run out of these days, begging for the last scraps of his talent.
We've discussed the merits of Beckham's time with MLS before. On balance, he's brought the league credibility and, as far as we can tell, a nice pile of cash (although it's hard to say if it offset his salary, or even came close). But the interest level in MLS has returned to normal after Beckham created an initial spike. And, lest we forget, he's not really made L.A. a better team -- from 2007 through 2010, the Galaxy's record was better in the many games it played without him because of injuries and absence than it was with him. Even if you defy the numbers and argue he has helped the team, it's not exactly been the sort of impact that's worth $6.5 million a year, the equivalent of 2 1/3 team salary caps.
So what does his glorious willingness to stay mean for MLS?
First, it could mean nothing at all. Beckham would be stupid to say he wouldn't stay, because that would only further insult the club and its fans much the way he did after two pointless loan stints to AC Milan so he could to stay in the England picture for the World Cup. He'd also be restricting his bargaining power if he bid L.A. goodbye at this point in time.
Second, it means MLS could get fleeced once more. Bring together a panel of experts and they probably wouldn't have any trouble agreeing on at least half a dozen MLS players making below the Designated Player threshold of $335,000 a year who are more influential than Beckham is. His on-field value, based more on seniority than ability, is a fraction of what his contract would suggest. Attendance at Galaxy home games is down to almost where it was before Beckham arrived. And the Galaxy's road games drew fewer people in 2010 than they did pre-Beckham. As for the much-heralded jersey sales, we have no numbers on those, but it's hard to imagine there's still a run on that white Beckham 23 shirt after almost five years.
ESPN FC on Twitter
Don't miss a moment of the latest soccer coverage from around the world. Follow us on Twitter and stay informed. Join »
Beckham will turn 36 in May. Since his arrival in L.A., his game hasn't shown any signs of age-induced wear yet. But it will -- soon. This will have to be reflected in the value and length of a new deal, whichever club it is with.
The Galaxy might consider losing its much-heralded icon as a loss of face -- the idea was for him to retire in MLS, after all. But realistically, David Beckham isn't the man he used to be. And he isn't worth what he once was. Given the economics of MLS, the Galaxy should not offer him more than a 10th of what he earns now, which would still be almost double the DP threshold.
If he asks for more, the Galaxy and MLS would be best served by saying goodbye. And, perhaps, good riddance.
Leander Schaerlaeckens is a soccer writer for ESPN.com. He can be reached at leander.espn@gmail.com.

Contributing writer, ESPN.com
Leander Schaerlaeckens is a contributing writer for ESPN.com. He has previously written for The Guardian, The Washington Times and UPI.