Commentary
Man City finally gets better of United
Updated:
April 16, 2011, 5:00 PM ET
By
Ravi Ubha
| ESPN.com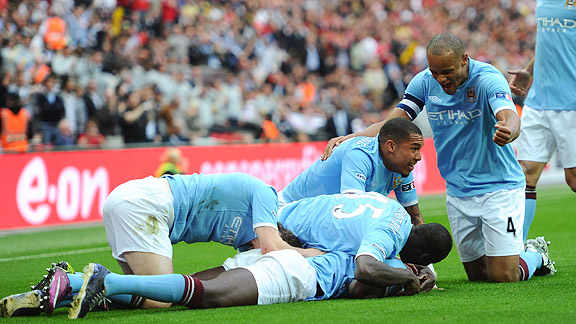 Mike Hewitt/Getty ImagesBlue moon over Wembley: Manchester City defeated United 1-0 to reach the FA Cup final for the first time since 1981.
LONDON -- Living in the shadows of Manchester United, Manchester City fans have suffered for so long. How sweet it must have been then on Saturday, when City overcame a wobbly start to deservedly down United 1-0 at a raucous Wembley to reach the F.A. Cup final.
Not for 30 years has City landed in the finale, and not for 56 years had the blue side of Manchester beaten its archrival in the world's most beloved cup competition. Pleasing the City faithful even more -- United's chances of a treble have ended.
For the first half-hour, though, United looked like the only winner, controlling play and taking advantage of nervous, less-experienced opposition. The turning point came when United striker Dimitar Berbatov missed a pair of early opportunities.
Yaya Toure's goal in the second half, the result of errors by stalwart goalkeeper Edwin van der Sar and Michael Carrick, sent City into another gear, and the Blues should have added to the advantage. Toure was the man of the match, impressing in the middle of the park.
Here are four takeaways from the match:
1. It wasn't Fergie's day
Not starting the in-form Javier Hernandez was a big call by United manager Alex Ferguson, but you could understand his thinking. Fergie, unable to use the suspended Wayne Rooney, watched from the stands yet again as his touchline ban continued. Hernandez has probably played more than anyone thought in his first season at Old Trafford, and given his success, the Little Pea is sure to return to the starting lineup when United visits Newcastle in a vital Premier League clash on Tuesday.
Fergie opted for Berbatov alone up top, and the Bulgarian had one of those days. He was robbed by Hart in the 15th minute and, seconds later, was unable to tap in Nani's appetizing cross. Ironically, Hernandez put away a similar ball against Chelsea on Tuesday in the Champions League. Further, Berba, still leading the league in scoring despite waning playing time, slightly injured his leg as he slid to meet Nani's ball and suffered a bloody nose after he was caught, accidentally, by a City defender later in the half.
Berbatov's day ended when Paul Scholes was sent off, and Berba was replaced by midfielder Anderson.
ESPN FC on Twitter
Don't miss a moment of the latest soccer coverage from around the world. Follow us on Twitter and stay informed. Join »
Ferguson didn't include Ryan Giggs, enjoying a splendid spring, in the squad, another sizable, interesting decision. Perhaps Giggs and his 37-year-old body needed a break, so it's hard to argue with Fergie on that one, too.
But it's clear both omissions hurt the Red Devils.
2. Credit Mancini
Fergie's counterpart, Roberto Mancini, has been criticized for being too cautious away from home. Mancini, for instance, drew more flak this week when an impotent City was crushed 3-0 at Liverpool.
And while he didn't spring any surprises in the lineup, Mancini might have turned the game around midway in the first half. With his team being completely dominated, Mancini let rip from the sidelines, appearing to take aim at his back four.
From almost that point onward, City was the better team.
Like Ferguson, Mancini needed to make a decision about a striker since talisman Carlos Tevez was injured. Going with Mario Balotelli rather than Edin Dzeko at least didn't do any damage. Balotelli put in a good shift and tested van der Sar with a rocket from about 35 yards in the first half. Of course, there was his customary wild shot from distance on another occasion.
If City wins the FA Cup and finishes in the top four in the Premier League, Mancini's job is safe.
3. Scholes is Scholes
Paul Scholes is one of the best players of his generation, frequently called the English Zinedine Zidane. But tackling has never been the ginger-haired midfielder's forte.
Scholes got away with one against Arsenal in the FA Cup quarterfinals on March 12, targeting Samir Nasri, but referee Mike Dean was correct in dismissing Scholes for a boot to Pablo Zabaleta's thigh that drew blood late in the second half on Saturday. Scholes will miss the next three domestic games, a blow for United as it tries to lock up the league title.
4. Ferdinand needs to grow up
United defender Rio Ferdinand took a shot at City this week, appearing to condemn the behavior of midfielder James Milner. Milner was ticked at being substituted at Anfield on Monday and didn't hide his emotions as he trudged off.
That would never happen at United, Ferdinand said.
Ferdinand should look in the mirror. He was petulant, even if provoked by Balotelli, at the end of the game, trying to get to the Italian and squaring up to City assistant David Platt. Anyone who has watched Ferdinand confront a referee when a big call goes against United won't be surprised.
So now we wait to see which other team, Bolton or Stoke City, makes it through the other semifinal on Sunday. Then it's on to the final on May 14, when one of these clubs will be adding to its trophy cabinet for the first time in a long time. Bolton hasn't lifted a trophy since 1958, Stoke since '72, and City since '76.
London-based Ravi Ubha covers soccer and tennis for ESPN.com.
MOST SENT STORIES ON ESPN.COM