Commentary
Jose Mourinho has gone too far
And four other takeaways from the Champions League semifinals
Updated:
April 28, 2011, 2:21 PM ET
By
Michael Cox
| Special to ESPN.com
The first leg of the Champions League semifinals is over, and right now it looks like that final at Wembley will be contested between Manchester United and Barcelona. They'll both play the return leg at home with a 2-0 aggregate lead. In the meantime, here are five things we learned this week.
1. Real vs. Barca was extremely distasteful
The prematch squabbles across the press. The kicking, tripping and diving. The harassment of the referee every time a player went down. The postmatch conspiracy theories. The latest installment of El Clasico was an ugly game that -- aside from Lionel Messi's superb late goal -- is best forgotten. Both were responsible, and the two sides should be ashamed of their conduct throughout the 90 minutes.
2. Mourinho has to be the star
Perhaps the Real Madrid manager was just protecting his troops. That is a long-established tactic in football management, deflecting the attention away from players to prevent them from getting harshly criticized. Arsene Wenger has been the most notable fan of this strategy; as recently as last weekend, he told the British press "The players have been outstanding all season. If there is somebody to blame, it is me."
There are ways of properly deflecting criticism and the media spotlight. Jose Mourinho's postmatch rant was shameful, implying that a widespread plot was favoring Barcelona and personally naming referees who are biased toward Pep Guardiola's side, among a whole raft of allegations that have prompted the Barca hierarchy to consider legal action.
Mourinho has history here. In 2005, his criticism of Anders Frisk resulted in the Swedish referee being forced into retirement after threats were made to his family. Last night, the officials had to leave the pitch under protection from police riot shields. This is an atmosphere deliberately stoked by Mourinho, and many will consider this the week when his attitude toward referees -- and opponents -- went too far.
Mourinho's body language in being sent to the stands in Wednesday's game suggested that he was trying to deliberately get himself sent off (Real, of course, is no stranger to intentionally getting itself in trouble with the referees in the Champions League this season) to further the perception that Madrid was being victimized. We've reached quite a bizarre point when a manager is more focused upon exaggerating a perceived plot against him than he is upon instructing his side at a crucial point in a vital game. Mourinho is a fantastic manager and one of the game's great characters, but this really isn't helping anyone.
3. Experience was important
This was most obvious in Schalke's dreadful performance against Manchester United, as the German side was vulnerable almost all over the pitch. It didn't close United down deep in midfield, it was too open between its defense and midfield and Javier Hernandez caused problems behind the defense. On first thought, it seemed like Schalke could reasonably be named as the worst Champions League semifinalist for years, but its performance wasn't too much worse than Lyon's last year, when it lost 4-0 on aggregate to Bayern Munich and barely showed any attacking ability over the two legs.
The common theme is that Lyon and Schalke were both competing in their first-ever Champions League semifinals, and both looked completely out of their depth. Compare this to the displays of Manchester United (in its fourth Champions League semifinals in the past five years) and Barcelona (in its fifth in the past six), and it's clear that experience was key. Individual experience for players is often taken into account, but experience as a unit, as a team and as a club, is also a deciding factor. This also came into play for Real Madrid, as Los Blancos hadn't reached this stage since 2003-04, and didn't deal with the pressure as well as Barcelona.
[+] Enlarge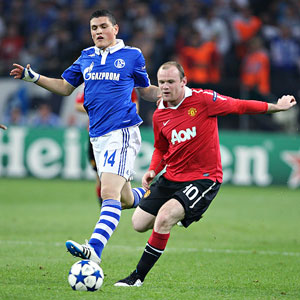 John Peters/Getty ImagesWayne Rooney's versatility has allowed him to become a goal-scoring threat and an exceptional playmaker.
4. The No. 10 is back in fashion
It's taken a while for both to be used in the classic No. 10 position -- in the center of the pitch, between the opposition lines of defense and midfield -- but Wayne Rooney and Messi were both superb this week in a role that could reasonably be described as old-fashioned.
A few years ago, the popularity of 4-4-2 and then 4-3-3 formations meant there was no place for the traditional playmaker. Potential superstars like Juan Riquelme and Pablo Aimar never completely fulfilled their potential because many top European clubs had no real use for them -- Riquelme wasn't a success at Barcelona, and Aimar is now in the Portuguese league, though his talent suggests he belongs at a top-level club.
The difference between those two players compared to Rooney and Messi is versatility. Riquelme and Aimar belonged in the center of the pitch and struggled to adapt to different roles, while both Rooney and Messi have been brought up in wide roles in the Champions League, before later being pushed into the center of the side. They've adapted their games throughout their careers to suit the tactical trends of the time, and the tactical needs of their clubs. At only 25 and 23 respectively, Rooney and Messi have mastered several different roles -- a credit not just to their talent, but to their work rate and commitment.
5. Historic turnarounds are needed in the second legs
There have been 15 occasions in the history of the Champions League when the home side has lost the first leg of a knockout tie 2-0. Never has the losing side progressed at the end of the second leg. It's difficult to know which team is more likely to cause an upset. Schalke was so dreadful that the prospect of it winning by a two-goal margin at Old Trafford is unthinkable, while Real will have to deal with Barcelona hoarding the ball with no need to score. It'll also have to cope without Sergio Ramos and Pepe, both suspended. The second legs of the quarterfinal stage were nonevents; we haven't quite got that situation here for the semifinals' second leg, but a Manchester United versus Barcelona final looks extremely likely.
Michael Cox is a freelance writer for ESPN.com. He also runs zonalmarking.net.
SPONSORED HEADLINES
MORE SPORTS HEADLINES
MOST SENT STORIES ON ESPN.COM