Commentary
Five turning points in Clasico series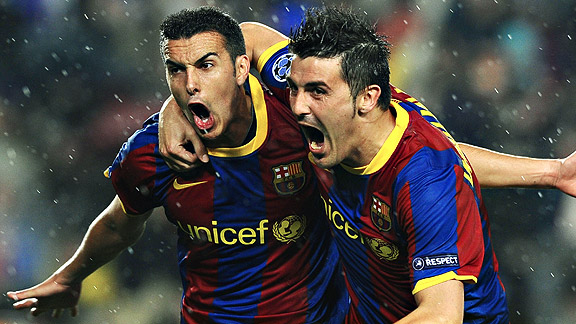 Siu Wu/AFP/Getty ImagesBarcelona's quality was too much for Real Madrid to overcome in the Champions League semifinals.
Real Madrid strode into Barcelona's Camp Nou a defeated side before the second leg of their Champions League semifinals, which also served as the final installment in their epic four-game series. In the players' tunnel, Real's Iker Casillas and Alvaro Arbeloa looked decidedly worse for the psychological wear, as though they had no interest in playing the game. This was telling of the dispiriting nature of chasing after Barca for a fortnight.
Because although it may have been at the end of its tether mentally, Real was by far the best it had been in soccer terms all series. Madrid looked rejuvenated, surely courtesy of having a third central midfielder, Kaka, freed from defensive duties, and an actual striker in Gonzalo Higuain on the pitch from the start. Nevertheless, Madrid fans may wonder why Mesut Ozil didn't start instead of Kaka, and that was only reinforced in the second half when he finally replaced him and made more happen.
Still, it was an overall positive match -- yes, playing with just two holding midfielders and pouncing on the counter is positive for Real in the context of this Clasico series -- that resulted in the most attractive game yet, to cap off a series that was as disappointing in playing quality as it was combustible when nerves inevitably frayed.
Real was unafraid to pressure high, stretching the field and attacking with gusto. This created room for Barca to operate in its comfort zone, holding the ball for long spells, looking for cracks in the opposing defense to slide against-the-grain through balls.
Thus ensued more chances, more flair and more Lionel Messi, liberated at last from the third holding Real midfielder, in the form of the suspended Pepe, tasked solely with giving him a good kicking whenever he touched or even contemplated touching the ball. Although Messi merrily carved up Real's defense, it took until the 53rd minute for the Merengues to come unstuck in keeping its nets clean. That's when Andres Iniesta got the ball to Pedro -- with Messi helpfully letting the ball roll past him -- to put Barca up 1-0.
Real fought back. In the 63rd, the outstanding Angel Di Maria tore up the left and slammed his effort off the post, collected the rebound and played it square for Marcelo, who swept it home to tie the game, which ended 1-1. That was enough to see Barcelona through, 3-1 on aggregate, to the Champions League final.
Even if the sides split the four games evenly, each getting a lone win and drawing the other two, Barcelona was very much the victor. Keeping its eight-point league lead intact in the first game, surrendering the Copa del Rey to Real but taking the biggest prize of all by moving on to the Champions League final at its archrival's expense. That's not to say the exercise wasn't equally exhausting for both sides, as evidenced by both Spanish powerhouses losing their league games this past weekend -- Real Madrid to Real Zaragoza, 3-2, and Barca to Real Sociedad, 2-1.
ESPN FC on Twitter
Don't miss a moment of the latest soccer coverage from around the world. Follow us on Twitter and stay informed. Join »
But in spite of the negative tactics, the taunting, the kicking and the moaning, it's been an epic series, punctuated by five momentum-swinging moments:
1. Dani Alves brings down Marcelo for a penalty in Game 1
Barca seemed firmly in command at the Bernabeu in their league game on April 14, having gone ahead in the 53rd on a penalty kick when Raul Albiol took down David Villa in the box and got sent off. Real had been excellent defensively, but Barca looked much the better side and unlikely to be upset. Yet when Marcelo crashed to earth and allowed Cristiano Ronaldo to equalize from the spot, Real acquired a fresh energy, daring to stride forward and threatening to go ahead several times. That's when Real realized it could compete with Barca.
2. Ronaldo scores in extra time in Game 2
Real had come out much more aggressively in the second game, which was to decide who got to, ahem, throw a costly, hard-earned Copa del Rey trophy under a moving bus. Real matched Barca and was the more dangerous side for stretches, a proposition still almost unimaginable at this stage. This was culminated in a liberating cup-winning goal by Ronaldo in the 103rd minute. By this point, Real was ahead both mentally and physically, having taken a win and a draw from the two games. Barca, meanwhile, was looking shaky, with its thinner squad tiring and bogged down by injury.
3. Pep Guardiola finally responds to Jose Mourinho's barbs
If ever there was a moment for Barca's classy mastermind coach to pipe up, this was it. Ahead of the first leg of their Champions League semifinals, he finally dished back to master pot stirrer Mourinho, whose pretty piehole had been flapping for months. "Off the pitch, he has already won, as he has done all year," Guardiola said sometime in the middle of his invective-laden tirade, offering a rebuttal to Mourinho's many Barca-aimed slurs and accusations. "On the pitch, we'll see what happens." With those words, a galvanized Barcelona announced that it wouldn't be tolerating Real's abuse -- a prescient announcement, given the next game.
4. Pepe is sent off in Game 3
In one of the uglier games in memory -- even within the pantheon of testy Clasicos -- this match was unsightly by any measure. Both sides harassed the referee as Real played uber-physically and defensively, looking only to keep a clean sheet at home, while Barca pined for fouls and cards called on its opponents. This paid dividends when, in the 61st minute, Pepe was sent off harshly for Real, freeing up Messi at long last to score twice and put the tie firmly in Barca's control.
5. Pedro scores in Game 4
Real needed a minor miracle by this game to reach the Champions League final. It required a 2-0 win just to force extra time and possibly penalties. But when Pedro capitalized on Barca's dominance at long last in the 53rd minute, the series was well and truly over.
It was seldom pretty, but these games will long be remembered for their intensity.
Frankly, watching it all was exhausting.
Thank you for the entertainment. It's been emotional.
Leander Schaerlaeckens is a soccer writer for ESPN.com. He can be reached at leander.espn@gmail.com.

Contributing writer, ESPN.com
Leander Schaerlaeckens is a contributing writer for ESPN.com. He has previously written for The Guardian, The Washington Times and UPI.
MOST SENT STORIES ON ESPN.COM