Commentary
World Power Rankings
Liverpool's late-season surge highlights this week's rankings
The European season is on the verge of wrapping up, with the cup of cups, the Champions League, to be decided soon. With several clubs clinching in the past two weeks, here's who ranks best among the best.
1. Barcelona
League record: 29 wins, 2 losses, 5 draws; European stage: final Champions League
With a bland 1-1 draw at Levante on Wednesday, Barca secured a third straight La Liga title. The Blaugranas had easily dispatched city rivals Espanyol 2-0 on Sunday. Thus midfield anchor-turned-head coach Pep Guardiola, all of 40 years old, won his ninth trophy in just his third season in charge, and he has a chance to win the European Cup on May 28 against Manchester United. Is his side better than Johan Cruyff's Dream Team? It's a debate in Spain right now.
2. Manchester United
League record: 22-4-10; European stage: final Champions League
After getting a massive 2-1 win over title rival Chelsea on Sunday, United needs a lone point from its games with Blackburn away and Blackpool at home to clinch a record 19th title. That's four in five years, and 12 in 19. Then there's the third Champions League final in four years, giving United a crack at its fourth big cup. This might not be a vintage United team, but that hasn't stopped Sir Alex Ferguson.
ESPN FC on Twitter
Don't miss a moment of the latest soccer coverage from around the world. Follow us on Twitter and stay informed. Join »
3. Real Madrid
League record: 27-4-5; European stage: semifinals Champions League
If there were no such thing as FC Barcelona, Real might well be the best team in the world. With the embarrassment of riches at its disposal, it could dominate if Barca didn't continually stand in its way. The best evidence of this is the spanking the Merengues frequently dole out to Spain's other supposed big clubs. After battering Valencia 6-3 on April 23, Real hammered Sevilla 6-2 on Saturday, getting four more goals from Cristiano Ronaldo. CR7 bagged three more Wednesday in a 4-0 win over Getafe. That gives him 36 in the league -- five more than Lionel Messi.
4. FC Porto
League record: 26-0-3; European stage: final Europa League
With a lone Portuguese league game to go, undefeated Porto has long since wrapped up the title, with monster leads of 19 points and 35 points over No. 2 Benfica and No. 3 Sporting. After romping through another round of the Europa League by beating Villarreal 7-4 on aggregate this past Thursday, the Dragons will look to add another European trophy against Braga in Dublin on May 18 in the Europa League final. Under first-year coach Andre Villas Boas, a former Jose Mourinho assistant, Porto is starting to look dynastic again. The last man to win Europe's second most prestigious club title with Porto? Mourinho. And Villas Boas and his key players are locked up for several more years and intent on staying.
5. Borussia Dortmund
League record: 22-5-6; European stage: eliminated in Europa League group phase
After dominating a shambles of a German league for most of the year, Dortmund stumbled to the finish line. It won only seven of its last 14 league games, dating back to Jan. 22, before fittingly winning the title courtesy of Bayer Leverkusen's 2-0 loss to FC Koln on April 30, when Borussia beat Nurnberg 2-0. Of course, having won just enough points, die Borussen went back to losing 2-0 against Werder Bremen on Saturday. Oh, and star playmaker Nuri Sahin is off to Real Madrid next season.
6. AC Milan
League record: 23-4-9; European stage: eliminated in Champions League round of 16
A pedestrian 0-0 draw in Rome against the local AS was all Milan needed to lock up the Serie A title, its first since 2004. Milan looked unconvincing in failing to win the game, wasting some big chances. It hasn't looked strong for most of the year and perhaps won the title thanks to Inter's hangover from a treble-winning season and Napoli's late fading. While it looks like the Rossoneri will continue to rely on their many veterans, an injection of young and sensible players would be most welcome.
7. Manchester City
League record: 19-9-8; European stage: eliminated in Europa League round of 16
City's target before the season, after another round of splashy purchases, was to break into the top four of the league in order to qualify for the 2011-12 Champions League and to win a trophy. One mission is accomplished; the other is just one match away. In spite of losing to Everton on Saturday, City slipped past Tottenham Hotspur 1-0 on a Peter Crouch own goal Tuesday, clinching fourth place and a spot in Europe next season. On May 14, City will have a good chance of lifting the FA Cup against Stoke City at Wembley. The Citizens were hugely inconsistent this year, but there's a lot of potential in this squad.
[+] Enlarge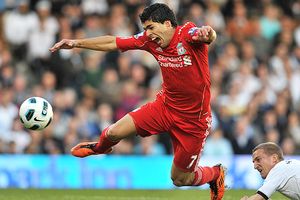 Carl De Souza/AFP/Getty ImagesLuis Suarez and the Reds have staged a late-season surge to climb to fifth place and edge closer to qualification for the Europa League.
8. Liverpool
League record: 17-12-7; European stage: eliminated in Europa League round of 16
In a comeback for the ages, Liverpool overcame its calamitous start to the season by going 10-3-2 in its past 15 games. The Reds have gone from 12th place to fifth place and now have a shot at qualifying for next year's Europa League, a turnaround that has earned Kenny Dalglish a three-year contract as manager. Liverpool's latest win -- a 5-2 throttling of Fulham in which Maxi Rodriguez got his second hat trick in three games -- was indicative of the form the Reds have been in. In their past four wins, they have outscored their opponents 16-2, leaving their faithful with something to believe in for next year.
9. Lille
League record: 19-4-12 ; European stage: eliminated in Europa League round of 32
With three games to play, Lille has reclaimed the top spot in the French league from Olympique Marseille with a four-point lead. After having dropped seven points in the previous three matches, Lille has won three in a row and, once again, the title is its to lose in this topsy-turvy French season. What makes Lille, which has also made it to the French cup final, so good? Two words: Eden Hazard.
10. Inter Milan
League record: 22-8-6 ; European stage: eliminated in Champions League quarterfinals
Inter never quite did recover from a disastrous start to the season, though Leonardo did his best after replacing Rafa Benitez. But ultimately, the club's propensity for dropping points was too much to overcome this year. Nevertheless, Inter beat Fiorentina 3-1 on Sunday, with Giampaolo Pazzini bagging his ninth goal since coming over from Sampdoria in January. And Inter might console itself even more by winning the Italian Cup against Palermo in the final.
Disagree with our rankings? Argue your differences in the Comments section below.
The continental competitions and top-tier leagues from the following countries were included for consideration in the above rankings: Argentina, Australia, Brazil, CONCACAF Champions League, Copa Libertadores, Denmark, England, France, Germany, Italy, Mexico, Norway, Portugal, Russia, Scotland, Spain, Sweden, Turkey, UEFA Champions League, UEFA Europa League, Ukraine, United States.
Leander Schaerlaeckens is a soccer writer for ESPN.com. He can be reached at leander.espn@gmail.com.

Contributing writer, ESPN.com
Leander Schaerlaeckens is a contributing writer for ESPN.com. He has previously written for The Guardian, The Washington Times and UPI.
MOST SENT STORIES ON ESPN.COM