Commentary
Why United will defeat Barcelona
Updated:
May 28, 2011, 9:43 AM ET
By
Ravi Ubha
| ESPN.com
LONDON -- Ask most neutrals and they'll tell you Barcelona will come out on top against Manchester United in Saturday's much-anticipated Champions League final at Wembley.
Lionel Messi ended his scoring slump against English teams a while ago, the midfield is at full strength and inspirational skipper Carles Puyol has gotten over his injury concerns. And let's not forget that Barca downed United 2-0 in the 2009 Champions League final.
But don't hand the European Cup to Pep and his boys just yet.
With Sir Alex at the helm, anything is possible from United. A case in point was this season's Premier League, won by the Red Devils despite their not being in prime form. Here are five reasons United can beat Barca and claim a fourth European Cup:
1. No fear factor
Most soccer fans will remember Messi's performance in the 2009 finale. He scored the insurance goal in the second half courtesy of a header.
However, what happened in the opening stages? It was all the Red Devils. They were the ones controlling play, with Cristiano Ronaldo a threat. He's gone, of course, but with Javier Hernandez and Wayne Rooney up top, United has the cutting edge to score against Barcelona.
Further, some have a point in suggesting that Barcelona was fortunate to even reach this week's final. Possession or no possession, the Catalans were exiting in the second round against Arsenal until a poor refereeing decision got Robin Van Persie sent off. In the Clasico semifinal, Real Madrid's Pepe was harshly dismissed at 0-0 in the first leg. Only then did Barcelona unlock the defense.
If United finishes the game with 11 men, that's half the battle won. United's veterans won't be shuddering at facing Barca.
[+] Enlarge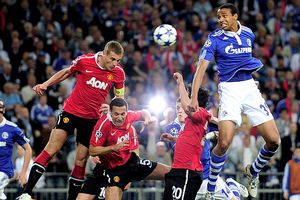 Jamie McDonald/Getty ImagesNemanja Vidic could cause Barcelona trouble in the air on set pieces.
2. Barca's frailty in the air
Besides being a solid, no-nonsense defender, United's Nemanja Vidic can pop up with a few goals here and there. He's scored five times this season, causing havoc on corners and free kicks with his heading ability.
And did anyone notice how Real scored against Barcelona to win the Copa del Rey? Ronaldo latched on to a wonderful cross from Angel Di Maria, his crisp header finding the back of the net.
In their league Clasico meeting at the Bernabeu that ended 1-1, Ronaldo had another sharp header that was cleared off the line.
A pattern is emerging.
Vidic's central defensive partner, Rio Ferdinand, is a danger too, given his height, while Hernandez turned out to be one of the best headers of the ball in England this season.
Even with Puyol back, Barca remains vulnerable. Overall, United will certainly get opportunities against them. It's whether Hernandez, Rooney and whoever else can take advantage.
3. Fletch's return
Decisions, decisions. Ferguson said omitting Park Ji-Sung from the squad for the 2008 Champions League final was tough. There's no chance of the South Korean -- blessed with one of the top engines in the world -- missing out this time. He's a lock to start.
ESPN FC on Twitter
Don't miss a moment of the latest soccer coverage from around the world. Follow us on Twitter and stay informed. Join »
Darren Fletcher, similar to Park in work ethic, couldn't play in the 2009 final because of a suspension; his inclusion at Wembley, if fit, would help United's cause. When in form, Fletcher is one of the best defensive midfielders in the business, more reliable than Anderson and Michael Carrick. Out ill the past two months, Fletcher came back Sunday against Blackpool, contesting all 90 minutes.
If he's a go, Fletcher and Ryan Giggs would get the nod in central midfield, most likely flanked by Park and Antonio Valencia. Giggs, mind you, might have to overcome some personal issues. His extramarital affair with a reality TV star was exposed this week.
4. United's goalkeeping edge
Victor Valdes has made great strides. His decision-making is better than in seasons past, and few keepers are better in distribution. He has started many a glittering Barca move from the back.
United's counterpart, Edwin van der Sar, from the nation that produced Total Football, has done that himself over his sterling career and remains a better keeper than Valdes. Ferguson & Co. missed the Dutchman as they clinched the Premier League crown against Blackburn on May 14. Giving the 40-year-old a rest, Tomasz Kuszczak was jittery between the sticks.
Van der Sar is calling it quits after the game, and how he'd love to end his career with another Champions League medal.
5. Playing at home
Given how UEFA delegated tickets for the final -- providing 25,000 each for United and Barcelona fans (and much of the rest are going to the "European football family") -- not all at Wembley will be rooting for United. We're guessing Liverpool and Manchester City fans who get seats will take pleasure in rooting against the Red Devils.
But take this into consideration: Of the nine Champions League or European Cup finals that have featured a team from the venue's nation, the home side is 6-3. England is 2-0 -- with both matches coming at Wembley.
London-based Ravi Ubha covers soccer and tennis for ESPN.com. You can follow him on Twitter at @r_ubha.
MOST SENT STORIES ON ESPN.COM