Commentary
Argentina desperate for success
Updated:
July 1, 2011, 7:19 AM ET
By
Brent Latham
| Special to ESPN.com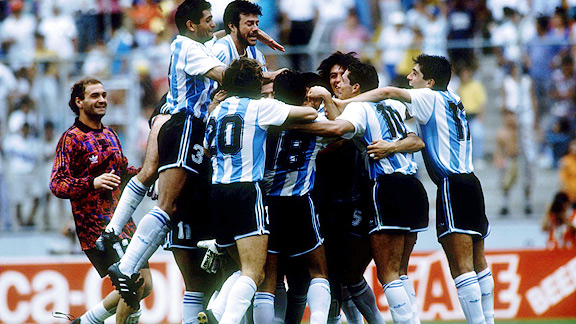 Shaun Botterill/Allsport/Getty ImagesWhat would be more painful for Argentina -- not winning the Copa America, which it's hosting, or seeing Brazil win the trophy?
In Argentina, there are two things that really get people fired up: the Falkland Islands and futbol. Sentiments regarding the two have little more in common than an overwhelming and perhaps unmatched sense of national pride, reflected in anything with an element of international competition.
The loss of the Falklands came three decades ago, but it still smarts. Argentine Soccer Federation chief Julio Grondona told British representatives that they could have his vote for the 2018 World Cup when they returned the archipelago. That's not likely to happen anytime soon, but in the other field of national distinction -- soccer -- the 2011 Copa America will provide a golden opportunity to restore pride at the international level after years of futility.
The country needs this victory. Argentines, perhaps more than people of any other nationality on earth, like to win.
"Argentina is obligated to win every single tournament that comes up," said Javier Mustafa Munoz, a defender for Mexican club Pachuca.
That sums it up nicely. But incredibly, it's been almost as long since Argentina lost the Falklands War as it has been since the Albiceleste has won the continental championship. Despite an ever-present group of international superstars among its ranks, Argentina hasn't won a Copa America in almost two decades. In fact, the 1993 championship in Ecuador also marks the last time Argentina's senior team won anything at the international level.
With the tournament returning to the southeastern tip of the continent for the first time since 1987, now is the time for Argentina to produce that long-awaited championship. Here are some reasons Argentina needs to take advantage this year and break its Copa America drought:
There's no Diego to kick around anymore
Diego Maradona was the excuse that Argentines could fall back upon when things went wrong with this spectacular group of players, as they did in South Africa. He was a polarizing figure with some peculiar squad-selection habits, played favorites that few understood and seemed to be in over his head tactically when the time came to match up against a squad equal in talent.
"It's a chance for revenge for the Argentina team," said Dario Sala, a former goalkeeper in Argentina's top division. "With such a great team that was put together for the World Cup under Maradona, they have a great opportunity now to demonstrate that what happened in the World Cup was just for the lack of guidance, that the players were there."
Maradona's been replaced by Sergio Batista, a teammate on the 1986 World Cup winners. Unlike Maradona, Batista has plenty of managerial experience to lean on, with club teams in Argentina and the country's under-20 and Olympic teams.
ESPN FC on Twitter
Don't miss a moment of the latest soccer coverage from around the world. Follow us on Twitter and stay informed. Join »
Messi isn't getting any younger
The Copa America comes around once every four years, and the next time it does, Lionel Messi will be 28. Sure, he'll still be amazing. But will he still be in his prime? And will he still have such an incredible supporting cast around him?
"Everybody is expecting Argentina to become champions in the Copa America," said Argentine Mauro Rosales, winger for the Seattle Sounders. "They are working very hard and everybody is going to be disappointed if they don't get it. We have a good team and we can do it. If we don't win it's going to be very disappointing for everybody."
The team is assembled, and at its prime. The time is now for Messi & Co. to get their collective act together for Argentina.
Failure could have devastating long-term consequences
This is Argentina's most dangerous team in quite some time, and the Argentines have the undisputed best player in the world lining up for them. If they can't win the continental title at home, something is wrong.
But what? The Argentines have tried just about everything in past years to get back to the top. To keep searching for answers would mean starting anew once again, rather than making progress back toward the top of international soccer. It might also mean another new coach, and another transition period.
"This is a chance for Batista, who's been working with national teams for any amount of time, not just the senior team but the Olympic team and the under-20s, and has done a really good job," Mustafa Munoz said. "I hope he can keep working and have a long tenure. Otherwise you suffer, and the players end up paying the price, in this case players who are in the best moment of their careers and can't lift a trophy."
Home-field advantage -- make it count
Argentina needs to make its home field pay off. Losing at home is particularly humiliating, and with this team they'll kick off at home as prohibitive favorites. There's currently something of a taste of failure in the air around Argentine soccer, and anything but a championship at home will infuriate fans.
Did you catch those scenes of soon-to-be-demoted River Plate fans running onto the field to challenge their players to do better for the club? That may be a little over the top for a national team, but you get the picture.
"Argentina is going through a crisis in soccer," Sala said. "The biggest clubs in the country are in decline in football and economic terms. These are the clubs that stock the national program. If we trace that, it creates a domino effect for the Argentine national team. The AFA [Argentine Football Association] is in a decline as much as the clubs, and needs renovation."
Nothing spells renovation and redemption like a continental championship, especially if it's your first in two decades -- and you win it at home. Simply put, Argentina needs this Copa America title like never before.
Brent Latham covers soccer for ESPN.com. He previously covered sports throughout Africa for Voice of America radio and now works as a soccer commentator for a national television station in Guatemala. He can be reached at brentlatham@ymail.com.
ESPN Insider
Brent Latham is a soccer commentator who covers the youth national teams for ESPN.com. Based in Guatemala, he has attended youth World Cups from Peru to Egypt, and places in between.