Commentary
The duality of Giovani dos Santos
Updated:
June 28, 2011, 3:02 PM ET
By
Michael Cox
| Special to ESPN.com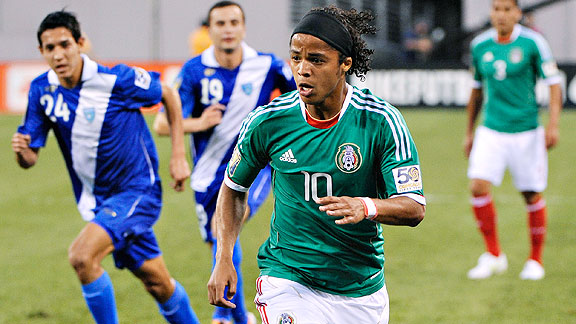 AP Photo/Bill KostrounGiovani dos Santos has played exceptionally well in international tournaments for Mexico, which is in stark contrast to his track record at club level.
In "Soccernomics," Simon Kuper and Stefan Szymanski's fascinating book about soccer from a statistical point of view, they come to a blunt conclusion about when not to splash the cash on a new signing. "The worst time to buy a player is in the summer when he's just done well at a big tournament," they agree. The logic is sound -- the price of the player is likely to be inflated, while there is the secondary problem that a six-game cameo in an event might not be good representation of the player's true ability.
However, what if the player has consistently performed well at international tournaments? That's the situation with Mexico's Giovani dos Santos, still owned by Tottenham. He's had a huge impact in almost every tournament he's played at -- he won the Silver Ball at the FIFA U17s in 2005, the Bronze Ball at the FIFA U20s in 2007, the MVP award at the 2009 Gold Cup, was runner-up as best young player at the 2010 World Cup -- and this past weekend, he sealed Mexico's Gold Cup victory with an outrageous clip into the far corner.
All that is in stark contrast to his experience at club level. Three years ago, he signed for Tottenham from Barcelona for 5 million euros, with an additional 4 million euros based on appearances. It's highly unlikely Barcelona has come anywhere near seeing that extra 4 million -- Dos Santos has only featured in 10 league games for Spurs and has been loaned out on three occasions. Eight of those 10 games have been as a substitute, and he's been withdrawn on both starts, so has played a total of just 223 league minutes, the equivalent of two-and-a-half complete games.
That is all the more incredible when you consider that he played 36 percent of his minutes in his final season at Barcelona, where he ended his spell with a hat trick against Murcia. Leaving Barca just as Pep Guardiola was taking over must go down as one of the worst career moves in recent football history -- granted, he wouldn't have been a regular at Camp Nou, but Guardiola has been, in squad terms, one forward short for the past couple of seasons. Dos Santos would have played his part.
Dos Santos was unfortunate to begin his spell in England at a disastrous time for Spurs. They had lost their first eight games of 2008-09, which led to manager Juande Ramos being sacked. Dos Santos was even more unfortunate that it was Harry Redknapp who came in, because the Englishman has shown no interest in giving dos Santos a chance at the club. He's been sent out on loan to Ipswich, Galatasaray and Racing Santander, for which he has performed well.
ESPN FC on Twitter
Don't miss a moment of the latest soccer coverage from around the world. Follow us on Twitter and stay informed. Join »
As we've come to expect from La Masia graduates, dos Santos is small and pacey and a fantastic dribbler. Able to play on either flank or just behind a main striker, as he did at the Gold Cup, he is at his best with the ball at his feet, and perfect for counter-attacking sides. His movement into the channels is good, and his work rate and willingness to close down are other telling Barcelona attributes. He appears the perfect modern attacker.
Granted, there is competition for places at Spurs. Niko Kranjcar is another talented wide player who has struggled for playing time. However, Redknapp felt the need to bring in Steven Pienaar this past January, and his problems with injuries meant that twice in the 2010-11 season, he was forced to name two substitute goalkeepers because of a lack of outfield players. Furthermore, dos Santos qualified as an underage player last season, so he didn't impact the 25-man squad restrictions.
His good form at Santander last season only furthers the intrigue. He said he played the best football of his career there, and Spain appears to be his natural habitat. With Marcelinho, his manager at Santander, taking over at Sevilla for the upcoming 2011-12, there are constant newspaper reports that dos Santos will follow. The figure for a transfer is reported to be around 6 million euros, and even accounting for the fact Barcelona will receive 10 percent of the fee because of a sell-on clause, it would be a minor scandal if Spurs make a net profit on a player they've used to such poor effect.
[+] Enlarge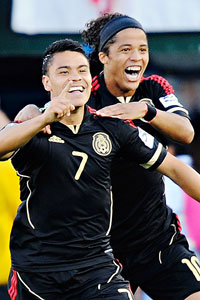 Kevork Djansezian/Getty ImagesPablo Barrera, left, and Giovani dos Santos were standouts in this summer's Gold Cup. But can they prove themselves in Europe?
Sevilla has its golden boy, Jesus Navas, on the right wing, but any of dos Santos' potential suitors might consider a move for his international teammate, Pablo Barrera, too. The duo combined brilliantly at the Gold Cup, and with Barrera similarly out of favor at a London club, West Ham, and presumably with no desire to play in the Championship next season, he should probably be available at a knockdown price. His display in the Gold Cup final, in which he scored two goals and played a part in another, showed what a good player he can be.
Javier Hernandez's instant impact at Manchester United has proved otherwise. It's time for a couple of his international teammates to demonstrate their ability in Europe, too.
For dos Santos, he'll be spending the summer trying to find a new club, while also taking part in the Copa America. Mexico is sending an "Olympic" squad to the competition, mainly comprised of under-23 players. Dos Santos is unquestionably the team's star name, and with his track record in international tournaments, don't rule out another standout performance.
Michael Cox is a freelance writer for ESPN.com. He also runs zonalmarking.net.
MOST SENT STORIES ON ESPN.COM