Commentary
Real Madrid building for the future
Updated:
July 20, 2011, 2:39 PM ET
By
Michael Cox
| Special to ESPN.com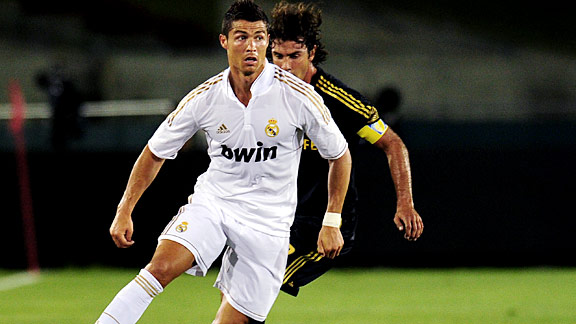 Frederic J. Brown/AFP/Getty ImagesNow that Real Madrid has strengthened its squad, players like Cristiano Ronaldo should be able to pace themselves more during the season.
Real Madrid's transfer strategy following a Barcelona title victory usually focuses upon recruiting big names. The bigger the gap, the bigger the transfer fees. Barca's treble of 2008-09 meant Real broke the world transfer record twice within a couple of weeks -- first for Kaka, then for Cristiano Ronaldo. Last summer, the big name was Jose Mourinho, in one of the most expensive deals ever for a manager.
Now that Real has star men both on the pitch and in the dugout, there is a need for sensible signings. As Marca, the Real-inclined Spanish sports newspaper put it in a May edition, "Mas equipo, menos galacticos" -- which essentially means, More team, fewer stars. For a paper that depends largely upon sensational transfer rumors for its sales, that was quite a front page headline.
So far, Real has had a pretty good transfer campaign. It's recruited two of the best performers in European football last season -- Fabio Coentrao, Benfica's left back, for 30 million euros, and Dortmund midfielder Nuri Sahin, outrageously good value at 10 million euros. Lens' young center back Raphael Varane will be groomed as a long-term replacement for Ricardo Carvalho, while former youth product Jose Maria Callejon has returned on the wing. Only the signing of Hamit Altintop is a little confusing. It's difficult to see him starting too much, and at 28, he's hardly one for the future, but Mourinho will admire his versatility and his tactical understanding.
Altintop aside, the overwhelming feeling looking at Real's recruits is youth. Coentrao is 23, Sahin is 22, Varane is 18 and Callejon is 24. Compared to Mourinho's final summer transfer window at Inter, when the likes of Lucio (31), Diego Milito (30) and Samuel Eto'o (28) arrived, there is more of a sense that he is trying to build for the future.
[+] Enlarge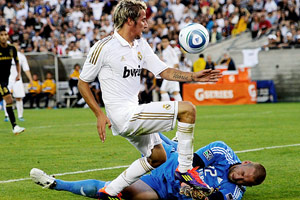 Kevork Djansezian/Getty ImagesReal Madrid recruited one of the best performers in European football last season, Fabio Coentrao.
With all these new arrivals, there's been inevitable speculation about how each player will fit into the side. Coentrao will be competing with Marcelo for their favored position of left back, though there are reports that Coentrao could be deployed in a midfield role. Sahin will probably be viewed as a more attacking replacement for Sami Khedira, or a deeper alternative to Mesut Ozil, who struggled to become involved when used against Barcelona last season.
All of this slightly misses the point, however, which is that Mourinho's first intention is to boost the squad, rather than the first XI. Real had an impressive squad last season, but its coach's use of the players was sometimes a little wasteful. For a man who insists on having 21 outfield players at his disposal, he often seemed to forget about some of them.
Mourinho has an interesting record on squad rotation. At Chelsea, he was a keen rotator. As his long-time fitness coach Rui Faria, who has worked with him at Leiria, Porto, Chelsea, Inter and now Real Madrid, told Duncan Castles of The Times last year, "To do rotation you need to think about two or three games at the same time. Normally you change three players, four maximum, without losing the structure and balance of the team. A left back for a left back, a right winger for a right winger."
At Inter, however, Mourinho rotated much less. In the lead-up to the eventual treble success, he stuck with the same XI whenever possible. As he told FIFA.com by the time he had joined Real, "A player who works hard and acts like a true professional in his social life can play in every game. I'm convinced of that … players don't need to be rotated so long as they're careful and stay in good shape."
Faria had said something similar. "Only a guy with special characteristics can do it without problems," he said. "You need to be well prepared and you need a good management of his condition. The only moment when it's really difficult is where you have game after game after game in a short period."
Last season, rotation was rare at Real early on. Until the end of January, Angel Di Maria was only rested for one league game. Ozil was only omitted from two until that point, and was forced to come off the bench on both occasions when Real failed to create without its new playmaker. Ronaldo, amazingly, managed to play every single minute until March 3. These three played the most explosive, dynamic roles at Real. Maybe they all had "special characteristics," in Faria's terms.
ESPN FC on Twitter
Don't miss a moment of the latest soccer coverage from around the world. Follow us on Twitter and stay informed. Join »
Maybe, however, Mourinho had become deceived by the efforts of his Inter side. A lack of rotation there was more manageable because Serie A is a slower league. Furthermore, Inter's tactics for many games in its run-in consisted of putting men behind the ball and soaking up pressure -- most famously against Barcelona at Camp Nou. That approach can be mentally exhausting but less so physically. Besides, some of his players were clearly on their last legs by the end of the season, and the amazing run of injuries Rafael Benitez had to contend with when he took over may not have been a coincidence. "Eighty-five percent of them are recurring from last season," Benitez complained.
Faria, now at Real, was having none of it. "From a scientific point of view, the principle cause of these injuries could be [Inter's] training methods," he hit back. "The players, medical staff and Italian football in general are the same as last year. Only one thing has changed."
Over in Spain, by the end of January, Real was looking tired. A draw to Almeria, a loss to Getafe and narrow wins over Villarreal and Getafe demonstrated their loss of sharpness. Ronaldo went three games without scoring, the only time all season that happened. "We have noted the physical and emotional wear and tear of the team at the moment," Mourinho admitted. Ozil, Di Maria and Ronaldo finally got a rest, but it was a reactive rest rather than a pre-emptive one, and the damage had already been done.
As it happens, Ronaldo's incredible late-season form, in which he scored 11 goals in four games, came directly after he completed the 90 minutes in just four of the 11 previous games -- all four times against Barcelona. He may want to play every minute for the Pichichi, but for the title he may need more rest. And a stronger squad will help Mourinho ease the burden on his players.
Michael Cox is a freelance writer for ESPN.com. He also runs zonalmarking.net.
MOST SENT STORIES ON ESPN.COM