Commentary
Odds against defending MLS title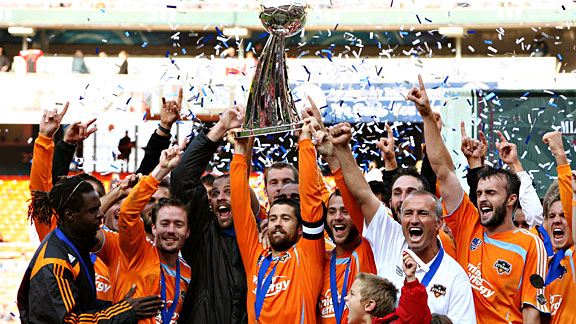 Andy Mead/Icon SMISomething special: The Houston Dynamo were the last team to repeat as MLS champion, in 2007.
Anything that's been done only twice is either incredibly hard to do or not worth doing. Repeating as champion in Major League Soccer would fall under the first category. In the league's 15 completed seasons, two teams have managed to lift the MLS Cup in back-to-back years: D.C. United in 1996 and 1997 and the Houston Dynamo in 2006 and 2007.
This difficulty isn't particular to MLS -- since the league's inception in 1996, the NBA has seen three repeats, the NFL two, the NHL and MLB one each -- but the spawn of the economic egalitarianism that rules North American sports. It is, however, entirely absent from European soccer. Manchester United, for example, has repeated four times as EPL champion since 1993, and two of those were three-peats; Inter Milan strung together five Serie A titles before this past season. Olympique Lyonnais won seven Ligue 1 crowns in a row between 2001-02 and 2007-08.
Winning consistently on a shoestring budget is hard enough in MLS, but there are also many other factors that make it difficult to repeat as champion. Like trying to stay sharp. "The main thing is showing up to play every game," said forward Dwayne de Rosario, who was on the repeating Dynamo team. "Sometimes you get a little complacent, but you have to go out there and just dominate from the first whistle, and that's from my experience how we were successful."
Now it's the Colorado Rapids turn to try to repeat. The 2010 MLS Cup winner is fifth in the stacked Western Conference and will have to consider a number of factors that together will play a critical role in the team's chances of winning the league again.
1. Depth
Over the span of two seasons, a team must cope with losing players to injury and national team duty, to say nothing of peaks and troughs in form. This requires a squad depth that is uncommon in MLS because of its tight salary and roster restrictions.
The injuries are a particularly tough obstacle. While every team is equally prone, the Rapids have been ravaged by them. Recently, to top off injuries to six major contributors, star striker Conor Casey tore his Achilles tendon, knocking him out for the rest of the season. "Conor is a big miss," said Rapids head coach Gary Smith. "He scores a lot of goals for this team and his record has been quite phenomenal in his time that he's been here."
[+] Enlarge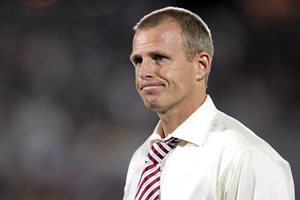 Doug Pensinger/Getty ImagesAs if repeating as MLS champion isn't hard enough, Rapids' head coach Gary Smith has had to contend with a slew of injuries to his squad.
Two months ago, amid a biblical injury plague, Smith wasn't so optimistic about repeating. "It's a huge task," he said in late May. "It's not helped when we're missing six senior players. I'm not talking about young players who don't have an impact on the game. You take those types of guys out of any team and you've got a problem. That's a huge amount of influential bodies missing that no team in this league could absorb, I don't care who you are."
The Rapids, however, had prepared as well as they could for this sort of scenario by gaining as much depth as possible in the offseason. "That's what everyone's trying to achieve," said Smith. "A lot of people won't look past the starting 11. The strength of a team often is measured by the strength on the bench."
Consequently, the Rapids have stayed relatively competitive and in the playoff hunt.
2. Luck
An oft-underestimated element of winning is chance. This is especially true in MLS, where the playoffs consist of two winner-take-all games -- and potentially three, with the new play-in game going into effect this year. When the other series is a two-game series, you're leaving much of your fate up to elements out of your control.
ESPN FC on Twitter
Don't miss a moment of the latest soccer coverage from around the world. Follow us on Twitter and stay informed. Join »
"I think it's hard to repeat in any sport," said Dynamo head coach Dominic Kinnear, one of two managers to achieve the feat in MLS (the other, Bruce Arena, declined to be interviewed for this story). "In order to win, you have to have everything go your way, especially come playoff time. You need the health of your squad, you need your players playing well and also you need luck. When you look at our two championships, we definitely had that and luck was on our side, too, in the early rounds of the playoffs."
3. League rules
The way the parity-poised MLS is designed, no good deed goes unpunished -- especially winning. "If you look at the layout of MLS, teams that are successful get no help whatsoever; they're punished," New England Revolution manager Steve Nicol once told me. Nicol lost three consecutive MLS Cup Finals from 2005 to 2007 and another in 2002. "When you're constantly up against teams getting allocation money every year and you're not getting any, it's pretty much a slippery slope and only going one way."
Kinnear found the same thing. "Keeping your team together is tough because your players want bigger contracts and it's hard to return everybody," he said.
Colorado is learning this in a hurry. "The salary cap and the issues around it are a very big problem in keeping a really strong squad together," said Smith. "Trying to keep as many of those individuals together is tough. The league's set up to make sure that there is no one individual team that is constantly successful. What they want is a spectacle that is always competitive. That's the overreaching theory of MLS -- 'If you've done badly we'll help you a little bit and if you've done well we'll put the shackles on you a little bit.' It means there are limitations."
This has been a major impediment to the Rapids' ambitions. "It's difficult when you win something like I experienced last year that I can't reward those guys as maybe I would like to," Smith said. "And there are a few guys that you may have to get rid of that you don't want to. You might lose a player in an expansion draft because you're successful and you can't protect him. There are a lot of difficulties that are associated with success in this country. When you've taken pains to put together a team and are not allowed to continue with that group for one reason or another, it can be frustrating."
4. Increased stature
Being the last team to squeeze into the playoffs, the Rapids labored under little to no pressure except living up to their own expectations in 2010. Being a champion is a different beast altogether. "Now we've got a little bit of a target on our back," said defender Drew Moor. "I remember my first six years, when you played the MLS champ, you wake up a little bit more for that game, take a little bit more pride."
[+] Enlarge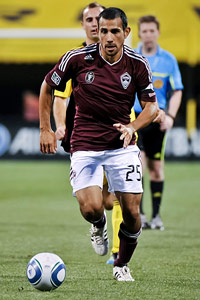 Jamie Sabau/Getty Images"There's always skeptics in everything you do in life," said Mastroeni. "Especially for a team like Colorado, coming out of nowhere, people are going to always say what they want."
"Everybody wants what you have, to be champions of the league," said Kinnear. "So it can be harder because when you're the champion, teams play you harder than the other teams -- that's the nature of it."
An added factor is that some considered Colorado to be an undeserving champion, having barely made it into the postseason and having won the championship game on an own goal. "We were the most deserving so we won the whole thing," said captain Pablo Mastroeni, dismissing that argument. Nevertheless, this might lead other clubs to want to set the record straight when they face the Rapids. "There's always skeptics in everything you do in life," said Mastroeni. "Especially for a team like Colorado, coming out of nowhere, people are going to always think what they want and say what they want."
5. Increased workload
Championships qualify you for other competitions, like the CONCACAF Champions League. This makes for a cluttered calendar, not helped by a four-game expansion of the MLS regular season. "You take it game by game," said Mastroeni. "If you start looking at the big picture, you kind of get lost. Especially with Champions League and these other games that come in during the season, it's really easy to get sidetracked."
"I think [repeating] is a bit more difficult now because in 2006-2007 [the] CONCACAF [schedule] wasn't as heavy," said Kinnear. "I think it's more difficult now because of the number of games."
But Smith is convinced that the Rapids can overcome those odds. Any coach worth his salt would be, of course. But Smith could probably find the silver lining on a green tornado sky. "The season is unfolding in a fashion that the guys are growing ever more confident that they can repeat a feat that's not been done many times," said Smith after a big 4-1 win over New York on July 20. "I think everybody at the moment feels buoyant and upbeat. It's a big challenge in front of us, but it's certainly achievable."
Many have said this before. Only two turned out to be right.
Leander Schaerlaeckens is a soccer writer for ESPN.com. He can be reached at leander.espn@gmail.com. Follow him on Twitter at @LeanderESPN.

Contributing writer, ESPN.com
Leander Schaerlaeckens is a contributing writer for ESPN.com. He has previously written for The Guardian, The Washington Times and UPI.
MOST SENT STORIES ON ESPN.COM