Commentary
Hassli has taken Vancouver by force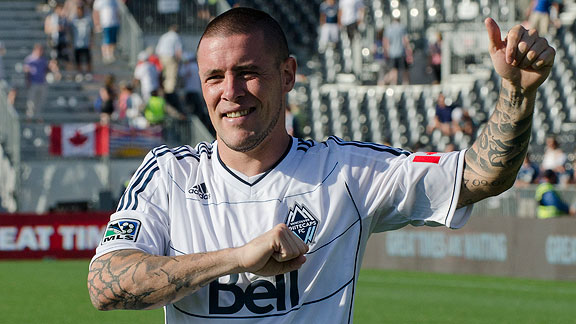 Rich Lam/Getty ImagesHard-charging striker Eric Hassli knows how to score goals (and how to pick up his share of yellow and red cards), giving the struggling Vancouver Whitecaps one reason to be pumped up.
Sometimes the soccer gods throw you a bone. And sometimes they throw you 200 pounds' worth, in the form of a striker your team desperately needs.
During preseason in Arizona this spring, where the Vancouver Whitecaps were preparing for their expansion season, it became obvious that the Caps needed another striker. They had picked up Atiba Harris in the expansion draft and taken Omar Salgado first overall in the SuperDraft. But Harris is a journeyman, and Salgado an unfinished article at age 17. So director of soccer operations Tom Soehn asked Swiss defender Alain Rochat if he knew anybody who could help the team up top. Turns out he did.
A teammate of Rochat's at FC Zurich, Eric Hassli -- a tank of a French striker at 6-foot-4 -- had taken an interest in Rochat's move to the Whitecaps. "When he heard that I went to Vancouver, he asked me many questions about the club and MLS," Rochat recalled. "He told me that he was interested in coming, too."
In Hassli, the Caps identified a striker who was among the best in the Swiss league, having scored 35 times in 108 competitive games for Zurich. He was also an alumnus of France's U-20 national team and, in 2009, was on the verge of joining Ajax Amsterdam before breaking his left leg. Other clubs, such as Werder Bremen, have courted him, and Hassli turned down a loan move to Everton in December 2008. The Whitecaps also found a player who, at 30, was at a crossroads in his life and, despite his pedigree, was somehow desperate to move to an expansion MLS side halfway across the world.
"I'd done a lot in Europe, won a championship with my old club, FC Zurich, and off the field I'm going through a divorce," Hassli said in French. "So I thought it was a good opportunity to completely change my life. It was important for me to start over."
Soehn was familiar with Hassli, having seen him when scouting Rochat. And even though he had six months remaining on his contract with Zurich, Hassli convinced the club to let him leave for free. Within 10 days, the deal was done. "I didn't hesitate," Hassli said. "They talked about the project of their club, which I thought was grandiose. I immediately accepted." He signed a two-year contract at $900,000 annually with Vancouver to become its first-ever designated player.
On the field, the Whitecaps' maiden season has been a wash. Through last weekend, they had the worst record in the league by a five-point gap and had yet to win on the road in 15 attempts. But Hassli has given the fans at least one reason to cheer.
ESPN FC on Twitter
Don't miss a moment of the latest soccer coverage from around the world. Follow us on Twitter and stay informed. Join »
It isn't until you see him on the field in person that you realize how truly massive he is among his peers. But his size belies his skill. Hassli forms a huge target, but he's also mobile and technically gifted. Impossible to move off the ball but blessed with a deft touch, he plays like a striker with the soft feet and coordination of a ballerina trapped in an MMA fighter's body. And that makes him uniquely suited to the rough-and-tumble MLS. "His physical qualities and technical abilities all translate really well to this league," Soehn said. "MLS is a physical league and he's a physical player."
"He's big but he's really technical," said another Swiss teammate, Davide Chiumiento. "We need him a lot because he can change games."
"For me, with his quality, and not because he's my friend, he can be the best striker in this league," Chiumiento said. But he won't admit that to his bud, of course. As we were speaking after Vancouver's surprising 1-1 tie with the New York Red Bulls, Hassli walked by. At 5-7, Chiumiento is almost a foot shorter than Hassli, but he nevertheless gets in his face. "I just told him you're a very bad player and we didn't win the game because of you," Chiumiento said to him.
For Hassli, MLS's physicality offered an escape of sorts from his own body. Not unlike former NBA center Shaquille O'Neal, he'd been so much bigger than his opponents that he often found himself getting called for fouls just for touching another player, and that he had to be kicked twice as hard to get calls of his own. "I had quite a few problems with referees in Switzerland because I'm pretty big and strong," Hassli said. "The players here are definitely bigger than in France and Switzerland. We're more evenly matched physically, so I don't knock them over as easily. It really suits me. It's everything I love; it's athletic, physical. Every game is combat."
That Hassli and MLS are well-matched is borne out by the statistics. Through 18 starts in 20 appearances, he has found the net 10 times for a team that has scored a league-low 28 times. That makes him third in MLS in goals per 90 minutes among strikers who have played at least 1,000 minutes. Before the weekend, he was tied for first. One of Hassli's efforts will doubtless be a candidate for MLS's goal of the year.
[+] Enlarge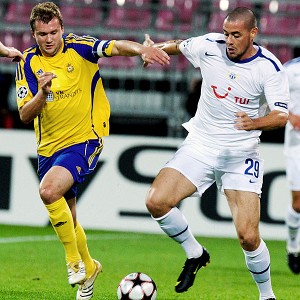 Ilmars Znotins/AFP/Getty ImagesEric Hassli played for Zurich from 2007-11 before joining MLS this season.
But Hassli has the dubious distinction of also leading the league in red cards. He has been as controversial as he has been spectacular. By the time Hassli -- who is fourth among forwards in fouls committed -- had his fourth goal, he'd already racked up three ejections and four suspensions on account of a series of reckless tackles. His second red card came when he hurled his jersey into the crowd after scoring. He was on a yellow already, and knew that taking off your jersey is an automatic yellow. But he figured because he was wearing another jersey underneath, he would be exempt. He still doesn't quite get it. "Soccer is a spectacle," he said. "People come to see a spectacle, and I just wanted to bring some joy to the people -- and there was no harm in it, I had another jersey on underneath -- because they're always behind us and I wanted to pay homage to them. I thought it was harsh." For this and storming straight to the locker room after being substituted, Hassli apologized to his teammates, likely making him the league leader in team-aimed mea culpas, too.
"On the field sometimes when he loses the ball or they make a hard tackle he can lose [control of] his emotions," Chiumiento said.
"I have an ambiguous relationship with authority," Hassli said. "I'm not good at being told what to do." He smiled. "But I'm really a very nice guy."
His heavy-handed methods are a product of his past. Hassli grew up in project housing in Sarreguemines, France, abutting the border with Germany. "It was a tough neighborhood," he said. "You have to establish yourself when you're young so you don't get walked all over." Hassli readily admits that this is the founding principle of his soccer game as well.
Off the field, Hassli's bulldozing ways recede. "He explodes on the pitch, but outside he keeps quiet and you don't hear too much about him," Rochat said. Sit down and have a conversation with Hassli in his native French and you'll find him exceedingly eloquent and thoughtful. And, as behooves his Frenchness, he is almost obsequiously polite. After our interview, I thanked him for his time. "Thank you," he said. "It was an honor."
Hassli is in a better place. He misses his two children (one in France, one in Switzerland), but he has put behind him the coulda, shoulda and wouldas of his former self. Gotten over the transfers to big clubs he missed out on, or what might have been if only he hadn't been young and dumb and refused an invite to the U-20 World Cup with France because he knew he wouldn't be a starter. He so loves his new life that he's had maple leafs tattooed onto his arm. He adores his new fans. "I felt supported [by the fans] in Zurich but it was maybe a tenth of what I feel in Vancouver," he said. "And in Europe that would be impossible, being in last place and there being 20,000 to 25,000 people at every game."
He feels more at ease in Canada. He wants to stay forever and said he'd sign a long-term contract if he could. "I've discovered an incredible league that I adore," Hassli said. "I'm happy." Turns out Hassli was thrown a bone, too.
Leander Schaerlaeckens is a soccer writer for ESPN.com. He can be reached at leander.espn@gmail.com. Follow him on Twitter at @LeanderESPN.
"

Contributing writer, ESPN.com
Leander Schaerlaeckens is a contributing writer for ESPN.com. He has previously written for The Guardian, The Washington Times and UPI.
MOST SENT STORIES ON ESPN.COM