Commentary
The Premier League's five for five
Updated:
September 20, 2011, 2:24 PM ET
By
Michael Cox
| Special to ESPN.com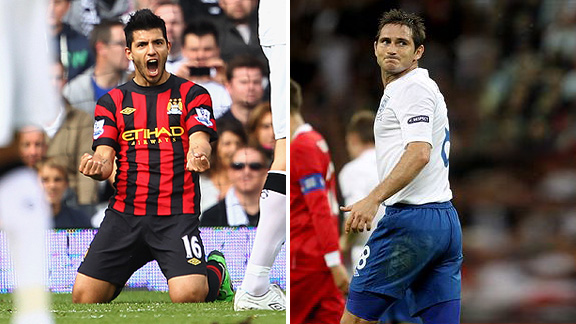 Getty ImagesSergio Aguero is only the second player to score eight goals in his first five Premier League games, while Frank Lampard has struggled so far this season.
With five games of the Premier League done and dusted, it's time for some early conclusions -- five players who have started the season strongly, and five who have struggled so far.
Five strong starts
Leon Best, Newcastle
Even Alan Pardew knows that Newcastle hasn't replaced Andy Carroll. "The criticism that's going to come from not getting a striker in has some validity to it, because seven months is a long time [since Carroll left]," he admitted earlier this month. "We bid for three or four players and none of them came to fruition." Bad news for Newcastle fans, but good news for Leon Best, who has grabbed his opportunity with both hands, and has registered three goals in the Premier League so far. That's three more than Carroll, if you're counting.
Sergio Aguero, Manchester City
The Argentine's quality was not in doubt. Everyone knew that Manchester City were bringing in a top-class player, arguably the most talented signing the Premier League has seen for years. Few expected him to make such an instant impact, though -- a goal eight minutes into his debut (and another in the final minute), followed up with a goal at Spurs, a hat trick against Wigan and two more at Fulham. Aguero is only the second player to score eight goals in his first five Premier League games, after Coventry's Micky Quinn in 1992.
[+] Enlarge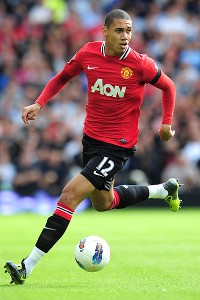 Shaun Botterill/Getty ImagesChris Smalling has been surprisingly good filling in at right back.
Chris Smalling, Manchester United
Having lost Gary Neville, Wes Brown and John O'Shea in the past year, Manchester United's right-back slot was a bit of a problem position. Brazilian twins Rafael and Fabio da Silva can both play there -- although the latter is more frequently used on the left -- but both seem injury-prone at this stage of their career. Step forward Chris Smalling, a center back by trade but positionally aware at right back and surprisingly good when going forward. He's filled in superbly since the opening day, so much so that he made his England debut there against Bulgaria, and also performed well against Wales. He seems to have made himself England's first choice in a position he hadn't played until last month.
Leon Britton, Swansea City
It's taken a while for Britton to make it to the Premier League. An Arsenal trainee in the early Arsene Wenger days, he moved on to West Ham where his transfer fee -- 400,000 pounds -- was the highest-ever sum paid for a 16-year-old. A little like
Theo Walcott
, that early hype seemed to hold him back. Now 29, Britton's time has come. Adapting to the Premier League quickly, his physical nature (5-foot-5 and skinny) and his style of football (good on the ball and favoring short, sideways passes) might not have been appreciated 10 years ago. Now, in a side based around ball retention and speed down the flanks, his calm style is perfect for the division.
Emmanuel Adebayor, Tottenham Hotspur
Well, he always begins well at a new club, doesn't he? Adebayor scored on his first start for Arsenal, Manchester City and Real Madrid, so it was no surprise that he did the same for Tottenham, away at Wolves. He followed this up with two more against Liverpool, though equally impressive has been his work rate, his link-up play and his willingness to work the channels. Already, Adebayor seems to have a good partnership with Jermain Defoe. How long will it last? The main criticism of Adebayor is that he has a tendency to become lazy and look for a move elsewhere, but Tottenham is fortunate to have him on loan. With a bit of luck, he'll be playing well and angling for a permanent move. If not, Tottenham can ditch him at no cost.
Five false starts
Alex Song, Arsenal
In a team of little experience, the losses of Cesc Fabregas, Samir Nasri, Jens Lehmann and Gael Clichy were a problem for Arsenal. Even some previous backups brought a degree of experience -- Emmanuel Eboue, Nicklas Bendtner and Denilson had over 300 league appearances between them. The responsibility is now with the likes of Robin van Persie, Bacary Sagna and Alex Song, the only Arsenal players who started Saturday against Blackburn who had made more than 100 Premier League appearances for the club. Van Persie continues to score goals, and Sagna remains solid and underrated at right back, but Song has let the side down. His petulance against Newcastle got him banned from the defeats against Liverpool and Manchester United when Arsenal needed protection for their back four, and on his return at Blackburn, he scored an own goal.
[+] Enlarge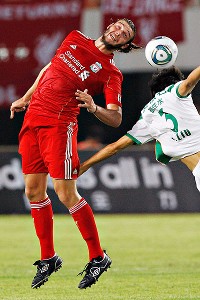 AP Photo/Kin CheungWhen Andy Carroll is on the pitch, Liverpool has a tendency to knock long balls toward him. But Carroll still hasn't scored a league goal this season.
Andy Carroll, Liverpool
Burdened with being the most expensive English player of all time, the main story involving Carroll this season has been the suggestion from Fabio Capello that he needs to drink less. Whether that is a factor in Carroll's fitness, only he knows, but so far he's looked much less mobile than he did this time last year, when he was combining his aerial prowess with great movement and link-up play for Newcastle. There's also a suspicion that Liverpool's game is less fluid when Carroll is on the pitch -- that it's more likely to knock a long ball toward him, rather than playing a game that benefits the rest of the side. Either way, it's difficult to understand why Kenny Dalglish used him on the wing after Liverpool went down to 10 men at White Hart Lane on Sunday.
Frank Lampard, Chelsea
Once undroppable, now droppable -- maybe the next step is being left out without it being a surprise? Lampard is a great professional, but he might be the main casualty of Andre Villas-Boas' more technical, creative midfield zone. Fernando Torres wants a more "vertical" game to provide chances for him, and it's notable that the striker (despite his shocking late miss) improved at Old Trafford in the second half when Lampard had departed. There can be little doubt that Juan Mata is Lampard's long-term replacement, but Villas-Boas is trying to get the Spaniard accustomed to playing in the Premier League by starting him out wide so he gets more time on the ball and doesn't have the team built around him. The bad news for Lampard is that Mata has adjusted extremely quickly, and it might not be long before bringing him inside is the logical step. Lampard might have to learn to play deeper or face a spell on the bench.
Peter Crouch, Stoke
Seemingly forced out of Tottenham against his will, and apparently much to his wife's annoyance, Crouch hasn't fared too well so far at Stoke. Managing one attempt on target in his two games, it seems a bit of a shame that at 30, Crouch has now been confirmed as the type of player he's spent his career trying to distance himself from, as Stoke will use his height nonstop for long balls. Crouch can point to his international goal-scoring record as the most impressive thing on his CV, but having been left out of Capello's last squad, he'll have to fight for his place.
Rio Ferdinand, Manchester United
The reality is that he misses as many minutes as he plays. Having completed 62 percent, 31 percent and 52 percent of Premier League minutes in the past two seasons, his injury problems are well-documented. The figure so far this campaign is 36 percent, and with Smalling, Phil Jones and Jonny Evans impressive so far, plus Nemanja Vidic also in the squad, Ferdinand's place is far from assured. A calf strain kept him out of the visit against Chelsea, but it was barely spoken about. Like his old West Ham teammate Lampard, Ferdinand still has a few years left in the game, but he is no longer an automatic starter.
Michael Cox is a freelance writer for ESPN.com. He also runs zonalmarking.net.