Commentary
Can Milan cut it in Europe?
Updated:
September 27, 2011, 9:13 PM ET
By
Michael Cox
| Special to ESPN.com
[+] Enlarge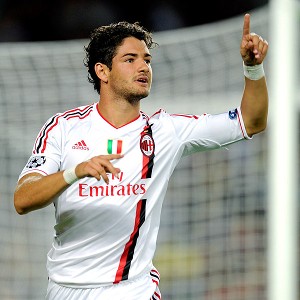 Lluis Gene/AFP/Getty ImagesPato and AC Milan seem ill equipped to make a mark in the Champions League this season, as Europe's top clubs will find the team too easy to play against.
What has happened to Milan? Granted, it's a bizarre question to ask now, with the club wearing Lo Scudetto on its shirts for the first time in seven years.
Yet while Milan has a proud history in domestic competition, it has long been regarded as a European Cup specialist. Seven triumphs in the competition -- second only to Real Madrid -- tell only part of the story. The Rossoneri's legendary performances have come in Europe, including the 5-0 against Real Madrid in 1989 and the 4-0 against Barca in 1994. Often their successes have been more significant given a wider context: The 1963 win was the first time an Italian club had won the competition, and arguably kick-started Italy's presence in European football; the 1994 triumph came a week into club president's Silvio Berlusconi's tenure as prime minister of Italy.
There is something about the tournament that makes the club come alive. Even under the legendary Arrigo Sacchi, it won more European Cups than Scudettos. In fact, it won more European Super Cups and Intercontinental Cups than Serie A titles under his management.
That pattern was repeated in the first decade of this century. Milan won only one league title, but was the side to beat in Europe's premier competition. After Real Madrid's spell of dominance ended with the ill-fated Galactico era, between 2003 and 2007 Milan won two European Cups, got to the final of another in 2005 (where it lost in barely believable circumstances) and was narrowly eliminated at the hands of eventual winners Barcelona in the semifinals a year later.
Europe clearly took priority over domestic form -- in the open-top bus celebrations following the 2007 win, Massimo Ambrosini (now captain of the club) revealed a banner saying, "You can stick your Scudetto up your arse." It was primarily a dig at title winner and city rival Inter, but it's tough to imagine many other clubs having such an attitude. Brian Clough, for example, once admitted he'd happily be knocked out of the European Cup if it meant success in the league.
[+] Enlarge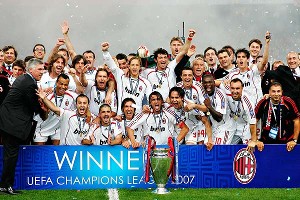 Laurence Griffiths/Getty ImagesSince winning the Champions League in 2007, Milan hasn't made it past the quarterfinals.
Since that triumph in 2007, Milan hasn't made it past the quarterfinals. In addition to not qualifying in 2008-09, the nature of its defeats has been particularly embarrassing -- unable to score over two legs against Arsenal in 2008 or Tottenham in 2011, and thrashed 7-2 on aggregate by a decent Manchester United side in 2010. In 2011-12, it's time to put things right.
The problem is not with identity or leadership. Admittedly, Milan underwent something of a transformation in 2009, when its manager (Carlo Ancelotti), its captain (Paolo Maldini) and its star player (Kaka) all left the club, but enough veterans have stayed to maintain the focus in Europe. Ambrosini, Gennaro Gattuso, Clarence Seedorf, Christian Abbiati, Pippo Inzaghi and Alessandro Nesta are all into at least their 10th seasons at Milan. The problem, in other words, isn't an Arsenal-style lack of character.
Instead, the issue in Europe is the playing style. In the defeats to Tottenham and Manchester United, it was painfully obvious how vulnerable Milan was to width. At Old Trafford, the fullbacks received no protection, whereas Spurs threatened by getting the ball to Aaron Lennon and telling him to run at speed, which eventually resulted in the only goal of the tie. Looking at it another way, Milan has little width itself -- the team rarely stretches the opposition, instead funneling everything through the center.
The big caveat here, of course, is that even in its period of dominance a few years ago, Milan never played with width. It could afford to do so, however, because it had such guile in the center -- through Rui Costa, Kaka and Pirlo. Those players have left, whilst the "runners" (Gattuso, Ambrosini, Seedorf) who made the narrow systems possible, by shuttling out to the flanks, are no longer as mobile. Now, the Rossoneri are not creative enough in the center to break the opposition down in such a narrow space, and lack the players to play a wider midfield.
ESPN FC on Twitter
Don't miss a moment of the latest soccer coverage from around the world. Follow us on Twitter and stay informed. Join »
This season has finally seen a rebuilding job, with the creativity of Alberto Aquilani and the work rate of Antonio Nocerino added, but Milan still seems too static in the middle. There were only two ways it was going to score against Barcelona on the first Champions League match day -- balls over the top for Pato to run onto, or set pieces. Remarkably, Milan managed to score through both routes, in the first and the last minute, but it was a little sad to see its midfield barely compete for the majority of the game, even taking into account the fact that the Barcelona midfield is by far the world's best.
How can Milan's current strategy work in Serie A and not the Champions League? Primarily, it works because Italian football is played at a much slower pace. Few teams play with width and speed, and those that do often succeed against Milan, as Napoli showed with its 3-1 win earlier in the season. It's probably no coincidence that the last three clubs to have eliminated Milan have all been sides from the Premier League, which either play at a quick tempo, or sit back and then counter rapidly.
It's difficult to see Milan rising again this season. Aquilani is talented but inconsistent, while the alternative in that role, Kevin-Prince Boateng, is useful for his energy and bursting runs, but often seems rather unsophisticated in tight games, when Milan needs a Pirlo or a Kaka.
Ironically, having prioritized the European Cup for so long, Milan now seems ill equipped to make a mark upon the competition. The group stage won't be a problem, but knockout success might depend upon the club varying its play. And at the moment, Europe's top clubs would find Milan simply too easy to play against.
Michael Cox is a freelance writer for ESPN.com. He also runs zonalmarking.net.
MOST SENT STORIES ON ESPN.COM