Commentary
Harsh ruling aids Liverpool victory
Updated:
October 1, 2011, 1:57 PM ET
By
Ravi Ubha
| ESPN.com
Spain's Clasico, Italy's Derby della Madonnina and England's Manchester United-Liverpool are soccer rivalries that get fans salivating.
The Merseyside derby between Everton and Liverpool is up there, too, although Everton's lack of trophies takes the shine off -- a bit. Nonetheless, their clash was the perfect start to what was looking like an almost perfect weekend in England: Summer made a return this past week, producing sunshine and temperatures in the 80s for much of the country. Pimm's and lemonade was back in fashion. The strange -- but welcome -- weather is due to stick around until Monday.
[+] Enlarge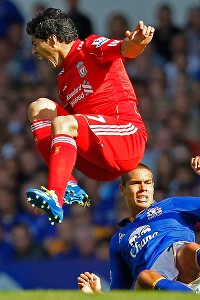 Ian Kington/AFP/Getty ImagesEverton's Jack Rodwell was sent off for a seemingly fair challenge on Luis Suarez, which helped to turn the match in Liverpool's favor.
Martin Atkinson was feeling the heat after his performance Saturday, and yes, that's especially bad news given he's a referee. Another instance of a Premier League official getting the headlines, rather than the players.
Atkinson's decision to give Everton midfielder Jack Rodwell a straight red card in a fairly innocuous incident within 25 minutes meant the home team had no chance to win or even nick a draw. So it proved, as the resistance of Everton's ten men in the high temperatures faded and Liverpool cruised 2-0 thanks to Andy Carroll's first Premier League goal of the campaign and Luis Suarez's late tally. Suarez was booed more than usual by the Toffees supporters, since he was a central figure in the sending off.
Rodwell had cleanly poked the ball away from Suarez, who was then caught by the young Englishman with his trailing right leg following, in soccer terms, a slight delay. Suarez, nothing new for him, went down theatrically.
Now, trailing legs can do a lot of damage -- see Manchester City enforcer Nigel de Jong's challenge on Hatem Ben Arfa that broke the Newcastle winger's leg last season -- but this was tame. By that time, Atkinson had let worse challenges go.
"For me it's not even a foul," was the verdict of Graeme Souness, a former Liverpool manager analyzing the game for Sky Sports.
"I thought it ruined the game," Everton manager David Moyes was quoted as saying on the team's official website. "There are a lot of questions asked about tackles in derbies, but it wasn't down to a bad tackle by a player today. I knew we'd get something at some point in the game, and at 11 [players] versus 11 we had our fair share but the game just stopped at that moment."
Rodwell took the walk of shame -- shepherded off, ironically, by Liverpool's Charlie Adam, himself dismissed two weeks ago at Tottenham. For the 11th time in the teams' past 14 meetings, someone saw red.
It was just what Everton -- which had its five-game unbeaten streak ended a week ago at Manchester City -- and Moyes didn't need. Moyes can't catch a break. He had to look on as Liverpool displayed most of the 60 million pounds spent on players brought in this summer -- about 60 million more than the Toffees spent on signings. Banks must love Moyes, since he's always seeking loans.
Conversely, it was just what Liverpool did need. After a flying start to the season, the Reds lost two of their previous three league outings, and the feel-good factor of the Kenny Dalglish era was fading ever so slightly.
[+] Enlarge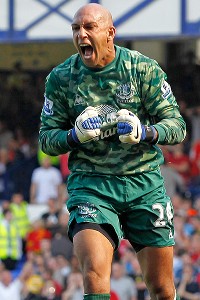 Ian Kington/AFP/Getty ImagesTim Howard's save of a Dirk Kuyt penalty kept Everton in the derby until Liverpool's late goals.
Everton understandably retreated when Rodwell got his marching orders, with Liverpool keeping the ball and going forward at a controlled pace. Suarez -- him again -- earned Liverpool a penalty when he was caught by England defender Phil Jagielka. The clever Suarez knew exactly what he was doing, baiting Jagielka at the edge of the box.
Up stood the normally reliable Dirk Kuyt, but he was foiled by U.S. international Tim Howard in the 43rd minute. Howard dived to his left to push away Kuyt's effort. A good save, yes, yet the Dutchman didn't generate enough power. Howard, mind you, is becoming a penalty-save specialist, keeping out four of the past seven taken against him in the league.
The miss hardly deflated the Reds, and they finally got their reward midway through the second half. Carroll -- under the spotlight given his dearth of goals and 35 million-pound price tag -- created space for himself in the box and put his left-footer into the corner in the 71st minute. Howard had no chance.
But Suarez, a cheaper purchase, was the man of the moment. His persistence likely contributed to a mix-up between Everton defenders Sylvain Distin and Leighton Baines, and the South American finished across goal in the 82nd minute to ensure all three points.
"I don't think there was much between the teams," Dalglish told Sky. "Obviously sometimes the numerical advantage works in your favor; sometimes it goes against you," he added with a straight face.
Premier League referees don't often admit mistakes, and immediately after the game, Atkinson wasn't bucking the trend. But it was clear that his big assist altered the complexion.
On this day, Liverpool fans would gladly buy him a cool beverage.
London-based Ravi Ubha covers soccer and tennis for ESPN.com. You can follow him on Twitter here.
MOST SENT STORIES ON ESPN.COM