Commentary
Brad Guzan is playing the waiting game
Updated:
October 21, 2011, 2:30 PM ET
By
Ravi Ubha
| ESPN.com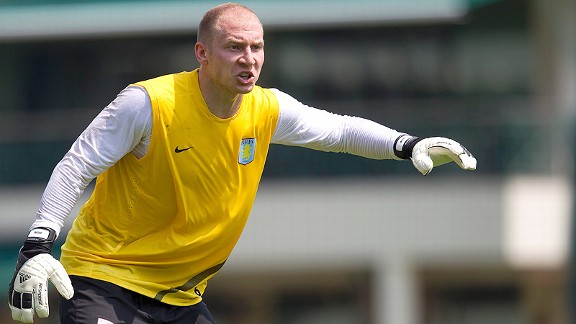 Neville Williams/Getty ImagesIf Brad Guzan wants to get back into the U.S. national team picture, he needs to get first-team football -- and that's not about to happen at Aston Villa.
Brad Guzan finally got a taste of first-team football at Hull City last season, and he thoroughly enjoyed it. From all accounts, his combined three-month loan spell in the Championship went well. But returning to parent club Aston Villa, it's been the same story for the 27-year-old: He's riding the bench. Instead of playing, he continues to play the waiting game.
Make no mistake: More than three years into his English career, Guzan isn't content to be a backup at one of the country's biggest teams in arguably the world's top league. He knows he needs to start getting games -- anywhere -- or he risks falling down the pecking order further with the U.S. national team.
Earlier this month, new U.S. manager Jurgen Klinsmann spoke of the need to find the "next generation" of keepers behind longtime starter Tim Howard, an "automatic No. 2." For so long, Guzan was presumed to be the ideal candidate, Howard's heir apparent. Well, apparently not. Klinsmann suggested that Guzan, who hasn't featured for the U.S. in 2011 after once captaining the side, would continue to be frozen out if he didn't feature regularly at club level. Guzan hasn't yet talked to Klinsmann.
"Do those words sting?" Guzan, the backup to Howard at last year's World Cup, said in a phone interview this week. "No. I think they're honest words. I think he's spot-on in the sense that you want players playing week in, week out for their club. For me, that's my first priority. If that call comes from Jurgen, then I'm obviously more than happy to be a part of that and press on."
Unless an injury hits Irish international Shay Given, it doesn't look like respite will come for Guzan at Aston Villa until January at the earliest, when the winter transfer window opens. Oh, that's not including the League Cup, a competition that Guzan sparkled in two seasons ago as Villa reached the final. He was, some would say, cruelly dropped in favor of Brad Friedel for the finale against Manchester United at Wembley.
Call it tough luck that when Friedel -- an iron man and one of the most respected keepers of all time in the Premier League -- departed for Tottenham in the summer, in came Given, another Premier League stalwart.
Following Guzan's loan stint at Hull, speculation was rife that Tigers manager Nigel Pearson, who told reporters in February that Guzan was performing "very well," would try to land the Illinois native in the offseason. With Guzan in the starting lineup, Hull surged, winning seven, drawing five and losing four. QPR, shut out by Guzan at the end of January, and Birmingham were linked with him, too. In the end, nothing materialized.
"There were multiple clubs interested in Brad at different levels, whether it was a permanent move or a loan situation," Richard Motzkin, Guzan's agent, said in a phone interview, without elaborating further.
Aston Villa Ascendancy
Aston Villa fans were ready to pounce on manager Alex McLeish. The first sign of trouble and the Scot would be under even more pressure after making his controversial move from archrival -- and relegated -- Birmingham in the offseason.
So far, mostly so good.
Villa sits eighth in the Premier League, losing once, to leader Manchester City 4-1 this past Saturday. And this following the sale of pivotal winger Ashley Young to Manchester United.
U.S. keeper Brad Guzan says team chemistry is good again, and he gives McLeish much of the credit. There was discontent in the camp last season with Frenchman Gerard Houllier in charge. "I think we definitely have a lot more guys on board in terms of everyone going in the right direction, and that's important," Guzan said. "Nothing against Gerard, but at the same time I think the players have really bought into the concept of the manager and the coaching staff. You can't have six or seven guys putting in the work and a few others just tagging along."
McLeish, unsurprisingly, has sorted out the defense. Villa owns the joint fifth-best defensive record, having had the joint fifth-worst in 2010-11, when relegation was a concern. "He's stabilized the back four and that defensive concept, but I think he's also realized with the players he has that at such a big club like Aston Villa, we can score goals and we can attack," Guzan said. "There's no reason why we can't go back to those days from a few years ago when we were putting teams under an immense pressure and going for three points in every single game." -- RU
Clouding matters, though, was Villa's predicament. Uncertainty had reigned around manager Gerard Houllier, who missed the final month of last season after suffering an aortic dissection, a serious heart condition; Houllier, who underwent open-heart surgery 10 years ago after an occurrence of the same condition, eventually departed. Villa only named Alex McLeish as his successor in the middle of June. By that time, Friedel had agreed to leave for North London, rendering Villa devoid of keepers, so it couldn't afford to let Guzan go. Given arrived in the middle of July.
"Things got a bit complicated in the sense that my agent, speaking to the chief executive in the club here, [was told] that it wouldn't have been a good time for me to be able to move," Guzan said. "That's part of the frustration, because when you have a chance to play first-team football week-in, week-out for 2½, three months, you don't want to give that up. Unfortunately for me I had a bit of a setback, and it's back to square one as the No. 2 now."
Had Martin O'Neill remained at Villa instead of quitting in August 2010, Guzan might have been given a chance to become the No. 1. O'Neill, after all, persevered in pursuing Guzan even when a work permit was initially denied. But how could the incoming McLeish bypass an established performer such as Given?
Guzan has discussed his situation with a sympathetic McLeish more than once and suspects they'll have more chats. So far, it hasn't altered his predicament. "At this point, even the club recognizes that his lack of playing has cost him a spot on the U.S. national team, which also is a great source of frustration," Motzkin said.
More pleasant for Guzan has been his life away from the field. He got married in the summer in Chicago, missing the Gold Cup, and there's even a trailer of the special day online.
Guzan essentially had no comment when asked whether the wedding was the reason he was omitted for U.S. friendlies early this year under Bob Bradley building up to the tournament. "I'll leave that one out," he said. "That's in the past. Obviously, I did get married. It was an important time for me in my personal life, and I couldn't be happier with how my wedding went and how my marriage and personal situation are."
Guzan enjoys living in England, where it's all about soccer in the sports pages. Birmingham is a particular hotbed, since three teams in or around the city compete in the Premier League. "For a pro football player to be in this country and this league, it's been absolutely everything you imagine, especially being in America watching this league growing up," Guzan said.
The only thing missing is being part of a starting XI.
London-based Ravi Ubha covers soccer and tennis for ESPN.com. You can follow him on Twitter here.