Commentary
Can U.S. get on track against Slovenia?
What if there existed such a thing as karma in soccer, some kind of cosmic settling of accounts past? Germany would be lucky to even qualify for another World Cup in the next two decades. England or the Netherlands or insert-the-country-you-support-that-you-feel-has-been-unlucky-here would win the next three. The U.S.'s account likely would be more or less a wash. It probably has lucked out as often as it has been unlucky -- and, no, I didn't forget about that Frings handball.
We bring up the subject of karma, of course, on the eve of another faceoff with Slovenia.
[+] Enlarge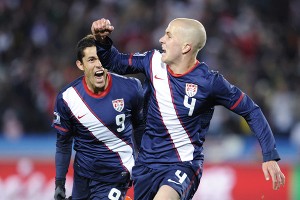 Timothy A. Clary/AFP/Getty ImagesThe last time the U.S. and Slovenia faced each other -- the 2010 World Cup group stage -- Michael Bradley scored the dramatic equalizer in the 82nd minute.
First, a flashback: June 18, 2010. Ellis Park in Johannesburg, South Africa. Group stage, 2010 World Cup. After shoddy defending allows Slovenia to take a 2-0 lead by halftime, the U.S. stages an epic comeback in the second half. Landon Donovan slams the ball into the top of the goal net in the 48th minute. Michael Bradley pokes in an equalizer from the edge of the area in 82nd. Then, a few minutes later, a Donovan free kick falls to an unmarked Maurice Edu in the middle of the box, and he hammers it into the twine. But the whistle has gone. Malian referee Koman Coulibaly disallows the goal on account of a foul on the U.S. Replays show three Americans are in fact being fouled by Slovenia without infractions in the other direction, cutting short a thrilling rally. (Ironically, Coulibaly had to be escorted off the field by security guards after allowing a last-gasp goal in spite of a foul by the attacking team in an African Champions League game less than two months later.) Given that the U.S. had been gifted a point against England in its opening game by an improbable Robert Green blunder, the karma account was probably even.
Just as well, because Tuesday's encounter with Slovenia in Ljubljana, Slovenia, will not be the time to exact revenge or lay claim to karmic retribution. It is only a friendly, after all. And at the cradle of the Jurgen Klinsmann era, there is too much progress that needs to be made to worry about such things. Since Klinsmann took over in July, the U.S. is 1-4-1. In those six games, it has scored twice while conceding five. These subjects are irrelevant and tired, respectively. None of the games counted for anything. But the goals, or lack thereof, are nevertheless a problem. Between the first and fourth game the U.S. played under Klinsmann, the U.S. went 233 minutes without scoring. Between that 36th-minute Clint Dempsey winner against Honduras and the present, the U.S. has gone 234 goalless minutes, already eclipsing the previous mark, if by only a minute.
"That was probably the real piece that was missing was scoring a goal," Klinsmann said after Friday's 1-0 loss to France. "Obviously you want to score a couple of goals sooner or later, so I wish there was one or two."
ESPN FC on Twitter
Don't miss a moment of the latest soccer coverage from around the world. Follow us on Twitter and stay informed. Join »
If soccer defies karma and the abstract, it is equally hard to quantify with science and numbers. But by and large, more chances equal more goals, and more goals beget more wins. Except this theory doesn't seem to apply to the U.S. In three games against strong opponents -- a 1-1 tie with Mexico and 1-0 losses to Belgium and France -- the U.S. averaged 5.66 shots per game, of which 2.33 were on goal. In three games against mediocre opponents -- a 1-0 win over Honduras and 1-0 losses to Ecuador and Costa Rica -- the U.S. got off an average 14.66 shots, of which six were on goal. Yet in each three-game set, the U.S. bagged one goal.
If the dearth of shots against quality opposition isn't troubling enough, consider that in recent games, the quality of the shots the U.S. did get off declined precipitously. Against France and, before that, Ecuador, the Yanks were wholly unintimidating going forward.
The U.S. has settled into a formation with an attacking diamond, deployed as two wingers, a deep and an advanced striker. What sticks out is that during this ongoing drought, three of the players forming that diamond -- Brek Shea on the left, Clint Dempsey in the hole and Jozy Altidore up top -- have been playing as well for the U.S. as they ever have, Shea's game against France aside. Consequently, the national team itself seems unconcerned about its decrepit production.
"I think we really feel good about ourselves and can come away from there with a result after tonight," goalkeeper Tim Howard said of the Slovenia matchup after the France loss. "I feel like we're getting better. We're on the cusp."
But if one had to place Slovenia among the strong or the mediocre opponents the U.S. has faced, it would likely slot into the first group. In spite of a population of just over 2 million people, Slovenia remains a sturdy side whose bedrock defense conceded only seven times in 10 Euro 2012 qualifiers. It will play under manager Slavisa Stojanovic for the first time after Matjaz Kek was dismissed when Slovenia failed to qualify for Poland and Ukraine by two points. Stojanovic has retained 10 holdovers from the team that tied the U.S. at the World Cup, but still managed to call up a young squad boasting some real talent. The 22-year-old PSV striker Tim Matavz, for example, recently scored five times over six Euro qualifiers. Slovenia may lack the cachet of an opponent like France, but it nevertheless has the quality to give the U.S. trouble in every line.
"It'll be a good international fixture," Howard said. "The World Cup [game against Slovenia] was a draw; both teams are going to be hungry."
But the U.S. isn't only hungry for a win; indeed, that is almost beside the point. First things first: It needs to start creating more chances, and scoring more goals.
The last time these two were evenly matched, the U.S. scored a pair of goals, at least. This time around, it would be well-advised to do the same, no matter the outcome.
Leander Schaerlaeckens is a soccer writer for ESPN.com. He can be reached at leander.espn@gmail.com. Follow him on Twitter @LeanderESPN.

Contributing writer, ESPN.com
Leander Schaerlaeckens is a contributing writer for ESPN.com. He has previously written for The Guardian, The Washington Times and UPI.
Soccer on ESPN.com

Follow Soccer on ESPN: Twitter
Coverage on ESPN FC
Euro 2012 in Review
MOST SENT STORIES ON ESPN.COM