Commentary
Lack of experience cost United
Updated:
December 8, 2011, 6:03 PM ET
By
Michael Cox
| Special to ESPN.com
Manchester United was not knocked out of the Champions League solely because of a defeat to FC Basel. That contributed, of course, but the home draws against Basel and Benfica were equally unacceptable.
Nine points is sometimes enough to progress, but not when there is a (literally) pointless side like Otelul Galati stranded at the bottom of the group. To go on a brief tangent, Galati was a truly terrible side. The team didn't need to go through qualification for the group stages because of a slight quirk in UEFA's coefficient system -- the decent 2005-06 and 2006-07 European seasons enjoyed by Romanian clubs still counted for rankings points five years on. Romania's standing in Europe was artificially high because of this, and the country's domestic champions qualified for the group stage automatically. With those two seasons set to drop off the coefficient table, Romania will drop from being the eighth-ranked league in Europe to roughly the 22nd-ranked league in Europe, a truer reflection of its place, and its champions will have little chance of making the group stages in future.
The basic point to take from that is simple: Galati was not good enough to be here, and the team gifted six points to United, Basel and Benfica. Those sides were essentially in a three-way playoff to qualify, and from the four games of a vaguely competitive standard, United didn't win any of them. It was not a failure on one night; it was a failure across four.
[+] Enlarge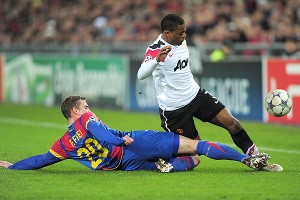 Jamie McDonald/Getty ImagesPatrice Evra battles with Fabian Frei of Basel, which earned four points in two Champions League games against United.
The group phase began with an away draw at Benfica. That in itself was not a particularly bad result; the Estadio da Luz is a tough place to visit, and Benfica is an excellent side. But it rather set the tone for United's whole group stage -- Sir Alex Ferguson made nine changes from the previous weekend's side, retaining just Jonny Evans and Patrice Evra.
It wasn't as if United had been overworked going into that match; they'd triumphed 5-0 at Bolton, and had the game won after 35 minutes with their third goal. Ferguson wanted to rest his players for the visit of Chelsea -- the 3-1 win partly justified that approach -- but the half-effort in the Champions League set a bad example, especially to the new arrivals to the club: David De Gea, Ashley Young and Phil Jones. Anders Lindegaard was signed in January but had only played two FA Cup games before this season, Danny Welbeck had only played in meaningless European games when United had already qualified in previous years, and Tom Cleverley had never played in Europe. These players were new to the Champions League -- they didn't know how tough it would be (aside from Galati), and starting the campaign with a completely rotated side may have put them into a false position of comfort.
"There's been a lot of talk about these new young players coming into the team," said former United captain Roy Keane after last night's game. "Everyone's building them up, but these boys have got a lot to do in the game, and it's a reality check for some -- especially those new players. The best player on the pitch was probably Ryan Giggs, and that sums it up. He's 38 years of age."
United's problem was that they chose to play a squad game in the Champions League, when their squad is not particularly strong. In terms of talent, there's not a huge problem -- the aforementioned players are hugely talented and will become excellent players. But the strength of a squad is not merely about the individual quality of the players -- there's something more important, something difficult to measure. It has to do with experience, setting an example, embodying the club. United lost five key players in that respect within a year: Gary Neville, Edwin van der Sar, Paul Scholes, Wes Brown and John O'Shea. Players of varying quality, but all extremely professional. It's these players whom United have depended upon for years, both on the pitch and in the dressing room. When Ferguson wanted to rotate, he knew Brown or O'Shea would give solid performances -- O'Shea was actually the captain for United's semifinal second leg win over Schalke last year -- and when they weren't needed, they'd get their heads down and work hard.
[+] Enlarge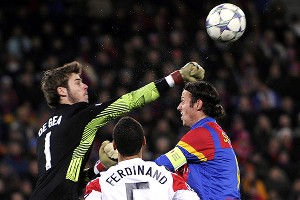 Fabrice Coffrini/AFP/Getty ImagesGoalkeeper David de Gea has impressed at times this season but lacks the experience at the highest levels of the European game.
The problem of selling experienced backups is often overlooked. Chelsea had a similar problem last year -- it lost Ricardo Carvalho, Deco, Michael Ballack, Juliano Belletti and Joe Cole in one summer. Would they have contributed much to the title charge? It's impossible to tell. But you can't buy their experience and professionalism, and it's impossible to ignore the benefit of having those European Cup and World Cup winners around the squad, not to mention their reliability when called upon when the manager wants to rest first-teamers.
Chelsea fans dismissed the worries, but how could they have done with Deco and Ballack's European experience in the center of midfield in the 1-0 Champions League defeat to United at Stamford Bridge in the 2010-11 quarterfinals?
Equally, how could United have done with an experienced right-back last night -- Neville, O'Shea or Brown? Chris Smalling was fielded out of position there, and was partly responsible for both goals by Basel. First he went for a ball that Nemanja Vidic was in control of, got injured, and Xherdan Shaqiri had time for the cross that led to the ninth-minute opener. Then Smalling switched off at the far post, allowing Alexander Frei to sneak in for the crucial second goal. Smalling is a fine prospect and United are a team in transition, but it's better to play youngsters in a position they know, and it's better to move on to a new era with help from one or two veterans.
Ferguson's employment of Scholes in a loose coaching role proves that he knows United needs experience among the ranks. Scholes, after all, isn't actually doing anything specific. "There's no particular job I'm doing, I'm just helping out here and there," Scholes told The Guardian in October. "I haven't really done any coaching as such, I've just been having individual words with players and going to the reserve games." He's effectively being employed as a veteran player who doesn't play.
That helps at the training ground, but it doesn't help on the pitch. Those who should be setting the example have either been injured (Vidic, Rio Ferdinand, Darren Fletcher), out of form (Patrice Evra, Park Ji-Sung) or out of favor (Michael Carrick, Dimitar Berbatov). No one will write off United's young generation, but no one should forget the importance of the old guard.
Michael Cox is a freelance writer for ESPN.com. He also runs zonalmarking.net.
Soccer on ESPN.com

Follow Soccer on ESPN: Twitter
Coverage on ESPN FC
Euro 2012 in Review
MOST SENT STORIES ON ESPN.COM