Commentary
Zabaleta is the ultimate utility player
Updated:
December 20, 2011, 2:51 PM ET
By
Michael Cox
| Special to ESPN.com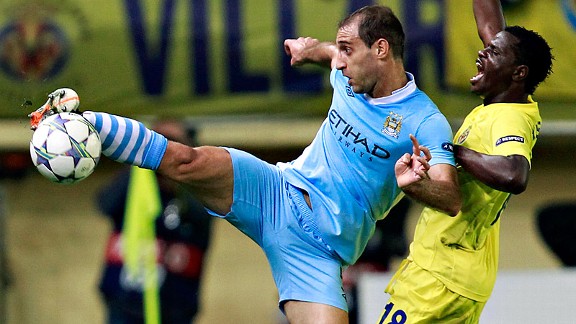 AP Photo/Alberto SaizWhen Manchester City has to stop a dangerous opponent, it calls on the exceptionally versatile Pablo Zabaleta. So why are players like him held in such low regard in England?
Manchester City and Arsenal both had their best two left backs out of action this past weekend. Roberto Mancini was missing Aleksandar Kolarov and Gael Clichy, while Arsene Wenger had to make do without Andre Santos and Kieran Gibbs.
City was better suited to cope for various reasons. First, it clearly has a larger squad than Arsenal with greater options across the pitch. Second, Mancini at least had the rest of his defense available, while Arsenal also was suffering from injuries at right back. But third, and importantly, City had Pablo Zabaleta. He marked Theo Walcott, an impressive performer in recent weeks, so effectively that Walcott was removed midway through the second half.
Zabaleta isn't really a left back; he's more of a right back. But it doesn't matter, for he can play in either fullback position. He can play on either side of midfield, too; Mancini also has used him as a holding midfielder and as an emergency center back. With the exception of playing up front and in goal, Zabaleta is able to play anywhere -- and he always looks comfortable.
"We had some problems with Gael Clichy suspended and Kolarov injured," Zabaleta admitted. "But I have played many games at left back. It was no problem. I just want to do my best for the team."
It's an outlook City needs. In the wake of the Carlos Tevez saga, the man who acted as Tevez's postmatch interpreter in Munich has become a key player despite being left out of more games than he's started this season. "In a top team there are 11 players," Mancini says, "but if we want to win and improve, we need to have 20 good players that have a good attitude." On the training ground and in the dressing room, Zabaleta is there setting the example, vital for a manager trying to build team spirit and trying to rotate superstars who want to play every week. When Edin Dzeko is left out of a big game, he only has to look at Zabaleta to see the right approach. Always professional, always committed. Every big club needs a Zabaleta.
But no player wants a place on the squad merely to be teacher's pet. Zabaleta is a fantastic defender and has a great record against opposition danger men. "Pablo is a very clever player," Mancini said after the victory. "He knew before the game it would be difficult. I told him if he played very well against Theo Walcott, we would probably win the game." Walcott isn't the first to be shut out of the game -- Gareth Bale didn't get any change out of the Argentine back in August, while Juan Mata had one of his quietest games of the season this past Monday. Every time City needs to stop a particular player, Zabaleta seems the best option.
ESPN FC on Twitter
Don't miss a moment of the latest soccer coverage from around the world. Follow us on Twitter and stay informed. Join »
Perhaps that's no surprise. Although man-marking is increasingly rare in modern football, Zabaleta likes to stick tightly to his man. The danger with doing that, of course, is that you can become dragged out of position into a zone where you don't want to be. But for Zabaleta, as mentioned, that's not a problem -- whether it's Bale motoring down the left, Walcott speeding down the right or Mata drifting into the middle, Zabaleta can cope. The best utility men are the ones who can cover defensive positions, and Zabaleta is perfect.
Although many clubs are using center backs and central midfielders in each other's positions, and the move from three- to four-band formations has blurred the lines between midfielder and forward, we don't have as many utility players as you would expect -- certainly not when considering Italian football coach Arrigo Sacchi's prediction of universality.
One reason for this is the increase in squad sizes and the extension of substitutes benches. As recently as 1995-96, Premier League clubs could name only three substitutes to choose from. That figure later became five, then seven ahead of 2008-09. It has meant that a manager essentially can cover the entire pitch with potential replacements -- an injury rarely causes a major panic. Back in the days of three on the bench, if you wanted a substitute goalkeeper as one of the trio, at least one utility man was vital if you didn't want to risk being exposed in case of injury.
[+] Enlarge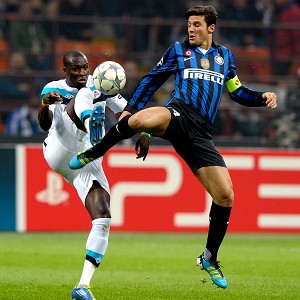 Claudio Villa/Getty ImagesJavier Zanetti is another classic utility man, having played in both fullback positions, on both sides of midfield and in the center of midfield this season.
Now, "utility man" seems to have become a synonym for "jack of all trades" or, put another way, "not very good." It's rather unfair. Zabaleta's compatriot Javier Zanetti is every inch the utility man, having played in both fullback positions, on both sides of midfield and in the center of midfield this season, and throughout his career. It goes without saying that Zanetti is also a very fine player.
The negative connotations of the word might be an English thing. Over in Italy, Gianluca Zambrotta could play on either side or in midfield but was at one point the best fullback in the world. You could say something similar for Germany's Philipp Lahm, while Carles Puyol has played left, right and center in the past year. These are, or were, top-level players. Versatile English players, like James Milner, are generally regarded as spare parts.
"I can't believe that in England, they don't teach young players to be multifunctional," Jose Mourinho says in Gianluca Vialli's book, "The Italian Job." "To them, it's just about knowing one position and playing that position." It's true -- looking at the England squad, Joleon Lescott and Phil Jagielka can just about play at fullback, but they're basically center backs shoved out wide. Phil Neville could play in various roles but was never an international regular. This century, the only defensive-minded English player who could be considered both versatile and of true international quality was Owen Hargreaves. The fact that he was brought up overseas rather than in an English academy speaks volumes.
In Italy, we've got a fantastic case of a utility man becoming a coach. Luis Enrique played everywhere for Barcelona -- up front, all across midfield, at fullback. Now coach of Roma, this season he's played winger Rodrigo Taddei in both fullback positions, midfielder Simone Perrotta at right back and destructive midfielder Daniele De Rossi at center back. It's often worked, but Enrique seems to think every player is as adaptable as he was. They're not.
Truly versatile players are a rare breed, and fans should appreciate them as much as their managers do.
Michael Cox is a freelance writer for ESPN.com. He runs zonalmarking.net.
Soccer on ESPN.com

Follow Soccer on ESPN: Twitter
Coverage on ESPN FC
Euro 2012 in Review
MOST SENT STORIES ON ESPN.COM