Commentary
Redknapp, AVB set to do battle
Updated:
December 22, 2011, 8:47 AM ET
By
Michael Cox
| Special to ESPN.com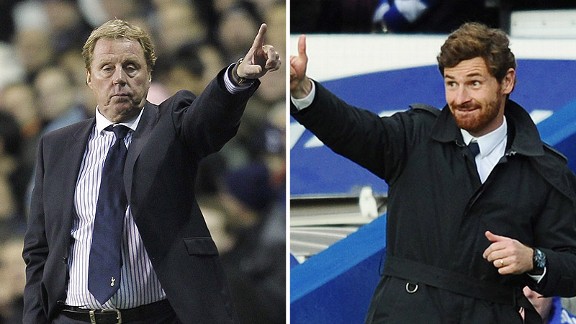 Getty ImagesOne says he isn't concerned with tactics, the other is all about the formations, but Harry Redknapp and Andre Villas-Boas have one thing in common -- both like attacking football.
The last time Jose Mourinho won a game as Chelsea manager, it was against Harry Redknapp's Portsmouth side. A 1-0 win, sealed by a Frank Lampard goal from a Didier Drogba pass, was a classic way for Mourinho to record his final victory.
It's doubtful that Redknapp took too much notice of Chelsea's backroom staff that day, but Andre Villas-Boas would have been lurking in the background somewhere at Stamford Bridge, content that his scouting of Redknapp's side had been sufficient to keep a clean sheet. On Thursday the pair will do battle once again, but this time Redknapp will be well aware of Villas-Boas.
It's difficult to think of two coaches more dramatically opposed. Redknapp is a 64-year-old from East London who enjoyed a good playing career, while Villas-Boas is a 34-year-old from Porto who never played the game professionally. At roughly the same age at which Redknapp retired from football, Villas-Boas is already in charge of a huge club.
More interesting than the differences in their career paths, however, are the differences in their outlooks upon the game. Redknapp is the ultimate old-school English manager -- he doesn't like being called a "wheeler-dealer," but he's more of a man manager and a motivator than a strategist. "There are no long and boring speeches about tactics," Rafael van der Vaart said last year. "There is a board in our dressing room," he admitted. "But Harry doesn't write anything on it."
Redknapp himself plays up that style, as seen in his column for The Sun last year. "You can argue about formations, tactics and systems forever, but to me football is fundamentally about the players," he wrote. "Whether it is 4-4-2, 4-2-3-1, 4-3-3, the numbers game is not the beautiful game in my opinion."
Compare that to Villas-Boas when he was asked about his philosophy on football by a young sports science student in Porto. "Rafa Benitez created a 4-4-2 much more dynamic than the usual English 4-4-2," AVB said. "Because he introduced speed in ball possession, he gave it variation between vertical and horizontal passes -- the usual classic English 4-4-2 is more basic: a penetrating midfielder and another one that stays in position … if you talk about a 4-4-2 diamond, that is totally different. You play with two pivotal midfielders, one defensive and one offensive, so it creates many more problems for your opponent … I'm a 4-3-3 fan, not 4-4-2."
ESPN FC on Twitter
Don't miss a moment of the latest soccer coverage from around the world. Follow us on Twitter and stay informed. Join »
One apparently isn't concerned with tactics; the other enjoys discussing the ins and outs of systems, and started his Premier League career by preparing dossiers and video clips of opponents.
However, deep down, there are many similarities. Redknapp is a lover of attacking football -- he plays with a striker, a No. 10, two wingers and a creative player deep in midfield. When his side's defensive capability was questioned during last season's Champions League run, he responded with a firm, "We look to score and attack teams at every opportunity … you can't say, 'Well, they've conceded goals' [because] we've scored more goals than anybody."
In that respect, he has much in common with Villas-Boas. With doubts about how high up the pitch his defense was playing, Villas-Boas focused on the attacking. "There is always room for defensive improvement, but our most important task is to create more goal-scoring opportunities than the other team, and put them in the back of the net."
Besides, while Redknapp likes his sides to play with freedom, he's much more of a tactician than he lets on. When his halftime switch helped Tottenham turn a 2-0 deficit into a 3-2 win at the Emirates last season, Redknapp explained his decision after the game. "I stuck Rafa [van der Vaart] out on the right, and brought Jermain [Defoe] on to give us two targets upfront. In the first half I played with two wingers, and we were stretched. … I've got a front man up there, with Rafa in behind, and when we lost possession they outnumbered us in midfield and played through us and played around us, and we had to narrow it up in the second half."
Redknapp might not be using the expressions -- "high block," "provoke with the ball possession," "vertical football" -- that confused British journalists when Villas-Boas came out with them, but it's a very tactical mindset.
So what of the tactics for this match? Villas-Boas has fewer decisions to make. He clearly favors his 4-3-3 system, and with the slight exception of choosing between Lampard and Raul Meireles on the left of his midfield three, we know what to expect. His main decision is how high to play up the pitch, and this will probably depend upon who Tottenham plays up front alongside Emmanuel Adebayor. If Jermain Defoe starts, Chelsea will drop deep to prevent his pace being a factor in behind, whereas if Roman Pavlyuchenko gets a game after his winner against Sunderland on Sunday, Chelsea will look to push him up the pitch where his aerial ability won't be such a threat.
[+] Enlarge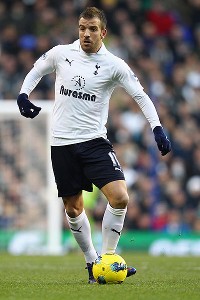 Julian Finney/Getty ImagesIt's likely that Rafael van der Vaart will start on the right against Chelsea.
Redknapp will probably play one of those two because he is without Aaron Lennon and probably Gareth Bale, too, which means van der Vaart will start on the right. Incidentally, it's not a position he likes playing. "You want to play in the position where you do best," he said after the win over Arsenal in October. "I am more dangerous when I am close to the goal than when I play out on the wing. I do what the manager asks me to, but I hope this won't be a regular occurrence." Not quite the glorious anarchy the Dutchman had previously described.
It would be nice to see Niko Kranjcar on the left to give Tottenham more width, but Redknapp might decide to play Luka Modric in a narrow left-sided role, as he did this past weekend. That would totally transform Tottenham's side, turning them from a wide team that stretches the play and gets crosses into the box to a narrow side that patiently looks to thread balls through the opposition. Sandro would partner Scott Parker in the center, giving license to Kyle Walker and Benoit Assou-Ekotto to break forward from full back. That would make the game fascinating -- Spurs could bring their wide men inside, outnumber Chelsea in the middle and push Daniel Sturridge and Juan Mata back into defensive positions.
In that case, Villas-Boas would probably describe his side as "playing with a low block, trying not to be provoked by the ball, and preventing vertical passes." Redknapp would say his side would be "going out there and giving it a right go."
In footballing terms, they speak completely different languages, but they're both good tacticians and favor attacking football. Regardless of whether you're a tactical obsessive or think it's a load of nonsense, this should be an excellent match.
Michael Cox is a freelance writer for ESPN.com. He runs zonalmarking.net.
Soccer on ESPN.com

Follow Soccer on ESPN: Twitter
Coverage on ESPN FC
Euro 2012 in Review
MOST SENT STORIES ON ESPN.COM