Commentary
These memories go to 11
As the rough edges in our memory of the past year soften and we ponder what we'll look back fondly on, it's time to polish the best moments to a high shine for ideal preservation. Here then, are our 11 favorite moments in American soccer for the year that was 2011:
[+] Enlarge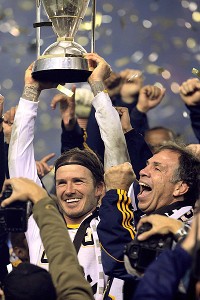 Jeff Gross/Getty ImagesSoon, this cup would runneth over with champagne for David Beckham.
11. David Beckham gets doused with champagne It's not often that we see today's immaculately polished super celebrities in a candid moment in their natural environment. The 2011 MLS Cup final offered up one such snapshot, though. After the Los Angeles Galaxy finally -- finally! -- won the big cup, their considerable investment in David Beckham paying off in the fifth and final year of his $32.5 million mega contract, a camera was let into the locker room to capture the celebrations. It caught, among other things, the iconic Beckham taking a cupful of champagne and beer to his famous face.
A perfect little moment embodying the pressure and frustrations flowing out of his body as the booze flowed in.
10. Timmy Chandler makes his debut A tidal wave of Germans washed over the U.S. men's national team program this year. The first ripple was Jermaine Jones. The wave crested with the appointment of Jurgen Klinsmann as head coach. And it broke when no fewer than six German-American players were called up for the senior national team in 2011 while four appear to be strong contenders to make the 2012 U-23 Olympic team. The crown jewel of this class is Timmy Chandler, who, unenviably, made his debut against Argentina on March 26 when he came on as a halftime substitute.
But Chandler, a 21-year-old right back since converted to left back by Klinsmann, wasn't only one of the few defenders to hold his own against the Argentineans, but he was also dangerous going forward, making him an exception on that front too.
9. The Eastern Conference final at Livestrong Sporting Park
Seeing a state-of-the-art soccer-specific stadium in the American heartland rocking for a Major League Soccer game is a beautiful sight. Perhaps it would have been unimaginable just a decade ago, yet that's what was on show Nov. 6 when Sporting Kansas City hosted the Houston Dynamo in the Eastern Conference final. Aside from confirming that soccer's growth in the U.S. has been meteoric in recent years, the game also suggested that if soccer can succeed in Kansas City -- a place with no reason to be into soccer -- there's no justification that it can't succeed everywhere else in America.
[+] Enlarge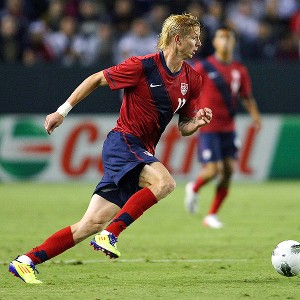 Victor Decolongon/Getty ImagesBrek Shea has been USMNT's most dangerous and thrilling attacker.
8. Brek's breakout versus Mexico
There was no big mystery or revelation in FC Dallas winger Brek Shea's breakout season -- it was always expected. Coupling traditional American athleticism with skill, technique and the savvy and talent to play a handful of different positions when necessary, Shea, 21, always was the whole package. That he broke out as quickly as he did for the national team was more of a surprise, given how overwhelmed he had looked in his first two caps. But ever since Klinsmann's inaugural Aug. 10 1-1 friendly draw against Mexico, wherein Shea entered the game in the 60th minute and proceeded to give El Tri's defense fits with his speed, strength, dribbling and movement in addition to delivering the game-tying assist, Shea has consistently been the U.S.'s most dangerous attacker.
7. The Timbers Army belts out the national anthem
The Portland Timbers' inaugural MLS season was one big party. In the stands, among the Timbers Army, that is. The on-field Timbers stumbled late in the season to fall short in their playoff push. The Army, however, left an indelible imprint on the year with its goose bump-inducing rendition of the national anthem ahead of the Timbers' inaugural MLS home game.
6. Clint Dempsey becomes all-time leading American Premier League goal scorer
Adding yet more gusto to American soccer's great underdog story, Clint Dempsey became the all-time leading U.S. scorer in the English Premier League on Dec. 6, passing Brian McBride with his 37th goal. He bundled home the game's only goal in Fulham's win over Liverpool, no less, after goalkeeper Pepe Reina relinquished the ball. The goal was classic Dempsey: scrappy, the product of harder work -- the stuff that took him from Nacogdoches, Texas, to the verge of a rumored transfer to a major English club.
5. A win in Mexico
It was about time. It had taken 74 years and no fewer than 50 attempts, but on Aug. 17, FC Dallas became the first senior U.S. team -- national or professional -- to win on Mexican soil by beating Pumas 1-0 in the CONCACAF Champions League group stage. Thanks to some standout goalkeeping by Kevin Hartman and a 66th-minute goal from Marvin Chavez, the curse was broken. Funnily enough, it took just six days for the U.S. to get its second win in Mexico, when the Seattle Sounders won 1-0 at Monterrey.
4. The Head of Abby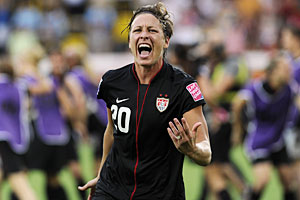 Odd Andersen/AFP/Getty ImagesWho can forget Abby Wambach's header in the final minute of overtime against Brazil? That's right, no one.
The U.S. women's national team's 2011 Women's World Cup campaign appeared to be on its last legs. The semifinal score may have been tied at 1-1, after France got a soft goal to wash out an early U.S. lead, but France had dominated the Americans, and with 15 or so minutes to go, the knockout punch appeared imminent. Then the U.S. earned a corner. Into the 6-yard box it sailed, and up rose star striker Abby Wambach, who knocked her granite forehead against the ball, with inches to spare between her head and the far post, sending the leather into the twine, overcoming the French threat and putting the U.S. into its first World Cup final since 1999.
3. Real Salt Lake reaches the CONCACAF Champions League final
MLS further cemented its international relevance in April when Real Salt Lake became the league's first team to make it to the CONCACAF Champions League final since the tournament became a full-blown continental competition. In spite of facing stacked 2010 Mexican Apertura winners Monterrey in the two-leg finals, RSL performed honorably and came within a goal of winning. It even took a 2-2 aggregate away-goals lead into the second game, wherein it lost 1-0 on a Humberto Suazo goal on the stroke of halftime.
ESPN FC on Twitter
Don't miss a moment of the latest soccer coverage from around the world. Follow us on Twitter and stay informed. Join »
2. Klinsmann takes the bait at last
When Bob Bradley was let go as U.S. national team head coach on July 28 after the U.S. disappointed at the 2011 Gold Cup, it opened the door for a third time for Jurgen Klinsmann's long-awaited reign. Having spurned the job after the 2006 and 2010 World Cups, with Bradley being appointed in his place both times, Klinsmann finally reached an agreement with the U.S. Soccer Federation, which led to his appointment on July 29. On Aug. 1, Klinsmann was introduced at the Nike Store in midtown Manhattan and spoke animatedly of his intentions for wholesale changes, a Latinization of the squad and a more proactive style. Whether you agreed with the hiring or not, agreed with Klinsmann's ideas or not, there was a tangible sense of excitement over U.S. Soccer's first-ever big-time foreign hire -- a much-needed reinvigoration of the program.
1. The Head of Abby II: The header strikes back
Three days prior to her game winner against France, Abby Wambach went streaking up the field in the 122nd minute of the U.S. Women's World Cup quarterfinal against Brazil. It had been an unfortunate game for the U.S. It had gotten ahead on an own goal but then saw Rachel Buehler sent off and a saved penalty by Hope Solo inexplicably ordered to be retaken. Marta converted. She then poked in an improbable goal in the first minutes of extra time. But Megan Rapinoe's left-footed Hail Mary heave into the box, in the overtime of extra time, from the halfway line, soared all the way to the towering Wambach, who jumped and nodded it in at the second post, to save the U.S. with seconds to spare. The U.S. would win on penalties.
But I'm sure you remember.

Contributing writer, ESPN.com
Leander Schaerlaeckens is a contributing writer for ESPN.com. He has previously written for The Guardian, The Washington Times and UPI.
Soccer on ESPN.com

Follow Soccer on ESPN: Twitter
Coverage on ESPN FC
Euro 2012 in Review
MOST SENT STORIES ON ESPN.COM