Commentary
African Cup's impact on Premier League
Updated:
January 17, 2012, 3:17 PM ET
By
Michael Cox
| Special to ESPN.com
[+] Enlarge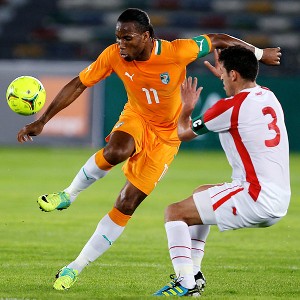 Marwan Naamani/AFP/Getty ImagesChelsea is without Didier Drogba, who is playing for the Ivory Coast at the AFCON, but his absence may take some pressure off Fernando Torres.
In some quarters, the Africa Cup of Nations is considered a huge problem for Premier League teams, a key obstacle to progress. Yet the reality is that the competition is irrelevant for the majority of clubs, a minor inconvenience for some and a large hindrance for very few.
Of the 368 players competing at the AFCON, just 13 play in the Premier League. It's an extremely low number, down from 23 for the 2010 tournament. Of those 13, three (Marouane Chamakh, Salomon Kalou and Kolo Toure) have played less than a quarter of Premier League minutes this season, making their loss of little significance. No club is losing more than two players, and 14 clubs are completely unaffected. The Africa Cup of Nations, although hardly ideal for Premier League managers, probably has less of an impact upon team selection than the common cold during the winter months.
Losing players to the AFCON is a relatively new phenomenon. As recently as 1998, the only country to draw any players from the Premier League was South Africa, which selected Mark Fish, Quinton Fortune and Lucas Radebe. Only in the 21st century has Africa really taken a grip on the Premier League, and therefore it's only in the past decade that the AFCON has become an issue.
Much of the hysteria comes from the odd reason for players being unavailable. The otherwise well-constructed FIFA calendar means that it's extremely rare for a player to miss a club game because of international commitments. But the Confederation of African Football decides this time of year is best for the continent to hold its major football tournament -- its wishes should be respected, the global game shouldn't revolve around the wishes of European clubs.
ESPN FC on Twitter
Don't miss a moment of the latest soccer coverage from around the world. Follow us on Twitter and stay informed. Join »
Still, depending upon each country's progress, absent players will miss between three and five Premier League rounds. With the most affected clubs having only two players absent, the worst-case scenario means 10 match days' worth of an unavailable player. A problem, certainly, but in the grand scheme of things -- where Arsenal, for example, has been without players for a total of 153 match days so far this season because of injury -- it's difficult to place too much importance on the tournament. It's the same as losing two players in the space of a few days to a hamstring or a groin strain, with an expected absence of around three weeks each. This situation happens all the time at football clubs, and no one considers it a season-changing event.
From the 10 first-team regulars who are unavailable, Arsenal, Manchester City and Chelsea should be able to cope without the brief absences of Gervinho, Yaya Toure and Didier Drogba, respectively. Wigan will miss Mohamed Diame, who has enjoyed a good season, but those hit hardest will be QPR, without Armand Traore and Adel Taarabt, and Newcastle, missing Demba Ba and Cheick Tiote. Even then, QPR has suffered more from the season-ending injury to Alejandro Faurlin, its star performer this campaign, and Newcastle will be without Tiote for fewer than the six league matches he missed between October and December with a knee injury.
Granted, there can be issues with the conditioning of the players once they return -- often they've played numerous games in a short space of time and take a while to recover. Arsene Wenger, meanwhile, finds the change in weather conditions a problem. "It is a different climate," he says. "Usually we have snow in February here, so they come back from a big temperature difference."
[+] Enlarge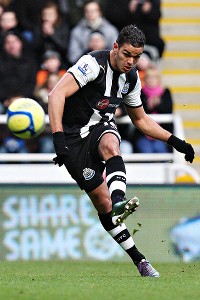 Ian Horrocks/Getty ImagesWith Demba Ba at the AFCON, Newcastle could rely on its most talented player, Hatem Ben Arfa, to become a more creative side.
Losing players for a brief period can even be a blessing in disguise, as Chelsea found out two years ago. Having started the season on fire, Carlo Ancelotti's side encountered a serious midseason dip: a spell of three defeats and a draw from six matches at the turn of the year. With the AFCON coming up, Chelsea was about to lose Drogba, its main striker and the man who eventually finished the season as the Premier League's top scorer, as well as Kalou. Many predicted a crisis.
Instead, it forced Ancelotti to change his shape. It was needed -- opponents had worked out how to play against Chelsea's narrow, static 4-3-1-2 system, so Ancelotti required variation and flexibility. Without Drogba, the battering ram at the front of the system, the Blues moved to a much more fluid 4-3-2-1 system that featured Joe Cole and Florent Malouda behind Nicolas Anelka, who played a deeper role that was more focused on link-up play than Drogba's.
It worked brilliantly. Chelsea thumped Sunderland 7-2 in the first game with the new formation, and it rejuvenated the club's season. It became a much more lucid side, which proved crucial in the late-season wins at Old Trafford and Anfield. Frank Lampard benefited most as he found form under Ancelotti for the first time, netting 16 in 17 games after the change in system, having managed only six from 19 before.
Had Chelsea persisted with Drogba as the focal point, it might not have won the league. Ancelotti rarely tries different formations for the sake of it, but the AFCON forced him into action. Chelsea was much better when Drogba returned and played his part in the system, rather than the whole side being based around him.
Can anyone take lessons from that and become a better side? Newcastle might be one candidate. It's become highly dependent on Ba for goals and has structured the side to take full advantage of his predatory instincts. The Toon have played very direct, and with width. It has worked well, but the disadvantage is that Hatem Ben Arfa, arguably the most talented Newcastle player, has found himself on the bench for the past six games.
Now with the trickier Leon Best as the focal point, Ben Arfa's ability to slide balls into the strikers will come in handy. If he returns to the starting XI, Newcastle might become a more creative side, and when Ba returns it'll be more complete.
Maybe Chelsea will benefit, too. The Blues will be forced to persevere up front with Fernando Torres, who won't have the pressure of knowing Drogba is always ready to come from the bench and take his place. Against Sunderland this past weekend, he looked sharper. "His movements were good," Chelsea manager Andre Villas-Boas said. Maybe a home game with Sunderland will again be the turning point?
Even if clubs don't get that unexpected boost, the impact of the AFCON shouldn't be exaggerated. It is a handy excuse for a dip in performance or an unnecessary signing, but its impact upon the Premier League's final positions will be negligible.
Michael Cox is a freelance writer for ESPN.com. He runs zonalmarking.net.
Soccer on ESPN.com

Follow Soccer on ESPN: Twitter
Coverage on ESPN FC
Euro 2012 in Review
MOST SENT STORIES ON ESPN.COM