Commentary
Can Arsenal and Spurs exact revenge?
Updated:
January 20, 2012, 8:42 PM ET
By
David Hirshey
| Special to ESPN.com
[+] Enlarge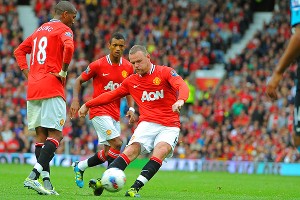 Andrew Yates/AFP/Getty ImagesAlex Ferguson has warned his players of a backlash after their drubbing of Arsenal earlier in the season.
How bad did I feel after "The 8-2"? Let's just say I understood how Aron Ralston felt when he finally cut off his arm because he couldn't take the pain any longer. So this week's rematch with Manchester United is not simply about revenge but also about restoring the natural order in the Prem.
Also, I want my drinking arm back.
Did I mention that Man City and Spurs also play on Sunday, giving us a double dose of true fire-and-brimstone-vengeance-is-mine EPL games? Which is why as many as five days before either match was scheduled to kick off, several friends, whom I'd generously classify as casual fans, were breathlessly emailing me to find the best places to gorge on this weekend's sumptuous soccer feast.
The short answer is that anywhere is perfect after the third pint of the morning.
Sunday's appetizer features Spurs' annual visit to the oversponsored-so-we-can-dodge-the-looming-fair-play-rules Etihad Stadium -- easily the most important match it has played since Peter Crouch's octagonal noggin launched it into the Champions League two years ago -- while the entree has United coming to the Emirates cauldron a little more than four months after it laid a historic beatdown on God's chosen North London side.
Normally, I would have bathed in the pool of White Hart Lane misery after City's merciless 5-1 dismemberment of Tottenham in August, but it was hard to claim the moral high ground when Arsenal lost to United by 6. (I think it was Dimitar Berbatov who shanked the extra point.)
Yet both Spurs and Arsenal are desperate to get another crack at the Manchester bully boys, who bestride the league with City three points ahead of United. Since their epic defeats, Spurs has won 14 of 19 and Arsenal 12 of 18, and if there's any justice in this cold, heartless universe, at least one North London side will make things right.
Good news! Arsenal won't lose by six this time!
In some perverse way, United did Arsenal a favor by so ruthlessly exposing its weaknesses the first time around. Losing by a half-dozen 15 days into the season sent a painfully obvious message to both Arsene Wenger and the club's board: This is what happens when you sit on your manicured hands all summer, boasting of available funds, while your opponents are bolstering their squads in the transfer window.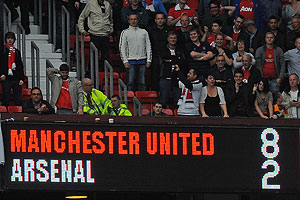 Andrew Yates/AFP/Getty ImagesThe score that is burned in the minds of United and Arsenal fans alike.
And, within 72 hours of sheer desperation, in came a gaggle of reasonable reinforcements, led by the quietly capable Mikel Arteta, who were able to drag the Gunners out of the relegation mire and back into the Champions League conversation.
Yet looking at the team Arsenal fielded that fateful day with the benefit of four-month hindsight, the score almost becomes less mind-boggling. Almost.
With empty lockers bearing the names of sold-off stars Cesc Fabregas and Samir Nasri in addition to the eight players out injured or suspended, Wenger wasn't just down to the bare bones, he was spooning out the soft marrow. Teen starlets Francis Coquelin and Carl Jenkinson were summarily marched into the Old Trafford abattoir while Alex Oxlade-Chamberlain was on the field for only 28 minutes, which proved long enough for Arsenal to be torn apart for five goals. Is that a surefire confidence boost for a 17-year-old just beginning his career or what?
Mercifully for Arsenal fans, the Gunners have become progressively less acrid to watch. Top of their Champions League group (help me remember: who is United playing in the round of 16?), in with a top-four EPL shout and showing signs of spinal growth. It's not always pretty -- Per Mertesacker is still a lumbering lummox and Wenger needed to exhume a 34-year-old club legend to give Robin van Persie some help up front, as well as promise to sign up the Dutchman's 5-year-old son if RVP would commit his future to the club, pretty please.
The fact remains that I'm as gobsmacked by the Gunners' revival as you are, given that players like Andrei Arshavin, Johan Djourou and Marouane Chamakh still walk the earth wearing Arsenal colors. But they have ascended to the point where there is a real possibility they can gain vengeance against a team that ran them through the wood chipper the last time out.
By its unreasonable standards -- winning the Double or Triple every few years -- United has slipped toward the gloaming since the 8-2: out of the Champions League in the group stages; flattened by City in both the league and the Carling Cup competitions; humbled by Newcastle and Blackburn already in 2012. Even if it's wishful thinking to believe the Red Devils are incapable of defending their Prem title, it's become increasingly clear that they're no longer the rampaging side that racked up 21 goals in its first five league games.
It's hard to say which team has been more underachieving recently: Arsenal with its paltry efforts in consecutive losses to Fulham and Swansea, or United with its astonishing, biggest-favorite-to-ever-lose-at-home defeat to the Championship-bound Rovers? In August's mauling, Sir Alex relied on the aptly named Tom Cleverley to carve open the Gunners' pre-pubescent defense, but the young midfielder's ongoing injury woes have prompted the return of Paul Scholes from his post-testimonial match convalescence. Why does one of the richest clubs in the world trot out a ginger cadaver when it could buy a robust young superstar? Ask the Glazers.
Although Scholes scored his first Prem goal since the Mesozoic era -- tying him with Thierry Henry in the race for the Geriatrico's Golden Boot -- most of his Old Trafford teachings have revolved around showing the younger United players (aka all of them except Ryan Giggs) how to execute his trademark half-hour-late, studs-imprinted-on inside-of-thigh-tackling technique.
Even without the tragicomedy of Scholes being press-ganged back onto the Good Ship Fergie, United still has its fair share of problem areas. In goal, David De Gea has been DeSastrous (though apparently he blames his rough start on impaired vision). Nemanja Vidic is on eBay searching for new ligaments. Rio Ferdinand wheezes like Berbatov's lungs after two packs, and prized wunderkinds Phil "Der Kaiser" Jones and Chris Smalling are still learning. It's safe to say that the aura of muscular intimidation that the United backline used to radiate has evaporated into the Old Trafford mist.
David Hirshey

For more from David Hirshey, check out his columns on all things soccer.
• The All-EPL Team, 2011-12
• Saying goodbye to Chinaglia
• Time to dethrone King Kenny Dalglish?
• In praise of Fulham
• The comeback artists
• Call it a comeback
• Death by Manchester
• The battle for third
• Spurs' title credentials
• EPL's best starting XI
• City handed first EPL loss
• Chelsea pushed to brink
• Fragile egos crossing
• City and United
• Is Newcastle for real?
• The bad-behavior derby
You could argue that things are only slightly better up top. Wayne Rooney's form has oscillated between his recent two-goal, badge-kissing best against City in the FA Cup to his cameo in The Hangover: Part III that resulted in Sir Alex benching him for the Blackburn game. The Wazza/Nani connection remains tenuous, as Nani prefers to shoot first and ask questions later, much like his Portuguese predecessor Cristiano Ronaldo. On the rare occasions that he's been healthy, Ashley Young's form has been in the same nearly-but-not-quite zone as that of his former Aston Villa teammate turned Liverpool flop Stewart Downing. (Was there something in the Gatorade at Villa that prevented them from crossing a decent ball? Even Giggs has more assists than Young.)
All of this tumult has taken its toll on Sir Alex, who enters the Year of the Dragon puffing out more smoke than flame. With so much uncertainty on his squad, the manager hasn't looked like his usual sprightly self, hardly even bothering to berate the officials on the touch line. It's almost as though the realization that he has a real fight on his hands to defend his title has sapped his legendarily combative energy.
Arsenal is in much better shape than it was in September, playing at home and carrying an 8-2 obelisk on its back. United is battered, searching for an identity and lacking confidence.These are the factors that should lead to a very different result this time around. 3-1 to United.
[+] Enlarge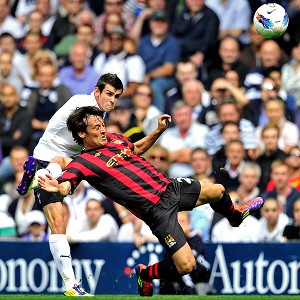 Glyn Kirk/AFP/Getty ImagesWhen Tottenham and City clashed in August, David Silva & Co. delivered a 5-1 beatdown.
Good news! Spurs won't lose by four
Much like the Gunners versus United, the Spurs side that took on the presumptive champions was in total disarray at the time. Harry Redknapp had spent his summer rebuffing Roman Abramovich's relentless attempts to #FREELUKA from his Tottenham contract. And even though he finally succeeded in keeping the Croatian sensation at White Hart Lane, Luka Modric was far from his his silky, game-changing self at the start of the season. In fact, Redknapp kept him out of the opener against United because Modric "didn't have his head on straight," a decision that cost Spurs the humiliation of a 3-0 road pummeling. And in the endless quest to mollify his unsettled midfield maestro, Redknapp neglected to replenish other key areas of his squad. Crouch was still up front hopping around like a giraffe with a bad case of the trots, Michael Dawson was subpar at the back and and Rafael van der Vaart wasn't fit enough to play a full 90.
And so when City rolled into town on Aug. 28, Redknapp dared to match Mancini for style points and stuff his midfield with Modric, VdV, Aaron Lennon and Niko Kranjcar, a move that left no one to mark the ever-dangerous David Silva, who promptly strapped the game to his tiny frame and teed up Edin Dzeko for goal after goal. No wonder the Tottenham manager would go on to commit his best bit of transfer deadline business in years (and that's saying something after stealing VdV from Real Madrid for $12 million the season before) in signing on the tenacious Scott Parker from West Ham for just $7m, a box-to-box menace able to frustrate opponents and serve as little Luka's bodyguard. (Not to mention the ice-cool goalie Brad Friedel, gratis after his Aston Villa contract expired.)
But for all Parker's proficiency as a well-coiffed wrecking ball -- not to mention Emmanuel Adebayor's inconceivable transformation into a happy, smiling member of a soccer team -- Spurs' faint title hopes still revolve almost entirely around the wondrous Welshman on the wing.
It speaks volumes that Gareth Bale is perhaps the only Spurs player Roberto Mancini covets. When the 22-year-old is in full whirlwind mode, there are few defenders with the pace or wherewithal to keep up. This season Bale has been given license to maraud not just down the flanks but also through the middle, adding a layer of unpredictability to the Spurs' attack and something that will keep Mancini up at night wondering whether to load up his right-sided defenders or clog the middle in an effort to keep the Welshman's high-octane runs and crosses from carving open his wobbling defense.
I suppose not having Adebayor available to lurk in the box because of his loan agreement from City might temper Bale's threat from the flank. For the first half of the season, Spurs could depend on the Togolese striker to finish a high percentage of those gilt-edged chances, but his absence forces Redknapp to choose between the pocket-sized, disappearance-prone Jermaine Defoe and the useless Roman Pavlyuchenko, players who must have Spurs fans pining for Robbie "Childhood Dream" Keane. Whoever starts will hope that the mercurial van der Vaart is in the mood like he was at Norwich a couple of weeks ago when, from deep in his own half, he found Adebayor racing through the middle of the Canaries' penalty area. "Pass of the season. Genius," tweeted a watching Jack Wilshire, thereby becoming the first Gooner in history to publicly praise a Tottenham player.
Working in Spurs' favor is Vincent Kompany's four-game suspension. Losing the Belgian center back's physical, composed presence in front of Joe Hart has made the oil-stars look decidedly ordinary in falling 3-2 to United in the FA Cup, dropping their Carling Cup semifinal first leg against Liverpool on a Stevie G PK, and barely squeezing past mighty Wigan by a single goal. Without their influential captain, Silva and Mancini's gaggle of world-class strikers are under even more pressure to get it done at the other end. That said, watching 10-man City fight valiantly back from 3-0 down to United to lose by one on Jan. 8, you got the feeling that had the game gone on much longer, it would have found a way to not only to draw level but also nick the winner.
However, the defeat also showed that for all its second-half gusto, City is not impervious to the suffocating pressure of life at the top of the Prem. Afterward, Mancini sought out Rooney in the tunnel to tell him how disappointed he was in what the manager perceived as the role Wazza played in getting Kompany sent off, only to imitate the United striker a week later by waving an imaginary red card after Wigan's Maynor Figueroa handled the ball in the box and remained in the game.
Pot, kettle, etc.
ESPN FC on Twitter
Don't miss a moment of the latest soccer coverage from around the world. Follow us on Twitter and stay informed. Join »
No less an authority than Sir Mind Games himself, Alex Ferguson, is on record saying that Tottenham is the most lethal attacking team in the league and Mancini must sense that Bale & Co. are salivating at the chance to run at Kompany's jittery stunt double, the young Montenegrin Stefan Savic, who will need to step up more than ever now that the Yaya and Kolo Toure are on African Nations Cup duty.
So which way does this one swing? I still think City has the class to prevail, though it figures to be as easy and carefree as trying to find a new, closer-to-Buenos Aires home for Carlos Tevez. 2-1 City.
David Hirshey has been covering soccer for more than 30 years and has written about the sport for The New York Times, Time, ESPN The Magazine and Deadspin. He is the co-author of "The ESPN World Cup Companion" and played himself (almost convincingly) in the acclaimed soccer documentary "Once in a Lifetime."
SPONSORED HEADLINES
MORE SPORTS HEADLINES
MOST SENT STORIES ON ESPN.COM
Soccer on ESPN.com

Follow Soccer on ESPN: Twitter
Coverage on ESPN FC
Euro 2012 in Review