Commentary
Will WPS' suspension hurt the U.S.?
Updated:
January 31, 2012, 9:33 AM ET
By
Jeff Carlisle
| ESPN.com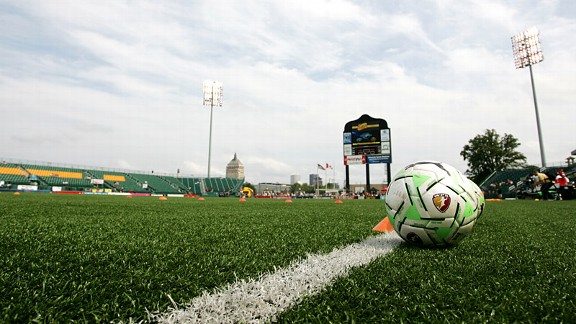 Andy Mead/Icon SMIHow will the suspension of Women's Professional Soccer for the 2012 season affect the U.S.'s ability to prepare for the Olympics -- and beyond?
So much for the feel-good factor.
Less than 24 hours after completing its obliteration of CONCACAF opposition in winning the Olympic qualifying tournament, the U.S. women's national team was hit with the news that Women's Professional Soccer was suspending operations for the 2012 season. That's right. With the attention on the women's game hitting a high point after last summer's Women's World Cup, and with a potential gold medal run to look forward to, the domestic league is shutting down.
There are myriad reasons for this: legal wranglings with renegade magicJack owner Dan Borislow; uncertainty over whether the U.S. Soccer Federation would sanction the league; a paucity of deep-pocketed investors; and a lack of a viable business plan. Yet there is universal agreement that WPS is a critical component in developing players and feeding the national team, thus leading to the hope that the league will return in 2013 and not slide into oblivion. Otherwise, the trend that has seen the rest of the world begin to catch up to the U.S. national team will only accelerate.
ESPN FC on Twitter
Don't miss a moment of the latest soccer coverage from around the world. Follow us on Twitter and stay informed. Join »
But precisely how this impacts the team's preparations for the Olympics is a different matter. In fact, in some ways, the absence of a domestic league makes manager Pia Sundhage's job easier. She'll have full control over the workout regimens of her players -- all but the injured Ali Krieger played in WPS, while Hope Solo and Abby Wambach weren't planning on playing in the league regardless this season -- instead of having to constantly take the desires of league clubs into account. The risk of injury will also decrease due to fewer games. And let's not forget, the team's World Cup preparations consisted of practices during the week with the players departing for games on the weekends. Now that travel aspect will largely be taken out of the equation as the team will most likely be put in residency to prepare for the London Games.
One apparent downside is the lack of league games that players will get, but opinions vary as to how much that will affect the national team's preparations. Former Sky Blue F.C. general manager Gerry Marrone insisted that WPS going on hiatus would be completely irrelevant to the Olympics. "The players were only going to be available for eight games, and would only train with their teams when the national team made them available," he said. "I think it will have zero impact on Olympic preparation. And I think for any player who is carrying an injury it will be a positive."
But for former U.S. national team head coach Tony DiCicco, having those eight league games beats the alternative of friendlies that will no doubt take place in the absence of WPS.
"It's going to be hard to get enough meaningful games," said DiCicco. "The U.S. is going to be playing games against teams that really can't compete. The league games are often played at a higher level than what the U.S. typically faces. And it's not going to be easy to get all of the U.S. players the game time that they need."
At present, the U.S. schedule consists of a Feb. 11 friendly against New Zealand in Frisco, Texas. That will be followed by the Algarve Cup, a 12-nation tournament set to take place two weeks later. There will no doubt be a string of friendlies and send-off games before the team departs for London, all of which will be used to work out the kinks in the Americans' game.
And yes, even though the U.S stomped on CONCACAF opposition to the tune of a 38-0 aggregate score line in five games, there are some issues for Sundhage to sort out. When right back Krieger went down with torn knee ligaments in the first game against the Dominican Republic, it was assumed that Heather Mitts would simply slide into her spot. Instead, Sundhage basically held an open audition, with Mitts, Rachel Buehler and Kelley O'Hara all seeing time at the position. Mitts and Buehler have the experience and are better one-on-one defenders, but O'Hara, a converted forward, offers the most getting into the attack.
"I think Sundhage will just wait and see who is playing the best," said DiCicco. "The good news is that any player could step in and start."
Perhaps the bigger issue is whether Sundhage will persist with the 4-2-3-1 alignment, or revert to the 4-4-2 that she has used in the past. Given how dominant the U.S. was in qualifying, it's difficult to gauge how successful the new formation was. Lauren Cheney looked sharp as an attacking midfielder playing primarily underneath Wambach. But both Costa Rica and Mexico caused problems for the U.S. when they pressed the Americans in midfield, effectively choking off the U.S. passing game, especially in terms of the quality of service delivered to Wambach.
"In a [4-2-3-1], the center forward and the attacking midfielder have to have the ability and the endeavor to get in behind teams," said DiCicco. "That's not a normal run for Wambach or Cheney."
[+] Enlarge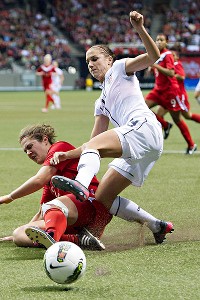 Rich Lam/Getty ImagesWhen Pia Sundhage uses a 4-4-2 formation with the likes of Alex Morgan up top, the U.S. can stretch defenses and give Abby Wambach someone to play off.
That all changed when Sundhage brought on either Sydney Leroux or Alex Morgan, players whose pace can stretch defenses and provided Wambach the ability to flick long balls over the top. It was precisely that tactic that led to Morgan's first goal in Sunday's final, a 4-0 win over host Canada. Morgan also showed off her unselfish side, twice setting up goals for Wambach, who appeared to have more room to operate.
"Based on what I saw against Canada, I think Morgan and Wambach would be an awesome pairing up top," said DiCicco.
It would seem that the trick then would be to find a way to get Morgan and Cheney on the field at the same time. DiCicco is already on record as saying that playing Morgan as a left midfielder would work. Cheney could also slide into the center of midfield, but that could come at the cost of some defensive solidity. Perhaps the best way forward is to play with two strikers, have Cheney reprise the left midfield role she filled so successfully at last summer's World Cup, and give her license to slide into central positions and create from there. That would appear to achieve a better balance between attack and defense.
Left unanswered is how team chemistry will be impacted, given that players such as Wambach and Hope Solo seem to be in Borislow's camp while other players blame him for the league's current predicament. Will the team's all-for-one attitude be compromised?
No doubt, more will be revealed in the coming months, especially as the U.S. schedule will be augmented. It's just unfortunate that WPS won't be part of that short-term future.
Jeff Carlisle covers MLS and the U.S. national team for ESPNsoccernet. He is also the author of "Soccer's Most Wanted II: The Top 10 Book of More Glorious Goals, Superb Saves and Fantastic Free-Kicks." He can be reached at eljefe1@yahoo.com.
Soccer
Jeff Carlisle covers MLS and the U.S. national team for ESPNsoccernet.
Soccer on ESPN.com

Follow Soccer on ESPN: Twitter
Coverage on ESPN FC
Euro 2012 in Review
MOST SENT STORIES ON ESPN.COM