Commentary
Transfers in era of Financial Fair Play
Updated:
January 31, 2012, 12:06 PM ET
By
Michael Cox
| Special to ESPN.com
We're meant to believe that the January transfer window has been disappointing. Granted, few established names have joined the Premier League, and the main stories have been loans from MLS to England, with Thierry Henry, Landon Donovan and Robbie Keane all returning to the EPL. (You can follow all the up-to-the-minute news on our live blog here.)
[+] Enlarge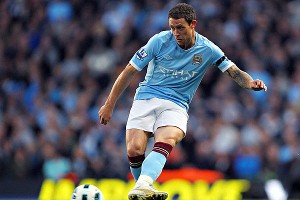 Clive Rose/Getty ImagesIn what's been a quiet transfer window, Wayne Bridge was sent on loan from City to Sunderland.
A major reason for the stinginess has been the imminent arrival of UEFA's Financial Fair Play (FFP) regulations. "We have to sell, then after we have sold we will see what Inter will buy," says Ernesto Paolillo, Inter Milan's chief executive. "Absolutely, we are thinking of FFP."
But FFP is good for football. There are potential problems with the implementation and crucial caveats when it comes to "living within your means," but the idea that clubs should control their spending is entirely appropriate. It is 2013 when FFP will truly kick in, when the 2011-12 and 2012-13 financial years will be assessed, so last year represented a final chance to spend extraordinary amounts of money. Now we're in the era of sensible spending.
Last January saw record amounts spent, but the majority could be traced back to Manchester City and Chelsea's wealthy benefactors. Aston Villa's 24 million-pound purchase of Darren Bent, for example, was funded by City buying James Milner for that amount a few months beforehand. Liverpool spent 35 million pounds on Andy Carroll, but that was solely because it wanted to make 15 million pounds from the sale of Fernando Torres, and was able to charge whatever Chelsea wanted.
"The fee for Torres was dependent on what Newcastle asked for Carroll," John W. Henry told David Conn of the Guardian. "The negotiation for us was simply the difference in prices paid by Chelsea and to Newcastle. Those prices could have been 35 million pounds and 20 million pounds, 40 million pounds and 25 million pounds, or 50 million pounds and 35 million pounds. It was ultimately up to Newcastle how much this was all going to cost."
ESPN FC on Twitter
Don't miss a moment of the latest soccer coverage from around the world. Follow us on Twitter and stay informed. Join »
It's slightly bizarre logic -- there must have been a point at which it made sense to sell Torres yet not spend 15 million pounds less on Carroll. That point was probably reached when Newcastle demanded 35 million pounds.
That's last year's news, but the point remains. This is how football clubs conduct business -- it often doesn't make sense; it's often controlled by the urges of one or two men who have decided they want a new plaything. It has reached ludicrous levels. "Having one wealthy owner is fine for a period but it creates a situation where the club depends too much on one owner, and that is not what a football club should be," says Gianni Infantino, the general secretary of UEFA. "Very often the owner withdraws, creating problems not only for that club, but for others too. Spending by that club also has a general effect of inflating wages."
It also has the effect of inflating expectations about the window. Last year wasn't the norm -- 225 million pounds was spent, compared to just 30 million pounds in January 2010. This time around, it will be much closer to the lower figure.
And after the lessons of last year, who wants to be spending huge sums? The Torres deal hasn't been a success, and Carroll has yet to find form. David Luiz was another big signing, but questions remain about his defensive ability, and Edin Dzeko only found his form this campaign.
More often than not, clubs panic-buy in January, then discover the player doesn't fit into their side and tread water until they can adapt to his presence. Liverpool had to spend further money on a crosser for Carroll; Chelsea needed players to supply through balls to Torres. Neither solution has solved the problem.
Besides, deadline-day signings are rarely successful in the long term. Carroll and Torres are the two obvious examples, but acquisitions from the second most notorious deadline day in recent years, in summer 2008, Robinho underwhelmed at Manchester City and Dimitar Berbatov, while occasionally excellent for Manchester United, rarely starts big games. Successful transfers are the result of a long-term process; panic-buying late on in the window is indicative of poor planning, not of ambition.
Is the transfer window enjoyable when eventful anyway? Sure; it is always fascinating to see a player at a new club, but the month-long rumor festival gets rather tedious -- at a generous estimate, 5 percent of suggested moves actually materialize. Tedious arguments about "net spend" occur, and FFP, while significant, hardly gets you on the edge of your seat. The sports pages often turn into the business pages.
Too much transfer activity detracts from why we love the game: the football on the pitch. While the transfer window has been open, we've had two great FA Cup rounds -- including Manchester United 3, Manchester City 2 and Liverpool 2, Manchester United 1 -- plus a great turnaround by Arsenal against Aston Villa on Sunday.
The Premier League, meanwhile, has seen its most significant day so far, with City beating Tottenham 3-2 in a brilliant game, followed by United keeping pace by virtue of a win at Arsenal. Swansea has beaten Arsenal, Bolton has beaten Liverpool, Newcastle has beaten Manchester United and Sunderland has beaten Manchester City. A boring January? Far from it. It's been one of the best in memory.
Michael Cox is a freelance writer for ESPN.com. He runs zonalmarking.net.
SPONSORED HEADLINES
MORE SPORTS HEADLINES
MOST SENT STORIES ON ESPN.COM
Soccer on ESPN.com

Follow Soccer on ESPN: Twitter
Coverage on ESPN FC
Euro 2012 in Review