Egyptians blame military for deadly riot
Updated:
February 3, 2012, 1:37 PM ET
ESPN.com news services
CAIRO -- Many Egyptians, from the public to lawmakers, on Thursday blamed the police and the country's ruling military for failing to prevent rioting among fans that resulted in the world's worst soccer violence in 15 years.
A narrow stadium exit turned into a postgame death trap Wednesday as crowds of fans fleeing armed supporters of the winning team rushed into the corridor, only to be crushed against a locked gate, their rivals attacking from behind, survivors and witnesses said.
The carnage: At least 74 people crushed, suffocated or stabbed to death in the Mediterranean coastal city of Port Said, and hundreds injured.
"Layers of people" were "stuck over each other because there was no other exit," Ahmed Ghaffar, a fan, tweeted Thursday. "We were between two choices, either death coming from behind us, or the closed doors."
Mourning in Egypt

Egyptian national team coach Bob Bradley joined protesters at Sphinx square to show his support for victims of the riots, writes Jeff Carlisle, who talked with the coach about the devastation. Story
---

There is the rush to try to explain the violence in Egypt. Then there is the desire to forget, Jeff MacGregor writes. Story
---

Wednesday's events in Port Said demonstrate the depth of the state of tension that has seized Egypt, Brent Latham writes. Story

Prime Minister Kamal el-Ganzouri told parliament he had dissolved the Egyptian Soccer Federation's board and referred its members for questioning by prosecutors about the violence. He also said the governor of Port Said province and the area's police chief have resigned.
In Suez early Friday, police shot and killed two protesters, a health official said, the first to die in clashes that erupted around the country after the riot. Witnesses said about 3,000 people demonstrated in front of police headquarters after news spread that one of the victims in the Port Said riot was from their city.
Protests continued in Cairo, near Tahrir Square, the epicenter of last year's popular uprising that ousted former leader Hosni Mubarak. Thousands demonstrated Thursday in front of the Interior Ministry, which oversees the police. Demonstrators threw rocks, and police responded with clouds of tear gas. Hundreds were treated by medics.
The riot at the stadium in Port Said erupted Wednesday when fans of the local team, Al-Masry, stormed the field following a rare 3-1 win against Al-Ahly, one of Egypt's most popular and successful clubs.
Al-Masry supporters, armed with knives, sticks and stones, chased Al-Ahly players and fans, who ran toward the exits and up the stands to escape, according to witnesses.
Lines of riot police in the stadium largely did nothing to intervene, witnesses said. At one point, the stadium lights went out, plunging it into darkness. At the time, the TV sportscaster announcing the match said authorities shut them off to "calm the situation."
A network of zealous Al-Ahly soccer fans known as Ultras vowed vengeance, accusing the police of intentionally letting rivals attack them because they have been among the most aggressive of Egypt's revolutionaries. Ultras were at the forefront of the anti-government uprising -- first against toppled leader Hosni Mubarak a year ago and now against the military that took his place in power.
"Either they will die or we will die," one Ultra said, referring to the police, as he joined a march by some 10,000 people on the Cairo headquarters of the Interior Ministry, which oversees the security forces. He would only give his first name, Islam, for fear of reprisal by police.
[+] Enlarge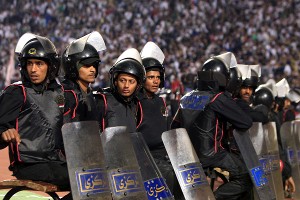 Mahmud Hams/AFP/Getty ImagesArmed police stood by, but had been told by government officials to not take action against fans after November's political protests had resulted in deaths.
Mahmoud Ibrahim, 22, a survivor who on Thursday was at a Cairo morgue where two of his dead friends were taken, said that after the lights went out, people were left "to kill each other."
He ran into the corridor. "We went down trying to get out and everyone was pushing. Under me was more than three people and I am being pushed. Everyone is pushing trying to breathe," he said.
There was bad blood between the two teams even before the match, and many were itching for a fight. Early in the game, Ultras raised a banner reading, "Port Said is a garbage city and has no men," before it was quickly taken down.
One Al-Masry fan, Mohammed Mosleh, posted his account of the scene on Facebook, saying he saw "thugs with weapons" in the stadium.
"This was unbelievable," he said. "We were supposed to be celebrating, not killing people. We defeated Al-Ahly, something I saw twice only in my lifetime. All the people were happy. Nobody expected this."
Health ministry official Hisham Sheha said the deaths were caused by stabs by sharp tools, brain hemorrhage and concussions. "All those carried to hospitals were already dead bodies," Sheha told state TV.
Pedro Barny, a Portuguese assistant to Al-Ahly coach Manuel Jose, complained of a lack of security as the tensions mounted during the game.
"The atmosphere was very aggressive. It was very intimidating for our team," Barny told Radiotelevisao Portuguesa. "There were opposition fans walking up and down unchallenged in front of our bench during the game and the police did nothing."
He said there was a charge across pitch toward the Al-Ahly fans that collided with the players and coaches. "I ran and ran to get away from it."
He said he was punched and kicked as he sprinted for the tunnel.
TV footage showed Al-Ahly players rushing for their locker room as fistfights broke out among the hundreds of fans swarming the field.
The stadium riot came on the one-year anniversary of one of the most violent days of the 18-day anti-Mubarak uprising. On Feb. 2, 2011, in what became known as the "Battle of the Camel," Mubarak loyalists on camels and horses attacked protesters at Tahrir Square, leading to nearly two days of battles with rocks, firebombs and slabs of concrete.
Al-Ahly players Mohamed Aboutrika, Emad Moteab and Mohamed Barakat -- all members of the Egypt national team -- announced they were retiring from soccer after witnessing the rampage.
Al-Ahly coach Manuel Jose, who is returning home to Portugal after "going through a bad psychological situation," told the team's website that he was "beaten with fists and kicks to the neck, head and feet."
Barny said it was a "state of madness."
"We tried to save the lives of some of the fans, but many died before our eyes," Barny said.
The Ultras are among Egypt's rowdiest fans and are proud of their hatred for the police, who were the backbone of Mubarak's authoritarian rule. During matches, they are known for their obscenity-laced anti-police songs and chants, which usually go viral on the Internet, an expression of the hatred many Egyptians feel toward the security forces.
The network is highly organized across the country, but they were long apolitical, resenting the police for friction at soccer matches. When the uprising began, the Ultras used their years of experience in clashing with police at stadiums to help defend protesters against attacks by security forces and regime supporters.
After Mubarak's fall, they joined protests against the military, and in November and December, they fought back against troops cracking down on demonstrations in clashes that left dozens dead. Ironically, the revolution has united the Ultra backers of the Al-Ahly and Zamalek clubs, the country's most bitter soccer rivalry.
Ahmad Saqqar, a 22-year-old Ultra wearing a red Al-Ahly shirt, said the Ultras are "all about resisting police suppression."
"The military plotted yesterday to take revenge on us," he said. "We know how to respond ... after we recover from our wounds."
Information from The Associated Press was included in this report.
SPONSORED HEADLINES
MORE SPORTS HEADLINES
MOST SENT STORIES ON ESPN.COM
Soccer on ESPN.com

Follow Soccer on ESPN: Twitter
Coverage on ESPN FC
Euro 2012 in Review