Commentary
Pizarro could be key to City's campaign
Updated:
February 2, 2012, 11:34 AM ET
By
Michael Cox
| Special to ESPN.com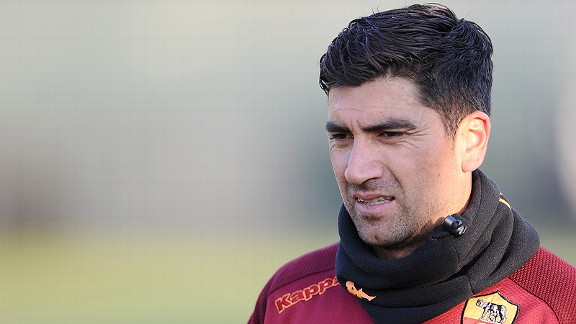 Luciano Rossi/Getty ImagesMany January transfers are completely illogical, but City's signing of David Pizarro on loan makes perfect sense in the club's quest for the Premier League crown.
They call him "Pek," from the Spanish "pequeño." His nickname isn't just "short," it's short for "short." And David Pizarro only has a short period of time to make his impact in the Premier League. Just 15 games remain in the season, with Manchester City level on points with Manchester United.
Many January transfers are completely illogical, but this one makes perfect sense. City has struggled against sides that park the bus, because it doesn't have any creativity from deep positions. As our roundup of potential January targets outlined, City needs a "regista," as Roberto Mancini would say.
From Pizarro's point of view, his time at Roma had come to a premature end. He had struggled with injury in the past 18 months, but even when fit, Luis Enrique's constant refusal to select him was baffling. This is a coach trying to recreate the Barcelona philosophy in Rome, and while it's impossible to replicate Lionel Messi, Pizarro is as close to a Xavi Hernandez as you'll find in Europe. Calm, composed, intelligent -- oh, and short, of course. He seemed perfect for Enrique's system, but the Spanish coach seemed to favor youth.
But Pizarro isn't quite a Xavi-lite. In fact, while Pizarro is not quite as good, he's probably more of an all-around player. He combines short passes with ambitious long diagonal balls to the flanks, and he has that stereotypical South American battling quality when it comes to winning back the ball. He's roughly 60 percent Xavi, 25 percent Andrea Pirlo and 15 percent Rino Gattuso.
[+] Enlarge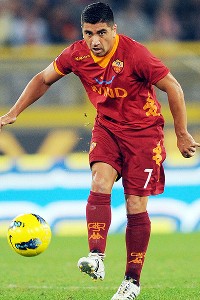 Giuseppe Bellini/Getty ImagesPart Xavi, part Andrea Pirlo and part Rino Gattuso, David Pizarro will be able to help City break down stubborn defenses.
Like Xavi and Pirlo, Pizarro is 32. Like both of them, he's had niggling injury problems in recent years, which is possibly why he's moved on loan to City rather than on a permanent deal. But this isn't a player necessarily past his best; only two seasons ago he was the standout midfielder in Serie A as Roma nearly beat Inter to the title. In Claudio Ranieri's flexible 4-2-3-1 system that featured Francesco Totti dropping deep and Mirko Vucinic wide on the left, Roma was based around movement, pace and relentless attacking. Pizarro was the catalyst for so much of it. His performance against Juventus two years ago was the highlight. He ran the midfield, breaking up attacks, creating chances and combining those two things for the winning goal, headed home by John Arne Riise.
That was the crucial win that turned Roma from a hopeful to a contender -- for the remainder of the season it played better football than Inter, but faded late.
It remains to be seen whether Pizarro can recreate that form. City certainly needs him. As Pizarro was spending his first night in Manchester, his new teammates fell to defeat at Everton. David Moyes has frequently frustrated City in recent years by sitting deep and inviting pressure, and City has never had the clever central midfielders to break them down. The passes from the midfield zone aren't quick enough -- it's easy to read where Gareth Barry will play the ball, and he doesn't possess the ability to slide the ball into an attacker in a tight space. No one doubts that David Silva, Samir Nasri and Sergio Aguero can work the ball in congested areas, but they need good service to do that. Otherwise, they're forced to drop deep away from goal, thus becoming less of a threat.
The English press was keen to point out that Pizarro had played under Mancini before, at Inter. One reporter even announced that the Chilean would be bringing "title-winning experience" from Italy, but that barely tells the story. That title win was in 2005-06, when Juventus finished top but was then stripped of the league because of the Calciopoli scandal in July. Following the court case, Inter was awarded the title two months after the end of the season. A couple of weeks later, Pizarro was sold to Roma.
Whether that brings the attributed "experience" is highly debatable, as is the value of Pizarro's previous relationship with the coach. Mancini didn't really know what to do with Pizarro, who is a slightly odd bundle of attributes. Twenty years ago he might have been a No. 10, but he lacks the pace to play there. He was tried both at the top and at the back of a midfield three, the latter clearly suiting him more, but Mancini favored a 4-4-2. Pizarro was in direct competition with Juan Sebastian Veron, another South American whose role was often misunderstood.
ESPN FC on Twitter
Don't miss a moment of the latest soccer coverage from around the world. Follow us on Twitter and stay informed. Join »
Mancini liked Veron. They had played together at both Sampdoria and Lazio, where Mancini then became assistant manager under Sven-Goran Eriksson. It was a choice between Pizarro and Veron: one or the other, never both until the final game of the season. Veron started 23 times in central midfield, Pizarro 14.
But Mancini shouldn't be blamed for overlooking Pizarro, as Veron did a terrific job for him. In fact, Pizarro has proved difficult to manage throughout his career. Ranieri complained that "Pizarro never looked me in the eye," and Enrique never took to him. At the international level, he fell out with former Chile coach Juvenal Olmos and questioned the professionalism of his teammates, retiring at just 25.
In fact, the only man to really understand Pizarro has been Luciano Spalletti. He turned Pizarro into a superb player at Udinese, then signed him again for Roma. In both sides, Pizarro suited Spalletti's exciting style of football; he could pick out long passes to midfield runners and wingers. Yet even Spalletti had problems with him: Pizarro once furiously stormed off the pitch after being substituted against Ancona. Journalists predicted his exclusion from the squad for the next match, a game with Shakhtar Donetsk.
Pizarro was on the bench, and emerged after 62 minutes with the match still 0-0 and Shakhtar well on top. Roma ended up winning 4-0, with Pizarro hitting an absurdly good fourth, a shot that swerved so much the goalkeeper actually dove the wrong way. "He changed the match," Spalletti admitted. "On that kind of form, he is a player who can make the difference. He has character and a great technique." From then on, he was a fixture in the side.
City hardly needs another troublemaker, but Pizarro's tantrums are more Roy Keane than Mario Balotelli -- always insistent on high standards, always wanting to be the center of the side. Spalletti knew to persist with him, and has been trying to sign him for Zenit St Petersburg. A summer move to Russia seems likely once he has left Manchester.
Pizarro's move could turn out to be inconsequential; Yaya Toure will return from the Africa Cup of Nations shortly, then he and Barry will rekindle their partnership and Nigel De Jong will be the insurance policy. Pizarro might be fourth choice, with Mancini again happy to overlook him.
But then again, he could be brilliant. He is an astoundingly talented player who has never played in a World Cup and has never gotten to celebrate a league title. City gives him a chance to put the latter right -- this time, it shouldn't take a summer court case to make Pizarro a champion.
Michael Cox is a freelance writer for ESPN.com. He runs zonalmarking.net.
SPONSORED HEADLINES
MORE SPORTS HEADLINES
MOST SENT STORIES ON ESPN.COM
Soccer on ESPN.com

Follow Soccer on ESPN: Twitter
Coverage on ESPN FC
Euro 2012 in Review