Commentary
MLS 2012 preview: FC Dallas
Updated:
February 25, 2012, 3:01 PM ET
By
Brent Latham
| Special to ESPN.com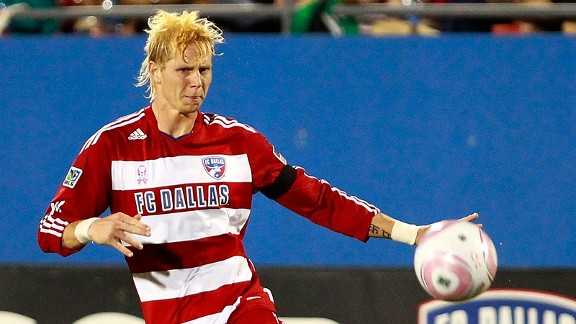 Rick Yeatts/Getty ImagesFC Dallas has a strong starting lineup featuring Brek Shea, but the squad lacks depth, which may hinder its chances in a strong Western Conference.
2011 record and finish: 15-12-7 (fourth place in Western Conference)
Additions:F Blas Perez, D Hernan Pertuz, D Matt Hedges, D Alex Lee, F Walter Hines, D Ian Kalis, D Carlos Rodríguez
Losses: D Edson Edward, D Jeremy Hall, F Maykel Galindo, F Maicon Santos, M Marvin Chavez, M Jackson
Key questions facing this team
1. Will the made-over defense jell quickly?
FC Dallas has been forced to make a number of changes to a defense that had become one of the league's tightest over the past few seasons. After a transfer saga that seemed to take forever to play out, central rock George John went out on loan to West Ham with an option for the Championship club to purchase his contract in early March. John's potential return on the eve of the regular season would be a short-term boost, but in the meantime, the defense is taking shape around Colombian addition Hernan Pertuz, who has impressed in the early going. Rookie center back Matt Hedges has a bright future, but it may be early to expect too much from him. With Jackson and Jeremy Hall gone as options, Panamanian wing back Carlos Rodríguez will see plenty of time. With so many questions, the Hoops will lean heavily on veterans Zach Loyd and Ugo Ihemelu for leadership early on.
ESPN FC on Twitter
Don't miss a moment of the latest soccer coverage from around the world. Follow us on Twitter and stay informed. Join »
2. Who's going to complement Brek Shea?
The central midfield is pretty set, with Daniel Hernandez backing up a five-man set and some combination of Andrew Jacobson, Ricardo Villar and hopefully David Ferreira in the middle. In the 4-1-4-1 Schellas Hyndman prefers, wing play is crucial to getting on the scoreboard. Shea has the left locked down, but plugging the hole at right wing left by Marvin Chavez's departure will be critical. FCD will need more offensive production out of Villar and the return of a healthy Ferreira to complement the young American star.
3. With a less congested schedule, can Dallas return to form?
Last year, the Hoops withered at the end of a grueling season, falling out of form and stumbling to the finish line in both MLS and the CONCACAF Champions League. The hard times can be chalked up to depth. The club played 48 games in 2011 and had nothing in the tank at the end. With no Champions League this year, fixture congestion will be significantly reduced, but offseason attrition means little has been done to address the depth chart. The players brought in are capable replacements for the losses, but they don't move the needle much in terms of quality. And with six home-grown players on the roster, experienced players ready to step in are still missing. That leaves the Hoops vulnerable if any of their key players get injured, which raises the question: Can FCD take a step toward its 2010 form?
[+] Enlarge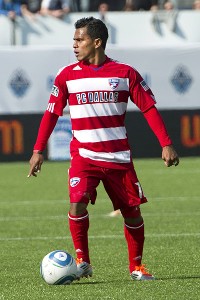 Rich Lam/Getty ImagesDavid Ferreira, who was the league's MVP in 2010, played only six games last season due to a broken ankle. His return to form will be a key component to FCD's success in 2012.
Biggest X factor: David Ferreira
The league's 2010 MVP played six games last season before a crunching Jonathan Leathers tackle left him watching from the sidelines with a broken ankle. Though the team did its best to make amends in its playmaker's absence, the injury proved a death blow to the Hoops' chances in 2011. Ferreira's return to form will be key to their success in 2012, but the Colombian seems to have some psychological baggage after the experience, so a full recovery is far from certain.
Breakout player to watch: Fabian Castillo
The Colombian U-20 international showed some flashes in 2011 but struggled for consistency. With a hole to fill on the right wing, Castillo will get plenty of chances to improve this year. The right wing is likely his on starting day, but Castillo may get a shot up front as well, where Hyndman says he can use the space and freedom to reach a higher level.
Outlook
One of the league's top teams over the past few seasons, Dallas may be in a little trouble in 2012. The Western Conference has gotten better, and the Hoops have failed to move aggressively forward during the offseason. They're no longer in the league of Los Angeles or Seattle in terms of quality, and upstarts such as Colorado and Portland could well be on the way to challenging them for playoff spots.
Much will ride on the uncertain form of Ferreira and the ability of Blas Perez, a veteran goal scorer signed from Mexico's second division, to put the ball in the net consistently. If an offer comes in for Shea over the summer, the writing may be on the wall for Hyndman's team. The Hoops have the quality in their starting lineup for a deep playoff run but little leeway. Hyndman's teams have historically started slow, and any further blips along the way could send Dallas reeling closer to the bottom of the Western Conference table than the heights to which the proud franchise aspires.
Brent Latham covers soccer for ESPN.com. He previously covered sports throughout Africa for Voice of America radio and works as a soccer commentator for a national television station in Guatemala. He can be reached at brentlatham@ymail.com.
ESPN Insider
Brent Latham is a soccer commentator who covers the youth national teams for ESPN.com. Based in Guatemala, he has attended youth World Cups from Peru to Egypt, and places in between.
Major League Soccer 2012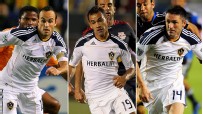 Follow Soccer on ESPN: Twitter
TEAM BY TEAM PREVIEWS
Each day as we head into First Kick, we'll be previewing another MLS team. So check back daily for the latest.
MOST SENT STORIES ON ESPN.COM