Commentary
Napoli has style and substance
System has it in surprising position in the Champions League
Updated:
March 13, 2012, 1:11 PM ET
By
Michael Cox
| Special to ESPN.com
This is a new experience for Napoli; the stage, certainly, but also the situation. Their Champions League round of 16 matchup against Chelsea was their biggest for years, which they've known for months. But the second leg is something entirely new: not only is Napoli here, it is now the favorite.
[+] Enlarge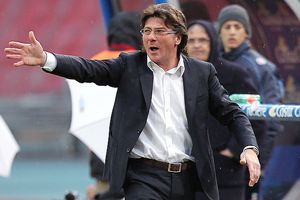 Gabriele Maltinti/Getty ImagesWalter Mazzarri's three-back system has propelled Napoli to unexpected international success.
Napoli has thrived on being the underdog over the past 18 months. When it launched an unexpected title charge last season, no one expected it to triumph. It didn't, and third place was seen as a good achievement. Even in the group stage for the Champions League, Manchester City and Bayern Munich were seen as the favorites, but Napoli squeezed past City to qualify to the round of 16. Each step of the way, Napoli's progress has been a slight surprise.
Now, progress is expected. It travels to London with a two-goal lead from the first leg and is coming off the back of six straight wins in all competitions.
In stark contrast, Chelsea is in crisis. It has sacked Andre Villas-Boas since the first leg and replaced him with assistant Roberto Di Matteo. The Italian has been welcomed by fans, who have good memories of his time at the club as a central midfielder. But the reality is that Di Matteo's last managerial experience was being sacked from West Bromwich Albion when it looked likely to be relegated from the Premier League. This is a situation that was beyond Di Matteo's wildest dreams 12 months ago. Now Napoli is the side in control of the tie, and Walter Mazzarri is the coach with more experience.
Whatever happens this week, Mazzarri has done a fine job in charge of Napoli. He has woken up a club once viewed as a sleeping giant and has created the finest team Naples has seen since the days of Diego Maradona.
Crucial to his success has been a very specific system. A four-man defense has been standard across Europe for the past decade, but Mazzarri -- along with Udinese's Francesco Guidolin -- has been the main man behind the resurgence of the back three in Italy. The success of those two clubs, which finished third and fourth, respectively, behind the two Milan sides last season, has prompted many Serie A clubs to mimic their systems. Last season, the novelty of a back three was a new challenge that opponents had forgotten how to solve, but now it has become so common across the country that there's no longer a surprise factor. Napoli's recent run has seen it climb to fourth, but for long periods this season it was hovering in upper-midtable.
ESPN FC on Twitter
Don't miss a moment of the latest soccer coverage from around the world. Follow us on Twitter and stay informed. Join »
Arrigo Sacchi, the legendary coach who inspired Milan's revolutionary pressing game in the late '80s and early '90s, isn't wrong about much. But he has been wrong about Napoli.
"They rely on a tight defense, rigid marking, counter-attacking and individual class," he wrote late last year.
No disagreement there. But he continued: "It's a system of play that can get results in Italy, but has its limits in Europe."
It is true that counter-attacking has its limitations, chiefly because that style of play depends on the opponent dictating the play, pushing men forward and leaving space at the back. Some sides simply won't have the ambition to do that, and therefore Napoli becomes frustrated. But Napoli's form in Europe has been much better than its form in Serie A, primarily as it has been allowed to counter-attack.
Because it is so good on the break, it is better when it sees little of the ball. Its possession percentage of 52.9 in domestic competition is too high for its liking. It is more suited to the 37.6 percent from its seven Champions League games so far. That figure is the lowest in the competition and roughly half the figure enjoyed by Barcelona at 72.8 percent.
A better assessment of Napoli came from the current Italy coach, Cesare Prandelli, who said that Mazzarri "has the ability to lift the characteristics of the individuals to the maximum."
It's a perfect summary, for while this is an excellent team it is not comprised of 11 excellent players. The sum of Napoli's parts is greater than the parts individually.
[+] Enlarge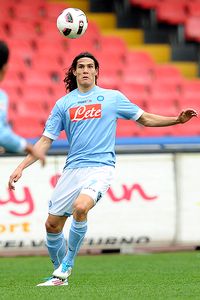 Giuseppe Bellini/Getty ImagesNapoli's Edinson Cavani may be the only true finisher on Walter Mazzarri's squad.
We can break the players in Napoli's first-choice XI into four categories. There is the back five, who are basically journeyman footballers who probably wouldn't stand out if they were currently involved in a relegation fight. Paolo Cannavaro is a good defender, but when he initially moved to Napoli in 2006 he was joining a Serie B club. No one was particularly shocked. Hugo Campagnaro is good at bringing the ball forward, but would he suit a four-man backline? Not particularly. The system is perfect for him. The same can be said of Salvatore Aronica, who is mainly suited to the formation because he's left-footed, so he can play on that side of the three. The wing-backs seem like world-beaters, but right-sided Christian Maggio had never looked spectacular until joining Napoli, while Andrea Dossena was a failure at Liverpool.
There are two players who have shone elsewhere. Morgan De Sanctis is a fine goalkeeper and is not highly affected by the choice of formation. Then there's Gokhan Inler. He's a supremely talented footballer but supports the argument that this is a team for a certain type of player. In terms of natural ability, he's far superior to his predecessor, Michele Pazienza, but De Sanctis is more adventurous and doesn't completely fit the midfield role he's been given.
There are highly rated players who have only looked great at Napoli: Walter Gargano, Ezequiel Lavezzi and Marek Hamsik. Gargano is sometimes a brilliant deep-lying playmaker but lacks the consistency to make him top class. Lavezzi is a striker who has never scored 10 league goals in eight seasons of top-flight football but knows his role wide on the left perfectly. Hamsik is supposedly a playmaker but rarely dominates a game. Still, his versatility, work rate and decision-making on the break mean he's a decent fit.
Then there is a category of one -- Edinson Cavani, who is a lethal all-around finisher and the envy of many clubs in Europe. He is the only potentially world-class player on this side. Still, he has yet to prove himself outside this system. Cavani was promising but unexceptional at previous club Palermo. At the international level with Uruguay, Cavani found himself relegated to the bench behind Diego Forlan and Luis Suarez at last summer's Copa America.
Can any of these players boast significant achievements at international level or a spell of success at another Champions League club? No. Yet under Mazzarri, they're working together as a unit and competing with the best in Europe. None of these players -- with the slight exception of Inler -- have played anything close to better football elsewhere, for club or for country.
Being a manager is all about making the most of your resources, and Mazzarri has done that superbly. Europe's richest clubs will be sniffing around Napoli's star men in the summer, but they might find that it's the coach, not the players, who is the major driving force behind their ascendency.
Michael Cox is a freelance writer for ESPN.com. He runs zonalmarking.net.
SPONSORED HEADLINES
MORE SPORTS HEADLINES
MOST SENT STORIES ON ESPN.COM
Soccer on ESPN.com

Follow Soccer on ESPN: Twitter
Coverage on ESPN FC
Euro 2012 in Review