Commentary
Football's vicious circle of success
Updated:
March 15, 2012, 1:53 PM ET
By
Michael Cox
| Special to ESPN.com
It all used to be so simple in the top flight of English football. Six or seven sides would hope to challenge for the league, and everyone else would see a European place as a great achievement, something of a bonus. There were also the two cup competitions, with the chance for a day out at Wembley perhaps the most exciting prospect of the season.
[+] Enlarge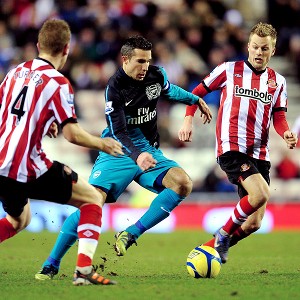 Laurence Griffiths/Getty ImagesArsenal's past month has seen the Gunners crash out of the Champions League and FA Cup, yet somehow the Gunners are on a high -- a clear sign of how priorities have changed in modern football.
Now the situation is more complex. The expansion of the Champions League at the turn of the century created an entirely new mindset for Premier League clubs. Most obviously, it has widened the gap between rich and poor -- it now seems impossible that a smaller club could break into the top four -- but it's also changed priorities.
Arsenal's past month has summed up the bizarre nature of modern football. By the standard of 15 years ago, this would have been considered a disastrous period, with an FA Cup defeat to Sunderland and a European Cup exit at the hands of Milan. Yet somehow the Gunners are on a high. They've beaten Tottenham, Liverpool and Newcastle in a run of league fixtures that looked tricky, and now they have a great chance of finishing fourth. Or maybe even third. And the value of coming third or fourth in the league, sadly, is greater than the value of winning the FA Cup.
How did we come to reward failure in one competition greater than success in another?
This is not a new development, but rarely has the contrast been so stark, especially as Arsenal has been starved of silverware for the past seven years. The importance of the FA Cup has declined significantly, almost solely because there isn't a huge cash reward on offer, and proponents of giving the fourth Champions League qualification space to the winner of the FA Cup have a good case. While this would probably be impossible to get past UEFA, it would be great for English football as a whole because it would encourage sides to compete in the cup rather than scrapping for a minor league placing. It wouldn't significantly change the composition of England's Champions League teams -- only twice in the past 20 years has a side other than Manchester United, Manchester City, Arsenal, Chelsea or Liverpool won the cup -- but it would prompt more effort and reward success.
"We are not going to win the FA Cup, and I could not care less about it, to be honest," said Reading's Dave Kitson back in 2008 -- ironically, a year when an underdog, Portsmouth, did win it. "I care about staying in the Premier League, as does everybody at this club," he said. A year earlier, his manager, Steve Coppell, said that if his side qualified for the UEFA Cup (the prospect wasn't unrealistic at the time), he would play the reserves and focus on Premier League survival. So Reading cared neither about the cup nor about finishing near the top of the league -- its sole objective was to avoid relegation, which it didn't manage for too much longer.
Playing the reserves in the Europa League, as it is now known, has become a reality in recent years. Bolton did it under Gary Megson, as did Aston Villa under Martin O'Neill, Liverpool in Roy Hodgson's brief spell and Tottenham earlier this season. Stoke's Tony Pulis left out some of his better players for the trip to Valencia last month. It's a terrible situation for supporters, some of whom have never seen their club play in Europe before, when the manager puts so little effort into once prestigious competitions.
[+] Enlarge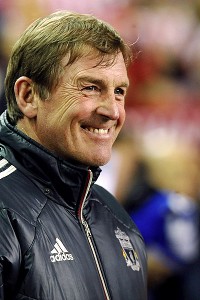 Paul Ellis/AFP/Getty ImagesKenny Dalglish's comments that success doesn't "necessarily relate to trophies or points" illustrate the flexibility coaches have when defining achievements.
We've probably now reached the stage where the difference between qualifying and not qualifying for the Champions League is more important than the difference between winning and not winning the league. Jumping over to Netherlands and using last season's Eredivisie as an example, the final day saw Twente traveling to Ajax in a winner-takes-all final-day contest between the two best clubs in the league. But both clubs also risked falling into third and out of the Champions League places, with PSV close behind. Now, the mathematics in this particular scenario don't fit perfectly, but if either side had been in a "virtual" second place with the score line at 1-1, where scoring a goal meant winning the title and conceding a goal meant dropping out of the second Champions League place, they would be better off playing cautiously to secure their Champions League windfall rather than trying to win the league.
That's a bit of a stretch, but it's not unrealistic. We've known for a while that money dominates football, but now there seems to be mass confusion about what you're hoping your club can do. Take Kenny Dalglish's assessment of Liverpool's campaign this week: "There are many ways you can judge a season, and the best way is progress at the football club as a whole. I don't think it necessarily relates to trophies or points.
"Off the pitch, especially, the club is a lot stronger than what it was. You go off the pitch and see how much money we are getting through sponsorship and kit deals. What other areas are there to improve on -- apart from points?"
Dalglish's comments were reported in a harsh manner, but it does illustrate the flexibility that coaches have when defining success. Dalglish has secured a trophy already, the league cup, so Liverpool's season won't be regarded as a failure. But it's a highly ambitious -- or perhaps highly intelligent -- piece of spin to treat "points total" as something of a side note. As I mentioned in January, the difficulty with assessing Liverpool's performance this season is that no one is agreed on what its initial target was. Dalglish knows, and has used, that lack of clarity to full advantage.
ESPN FC on Twitter
Don't miss a moment of the latest soccer coverage from around the world. Follow us on Twitter and stay informed. Join »
The reality is that the Premier League has become about playing for two positions -- fourth and 17th -- fourth to be the final team to qualify for the Champions League, 17th to compete in the Premier League and avoid relegation. Once you're into those competitions, it doesn't matter how you perform -- as long as you requalify. You're forever qualifying for something you don't need to take seriously.
Football has become one long circular qualification process -- like you were told as a kid: It's not the winning, but the taking part that counts.
Michael Cox is a freelance writer for ESPN.com. He runs zonalmarking.net.
Soccer on ESPN.com

Follow Soccer on ESPN: Twitter
Coverage on ESPN FC
Euro 2012 in Review
MOST SENT STORIES ON ESPN.COM