Commentary
Neymar's big decision
Updated:
March 19, 2012, 2:35 PM ET
By
Tim Vickery
| Special to ESPN.com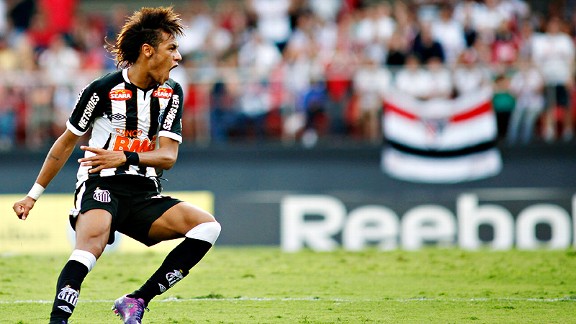 William Volcov/Getty ImagesBrazil coach Mano Menezes suggested that Neymar should move to a big club in Europe to further develop his game before the 2014 World Cup.
Two weeks ago, Lionel Messi raised the bar when he knocked in his five Champions League goals for Barcelona against Bayer Leverkusen. Later that night on the other side of the Atlantic, a young Brazilian strained to reach the same standard.
It was Santos against Internacional in the Copa Libertadores, an all-Brazilian battle of the past two teams to win the competition, South America's equivalent of Europe's Champions League. Santos had lost its opening game in the competition, going down 2-1 to The Strongest of Bolivia at the always inhospitable altitude of La Paz. So the pressure was on when it hosted Internacional. Another defeat would jeopardize its chances of qualifying for the knockout stage.
As is so often, a pressure situation brought the best out of the best player. Neymar was outstanding, scoring all three goals in Santos' 3-1 win. The first was a penalty. The other two will live for much longer in the memory. Both times, he picked up possession around the halfway line and charged his way through for a superb solo strike. They were goals that showcased his exceptional talent.
Neymar's running with the ball at pace is sublime; his instinctive understanding of space is extraordinary. His ability to improvise at speed is uncanny, and he rounds it all off with magnificent finishing -- a point emphasized by the fact that the second goal was scored with a gloriously subtle right-footed chip over the goalkeeper, while the third was similarly executed, only this time with his left foot.
Just past his 20th birthday, Neymar already has racked up more than a century of professional goals. He overshadows Ronaldinho as the biggest star in domestic Brazilian football and carries the hopes of the nation as it builds toward hosting the 2014 World Cup.
In a little more than two years, the pressure will be intense. Of all the major footballing powers, Brazil is the only one not to have won the tournament on home soil. The ghosts of its failure to do so in 1950 will be praying on the minds of the 2014 team. How best to prepare Neymar for the challenge to come? Stay with Santos or move to Europe?
A few short years ago, there would be nothing to debate. Financial realities already would have forced Neymar across the Atlantic. Brazilian football simply would not be able to afford him.
Times have changed, though. Europe is in crisis. Brazil's economy has been enjoying a consumer-led boom. For companies seeking to connect with those consumers, an involvement with football makes sense. Sponsors, then, can be brought on board to help with the wages that big-name players can command as much at home as by moving to Europe.
[+] Enlarge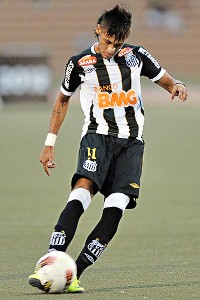 Cris Bouroncle/AFP/Getty ImagesJust past his 20th birthday, Neymar has already racked up over a century of professional goals.
Money matters. But it is not everything. Professional development is important as well. And last week, Brazil coach Mano Menezes tentatively stepped into a minefield when he suggested that Neymar's chances of shining in the 2014 World Cup would benefit from a couple of seasons' worth of European experience.
It is tricky territory for Menezes, because Brazil has a proud footballing culture wounded over the past two decades by the constant loss of talent to the major European leagues. Complaints are common -- overwhelmingly when results are disappointing -- that the European-based Brazilian players have become remote figures, distant from the home supporters and disconnected from their reality. The call always goes up for more home-based players to be included on the national team.
On occasions in the past, this defied all logic. Those home-based players were either simply not good enough for top European football, or they were just about to make the move. Now, with the changing economic climate, Brazil's first-strength team can justifiably include a number of home-based favorites, especially Neymar.
After years of selling its stars, domestic Brazilian football is now in a much better position to sell its spectacle, with Neymar as the chief attraction. But Menezes, always assuming that he is still in charge for the next World Cup, will stand or fall by whether his team emerges victorious in 2014. He has a vested interest in wanting his star player to develop as much as possible.
Brazil's coach, then, cloaked his doubts in cautious terms. To keep hold of Neymar, Santos has been forced to make sacrifices -- shutting down its futsal and women's teams, for example -- and Menezes expressed his concern that in return for sponsors' involvement, Neymar will have to spend too much time on commercial activities.
But as Menezes is well aware, there are also solid footballing reasons for being in favor of a move. A prolonged stay in Brazilian football would expose Neymar to the risk of spending too long in a comfort zone. At home, the defensive lines usually play deep. There is space on the field, and, crucially, the criteria used by referees work in his favor. In contemporary Brazilian football, fouls are awarded for the slightest physical contact. He is not as bad as he was, but Neymar still has a tendency to go to ground very early, winning free kicks that he would probably not get in Europe.
This is such an important issue because it changes the entire psychological nature of the one-against-one duel. Attacking players thrive on confidence -- which is far higher if the striker can take on the defender armed with the belief that if he cannot win the duel, he is likely to be given a foul. Remove that belief and confidence can crumble, which in part is the story of the problems of Robinho, another Santos prodigy, in adapting to the European game.
Menezes would like Neymar to deal with these issues on a weekly basis before the 2014 World Cup. Two years in Europe, goes the thinking, would acquaint him with the task of overcoming bigger, stronger defenders in reduced space without the protection for the referees that he currently enjoys. The player himself is currently sticking to the line that he will stay with Santos until the World Cup. Perhaps he will. But there must be a chance that he will move sooner. This year is the centenary of Santos -- the club was founded the day the Titanic went down -- and it would love to keep him for all the celebrations, which, if everything goes to plan, will include retaining the Libertadores title and then going to the Club World Cup, scene of last year's capitulation to Barcelona, and finding redemption.
ESPN FC on Twitter
Don't miss a moment of the latest soccer coverage from around the world. Follow us on Twitter and stay informed. Join »
Whether it is this year, next or 2014, there seems little doubt that Neymar will eventually move to Europe. The fascination of how he might cope is likely to come with an added challenge. Most Brazilians who have hit the big time in Europe have tended to move to a smaller club first, found their feet and then moved on to shine with a giant. But in terms of prestige and price tag, Neymar already has put himself in a position where only the biggest clubs are viable buyers. The pressure will be full on from the star in what promises to be one of the most fascinating narratives in the next decade of world football.
Tim Vickery is an English football journalist who has lived in Brazil since 1994 and specializes in South American football.
SPONSORED HEADLINES
MORE SPORTS HEADLINES
MOST SENT STORIES ON ESPN.COM
Soccer on ESPN.com

Follow Soccer on ESPN: Twitter
Coverage on ESPN FC
Euro 2012 in Review