Commentary
Behold, The Creators
The EPL needs more like Chelsea's Juan Mata and Manchester City's David Silva
Updated:
March 20, 2012, 4:09 PM ET
By
Michael Cox
| Special to ESPN.com
At Valencia, they frequently switched positions in a fluid 4-2-3-1 system; at the international level, they're practically interchangeable for Spain; and at Stamford Bridge in December, they swapped shirts after Chelsea's 2-1 win over Manchester City. Juan Mata and David Silva are great friends off the pitch and footballing soul mates on it. Wednesday night, they'll do battle at the City of Manchester Stadium in a pivotal league clash.
Statistically, Mata and Silva are the two most creative footballers in the Premier League. Mata creates 3.3 chances per game for teammates, while Silva is just below him at 2.9. There were natural doubts about whether these two stereotypically Spanish players would adapt to the rough and tumble of the Premier League, but neither needed much time to settle.
The EPL needs these sorts of players. Spain is currently the center of footballing genius -- la Furia Roja are not only the current European and world champions, but also serve as reigning European champions at both the U-21 (where Mata won the player of the tournament award last summer) and U-19 levels. Their dynasty is almost unprecedented, shows no sign of slowing and has had a significant impact upon footballing style across Europe. The popularity of small, tricky, intelligent footballers has never been higher -- traditionally not the types of players English football has produced.
Their arrival in the EPL came as the league was losing its best Spanish talent -- Xabi Alonso returned to La Liga in 2009, while Cesc Fabregas did so in 2011. Somewhere in between, Fernando Torres stopped being a world-class talent, and the Premier League's link to this terrific group of players had nearly vanished. For Spain's last international exhibition game, only Silva, Mata and backup goalkeeper Pepe Reina made the trip from England to take part in Spain's last friendly international, with Torres missing out.
Stylistically speaking, Silva and Mata sum up the template for the modern attacker -- small, technically gifted, comfortable at playing one-touch passing (but able to shift their body weight and take off on an expected dribble), and crucially, they're both versatile. Silva can play on either flank and occasionally in the middle, while Mata prefers a central role but has excelled on the left this season and could be put to the right if needed. You rarely see these two have a quiet game, because if they're not getting the ball in their normal position, they'll drift laterally across the pitch to look for it, darting into spaces their marker doesn't want to go.
[+] Enlarge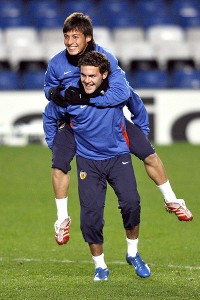 Glyn Kirk/Getty ImagesBest friends and former teammates at Valencia, Juan Mata and David Silva embody the creative ideal of modern soccer.
It's worth comparing their versatility to Tottenham's Gareth Bale, who has been forced to change his role after being marked out of games when playing wide on the left. He's been fielded in a more central role in recent months and was pushed to the right a couple weeks ago at Everton. Bale is an intelligent player and will look more comfortable elsewhere when he develops his all-around game, but it's painfully obvious when he's playing out of position because his game revolves around a burst of pace followed by a menacing cross with his left foot. You can't do that from the center, while it becomes a very different technique from the right.
Silva and Mata, on the other hand, don't mind where they play. Why would they? You don't need to be in a certain position to play clever short passes or to create space for a teammate with a bit of intelligent movement. That's why the fluid 4-2-3-1 system at Valencia worked well -- they combined with David Villa and another attack-minded teammate (usually Pablo Hernandez or Joaquin), drifting around the pitch at will and defending the zone closest to them when the ball was lost. Silva started centrally, with Mata on the left -- but if they switched during the course of an attack, they stayed that way when getting back into shape. Their natural versatility helped Valencia's system, and the system increased their versatility.
Both players, however, have suffered a midseason dip in form. They were both surprisingly quiet in the reverse meeting between the sides and barely influenced the game at all (though Silva should have had a penalty that could have changed the result), a huge surprise considering their early-season form.
But that game has served as a watershed for their seasons. We've played 28 league games so far, with that match at Stamford Bridge neatly being the 14th, the halfway point. Using those halves, both have declined in terms of end product. Silva scored four goals and got eight assists before that match, but four and one since. Mata's dip is similar -- from three goals and six assists to two goals and three assists. When aggregated, they've halved their end product since the game at Stamford Bridge.
Nothing happened in that game to suggest it was some kind of turning point, and the likelihood is that these are two players suffering from a lack of a winter break, as they were used to in La Liga. Mata has played the majority of every league game since his debut, while Silva has only been completely absent from one match, the 2-0 win at Bolton earlier this month.
ESPN FC on Twitter
Don't miss a moment of the latest soccer coverage from around the world. Follow us on Twitter and stay informed. Join »
They've both remained injury-free, which is a bonus, and have become practically indispensable to their respective sides, but burnout has been an issue. The first season without a break is often a problem for players coming to the Premier League, which explains Mata's drop. Though Silva is now in his second season here, such a dip would have been less obvious last season, when he hadn't started the season as the league's best player and wasn't on a team challenging for the title.
There's certainly an argument that they've simply declined in line with their teams' performances -- but it's probably vice-versa. Each has become the key player on his team, the most important creative hub, and when they play poorly, their sides play poorly.
With Chelsea the only English team left in the Champions League and Manchester City challenging for the title, both Roberto Di Matteo and Roberto Mancini will be hoping that Wednesday's game has the opposite effect of the first fixture and that these two get back to their best. They may spend their time drifting in from the flank, but Mata and Silva are central to their teams' chances of success.
Michael Cox is a freelance writer for ESPN.com. He runs zonalmarking.net.
Soccer on ESPN.com

Follow Soccer on ESPN: Twitter
Coverage on ESPN FC
Euro 2012 in Review
MOST SENT STORIES ON ESPN.COM