Commentary
Does Barca have hope in title race?
Real Madrid is the prohibitive favorite, but don't count out Pep's boys just yet
Updated:
March 23, 2012, 9:42 AM ET
By
Graham Hunter
| Special to ESPN.com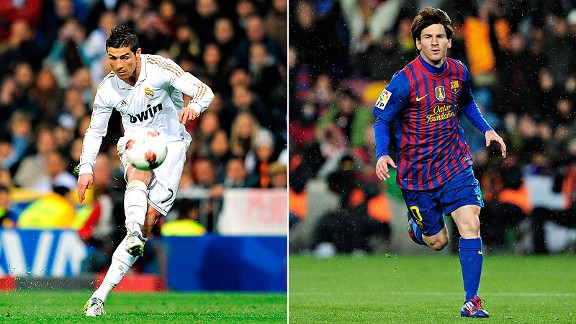 Getty ImagesReal Madrid is still in a strong position, but the La Liga race has tightened just a bit as Barcelona has gained some ground on the league leader.
One of the legends you are brought up with if you are fortunate enough to be a Scot is that of Robert the Bruce. Whether or not history has been kind to him, he remains venerated in my country for his courage, vision and the fact that en route to reclaiming the crown of Scotland he laid waste to a few English armies.
The fact that all this took place several centuries back may or may not lead you to speculate on what kind of nation we are, but that's for another day.
At any rate, legend has it that once Robert the Bruce, miserable and hiding in a cave, spotted a spider trying to weave a web, he drew inspiration to fight again when he watched the arachnid "try, try and try again!" Until this weekend, I had little reason to suspect that Pep Guardiola either had a Scottish upbringing or was a student of 14th-century British battles. But he grabbed hold nicely of Robert the Bruce's most famous maxim that "If at first you don't succeed, try, try again."
While Guardiola was a player under Johan Cruyff, FC Barcelona won a few "backdoor" championships. Twice Real Madrid set the pace, established a gap and on a couple of famous occasions Cruyff, the crafty coach, would publicly declare the league "unwinnable" before proceeding to sneak up on Los Blancos, who tossed the title away on the final day of the season. For the last of the Dream Team's titles, it was also a final-day championship triumph, this time over Deportivo La Coruna.
The point is that many of the current Barca playing group -- including Andres Iniesta, Xavi, Carles Puyol, Victor Valdes and Gerard Pique -- grew up watching their heroes close what most thought to be an uncloseable gap. They grew up with the streetwise Cruyff philosophy of playing possum. One week the league is all but lost, and a few weekends later the rival has tripped up and the league has been won, however improbably.
ESPN FC on Twitter
Don't miss a moment of the latest soccer coverage from around the world. Follow us on Twitter and stay informed. Join »
So when Guardiola started trotting out the line that "you can forget about this championship, we're not going to win it" to the Catalan media, he should have been able to rely on his players to stick to the script. Thus he'd have been a bit miffed at one player after the other in his squad failing to play along in public by declaring, defiantly, "We still believe" or "Nothing is impossible."
So after Saturday's classy win in Sevilla, Guardiola tried again. "Nobody should get carried away; we won't win this title" was his message. After which he and his players watched the unusual spectacle of Real Madrid scorning a hatful of chances to put Malaga to the sword Sunday night, only for Santi Cazorla to add to his extraordinary repertoire of sizzling free kicks for an equalizer. Two dropped points and an eight-point gap between the top two. Then on Wednesday, Villarreal's Marcos Senna scored an 83rd minute equalizer to end in a 1-1 tie with Real at El Madrigal. Two more points dropped, narrowing the gap with Barca to six points. Now we really have game on don't we?
Here are what should be the six crucial staging points from now to the end of the title race.
[+] Enlarge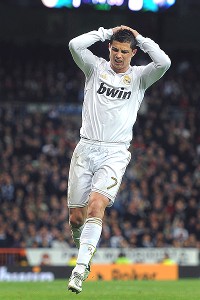 Jasper Juinen/Getty ImagesCristiano Ronaldo & Co. have had a few frustrating moments of late -- nothing drastic, but noticeable.
1. Is Real losing momentum?
While Real Madrid has been remorseless in defeating its opponents and therefore absolutely deserving of its lead atop the table, there have been signs during its matches at Vallecano, away to Moscow, at Betis and then against Malaga that the team's intensity has dropped by a millimeter or two. Nothing drastic, nothing frantic, but noticeable. One or two chances not taken, one or two goals unnecessarily given up, stretched in midfield. Most champions will have patches like that no matter how smooth their path to glory has seemed, so the question for Jose Mourinho -- who has been trying to give his players days off here and there to recharge their batteries -- is whether this is a tiny blip which ultimately will be an irrelevance or whether their unrelenting intensity in the past three months since losing at home to Barcelona has cost them a little bit.
2. Key week in title race
Week 31 of the title chase looks, at this distance, to be pivotal. Thus far, Real Madrid has made an absolute virtue of winning when Barcelona has dropped points -- notably at Getafe, Valencia and Real Sociedad. But on March 31, the leaders head to the Reyno de Navarra, where Osasuna reversed its away 8-0 defeat to Pep Guardiola's side with a thrilling and gritty 3-2 win. Madrid's players are quite capable of going up to Navarra and imposing themselves. One of the features of their dominance this season has been the mix of velvet glove and iron fist. But Osasuna has developed a real thorny attitude this season under Jose Luis Mendilibar. The atmosphere is hostile, the men in red work their socks off, and there are glimpses of quality to complement the work ethic.
So while Mourinho's squad faces that interesting test, Barcelona has what, in theory, should be a tough home match against Manchester United's conquerors Athletic Bilbao. The tough news for the Basques is that the game is Saturday, meaning they only have 24 hours to recover after their Europa League tie in Germany against Raul's Schalke, and their results on either side of defeating United -- a 2-1 defeat at Osasuna and a 3-0 home loss to Valencia -- indicate that there is a bill to pay for the champagne European nights. If there is a points gain in favor of the reigning champions that weekend, there will also be a seismic shift in momentum.
3. The Clasico
One of the benefits of the Champions League draw, for both sides I believe, is that they can only meet a maximum of twice more this season. If the UEFA draw placed Barca and Real Madrid on the same side, and if they ended up defeating their quarterfinal opponents, we would have been facing even more of a head-on collision than last season -- three Clasicos in six days this time around. Instead, the weekend of April 22 sees Barcelona host Real Madrid in a match the Catalans must win if they have any lingering hope of the title. In all the frantic calculations the Barcelona diehards (and presumably Guardiola himself, in private) have been making, this upcoming Clasico is taken as a "given" three points. Not because of complacency, but because there is no other option.
But will they defeat Real Madrid? The last three ties at Camp Nou between the two sides have seen extraordinary football -- possibly the most balanced and interesting of the 10 Clasicos since Jose Mourinho took over at Madrid. The results have been 1-1, 3-2 to Barcelona and then 2-2. Each time Madrid has played on the front foot, pressed and played bolder than at the Bernabeu. Forgone conclusion that Barcelona will win its remaining league Clasico this season? No, definitely not.
[+] Enlarge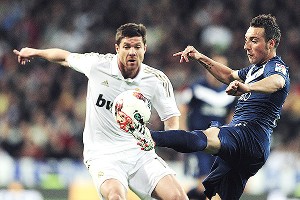 Javier Soriano/AFP/Getty ImagesXabi Alonso has been a key to Real Madrid's title quest this season.
4. Does Real depend too much on Xabi?
Xabi Alonso. Some of his football this season has been the cream of his entire career. He blossoms the more responsibility he is given, remains the brains and the lungs of this Madrid team and is blessed with that steely determination to avoid defeat that all champions have. But he has not, yet, been adequately shadowed by any reserve player at Madrid. One of Mourinho's great conundrums remains that if Alonso is absent, Madrid tends to link its play from back to front less impressively, and as a result the defense can be more erratic. But the more he plays, the more there is a risk that either niggling injuries, bookings or simple fatigue will diminish his excellence. Is this his season to grit his teeth and guide Madrid to the league title? Or will it emerge that Los Blancos are overdependent on him? A key question.
5. FC Barcelona's squad
All season it has seemed that Madrid had a greater depth of resources and fewer injuries. It has spent heavily and often successfully in recent years on players, while Barcelona, despite the additions of Alexis Sanchez and Cesc Fabregas last summer, didn't have as much money to invest as it would have wished given its debt reduction plans. As such, it has looked like Barcelona suffers more from repetitive strains and minor injuries than Madrid this campaign. Now Guardiola has almost all his main players fit, both Ibrahim Afellay and David Villa are threatening to return, while youth products like Isaac Cuenca and Christian Tello simply look awesome. If -- I repeat, if -- the pendulum is swinging toward Guardiola the way it used to during the days of Cruyff in the early 1990s, then depth of resources and mental and physical reserves will be crucial factors for both teams.
Barcelona's Brilliance

Graham Hunter is also the author of "Barca: The Making of the Greatest Team in the World," available as an e-book on the iPad, Kindle and Kobo. The printed version is available in paperback and can be ordered at BackPage Press.
6. The Messi factor
Lionel Messi. I was sitting high up in the Lateral stand at Camp Nou when Messi came on to score his first goal for Barcelona against Albacete in 2005 -- it was a remarkable moment when the Sun King of Camp Nou, Ronaldinho, sought out his little Argentine buddy with sand-iron passes, twice, after the linesman wrongly ruled out Messi's first goal. When he scored the second one, which stood, we all knew that something special had happened. It was that hairs-on-the-back-of-the-neck moment.
Well, 232 goals later, I was at the Camp Nou again this week when Messi, aged only 24, broke Cesar's all-time Barcelona scoring record.
And with a hat trick, to boot. This is a man who has no footballing limits. (His deft header also set Xavi up for the opening goal, and if we are talking about headers, then for this "wee" man to win a Champions League final, against Manchester United, with a decisive header, proves that point.)
What is delightful, however, is that things about his game continue to grow. With each passing month he plays with more intelligence, takes more responsibility and enjoys himself at least as much as ever. Perhaps more.
Last week I interpreted for my Sky colleague, the wonderfully creative and smart John "Fenners" Fendley, when Messi was promoting his EA Sports sponsorship, and a lengthy interview was provided.
What stood out about him is that Messi has become confident and easygoing about coping with the incessant attention that accompanies someone with his peerless talent. And because he's much more relaxed and communicative, we learn more about him.
Graham Hunter

For more Graham Hunter, check out his columns on all things La Liga and Spanish soccer.
• History beckons for Barca
• No time for nostalgia
• Messi's rise to greatness
• Torres should play for Spain
• Real Madrid's title quest
• Madrid's Pepe problem
• Di Maria is odd man out?
• Jokers wild for Spain's national team
• Yellow Submarine on verge of sinking
• Ronaldo's rant, Atletico's despair
• Barca beats Madrid again
• Spain's three kings
• Ibra's book of nonsense
• Spain's balance of power
• Rossi's injury huge blow
• La Liga's ultimate late bloomer
• Messi chasing Barca record
• Laporta's fall from grace
• Barca's off-the-pitch battle
• Real Madrid's game plan

The key thing I took away from what was my third interview in a week with this little genius is that he's not unaware of his own brilliance -- he's simply unaffected by it. That smile of satisfaction, that impish look in his eyes you see when the camera zooms in on a goal celebration or when he's just pulled off an amazing demonstration of his skill is the real Leo Messi. No arrogance, no affectations.
For example, on playing and training alongside Iniesta and Xavi every day, he admitted that: "It's a marvel to watch those guys, not just because they are in my team but because of the type of player they are and the things that they do, not only in training but also in games. To be honest they are just a pleasure to be near."
Then, when Fenners reminded him that Wayne Rooney -- who didn't even think Messi was the best player on the pitch in that 2009 final in Rome -- used Twitter a fortnight ago to state that Messi is the best of all time, the Barcelona striker was noticeably humbled. His view: "It was incredible for Rooney to say those things about me, but it wasn't only him as many other players in the profession said things in respect of the game where I scored five goals [against Bayer Leverkusen].
"In truth," Messi continued, "I am very thankful, and it makes me very happy for colleagues to offer words of support -- especially when they come from players of Rooney's class."
This has been an interesting, exciting and intriguing Spanish season in many different ways -- the resurgence of Madrid and Athletic Bilbao, Levante's impressive overachieving and the humbling of Villarreal. No doubt there are many twists and turns to come. But if you stand back, just for an instant, it's not hard to realize that we are utterly privileged to live in the same time as Messi. While the world is engulfed in strife and economic hardship, a guy like him, simply by doing what comes naturally and what makes him happy, brings all of us, including Madridistas (I know because many of them tell me so) unbridled joy at his brilliance. He transcends club colors and, to me, he transcends this argument about the best of all time. He is a genius, he makes us happy and he continues to re-invent what can be done with a football. For that, let us all be grateful.
Graham Hunter is a Barcelona-based freelance writer for ESPN.com who specializes in La Liga and the Spanish national team. You can reach him on Twitter at twitter.com/BumperGraham.
ESPN.com freelance columnist
Graham Hunter is a Barcelona-based freelance writer for ESPN.com who specializes in La Liga and the Spanish national team.
SPONSORED HEADLINES
MORE SPORTS HEADLINES
MOST SENT STORIES ON ESPN.COM
Soccer on ESPN.com

Follow Soccer on ESPN: Twitter
Coverage on ESPN FC
Euro 2012 in Review