Commentary
Is Carlos Tevez traitor or savior?
Updated:
March 23, 2012, 3:54 PM ET
By
David Hirshey
| Special to ESPN.com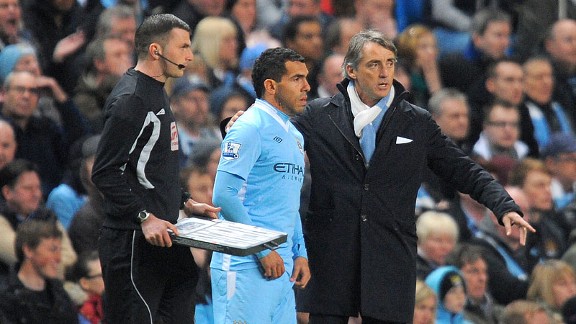 Andrew Yates/Getty ImagesRoberto Mancini vowed never to play Carlos Tevez again. But the Argentine is back and could play a pivotal role in the title race.
While Roberto Mancini and Nelson Mandela may share similarities -- they both love sports and look good in scarves -- Mancini has now proved that he lacks the South African's courage of his convictions. The Italian Stallion swore that Carlos Tevez would never play for Man City again, yet there he was, kitted out in powder blue, on Wednesday.
ESPN FC on Twitter
Don't miss a moment of the latest soccer coverage from around the world. Follow us on Twitter and stay informed. Join »
So although it's doubtful that Mancini will win any plaudits for his lily-livered behavior, he may win something that would make his Abu Dhabi masters much happier -- an EPL title.
Was I, as the self-anointed arbiter of soccer morality, sorry to see Mancini with his arm draped around the neck of his $45,000-a-day meal ticket in the 65th minute of Wednesday's El Splash-the-Cash-ico with Chelsea? Yes, unless the arm was placed there in an effort to crush Tevez's windpipe as payback for his I'll-play-when-I-want attitude toward the club and its fans.
Was I surprised to see Carlito race onto the field to a groundswell of applause and within 20 minutes help decide the game and perhaps rescue City's title challenge with a defense-shredding pass? Yes. Clearly the anti-hero script called for the Argentine Who Came in From the Golf Course to score the winning goal, rather than just put it on a giant dinner plate for Arsenal reject Samir "I should probably do some crunches before taking off my shirt" Nasri.
[+] Enlarge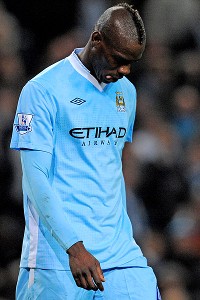 Andrew Yates/AFP/Gettty ImagesMario Balotelli sulked his way off the pitch against Chelsea. What can we expect from the striker for the rest of the title run-in?
How overjoyed was I? So much so that not even the sight of that half-naked French tart (cue Rush Limbaugh, please) racing deliriously along the touchline -- his face aglow with the unbridled greed of making $274,000 a week to score four goals in 23 Prem games -- could ruin a day in which Chelsea, Liverpool and Totten-fourth all suffered just retribution for their soccer sins. I do, however, find it ironic that the one touch of class in Wednesday's game was provided by two guys for whom the word loyalty is spelled "how much?"
Before you condemn Mancini for backpedaling faster than you can say Etch A Sketch, consider his comparatively desperate circumstances: City was trailing Roberto Di Matteo's rejuvenated Blues 1-0, seemingly bereft of ideas while the title it has dreamed about for 44 years was slipping from its grasp as inexorably as a John Terry penalty in Moscow. Had the score remained the same, City would have been staring at a four-point gap at the top with nine games to go -- including tricky away trips to Stoke, Sunderland, Arsenal and Norwich on the docket before its April 30 smackdown with the red half of Manchester at Etihad Stadium. Instead, the Tevez-led revival puts the Sky Blues within a point of United, armed with renewed confidence and now $300 million worth of strikers for the stretch run.
Did Mancini cravenly abandon his personal ethics in favor of the expediency of results? Of course. But it was, as he plagiarized Sir Alex, "squeaky bum time" and the Italian was not about to soil his expensive Armani pants. All of a sudden, Tevez looked more like a potential better-late-than-never savior than the vile and pernicious traitor he surely still is. And if that makes Mancini a bad person, what does it say about Fergie, who capitulated to Wayne Rooney's ransom demands last season? Or Arsene Wenger, who shamelessly groveled to get Cesc Fabregas to stay at Arsenal for another year? Or King Kenny, who stubbornly refuses to admit that his magical English midfield acquisitions all stink like soggy meat pies?
You could even make the case that far from being a spineless display from Mancini, it showed surprising fortitude and flexibility to allow Tevez back in the team given their ugly breakup. (Though Diego Maradona demands some credit too.) How much bile did the proud Italian have to swallow during his descent from Mount High Ground after feeling personally betrayed by the Argentine's refusal to warm up at the Champions League game at Bayern Munich in September with City two goals down? At first, Mancini burned up the AT&T lines across the continent trying to off-load Tevez to any club willing to pay remotely fair value. When each of the serious suitors closest to Argentina -- A.C. Milan, Inter and Paris Saint-Germain -- blinked at the final zero, Mancini made the best of a bad situation. He demanded -- and received -- an apology from the prodigal striker, fined him a reported $15 million for his self-imposed five-month exile and made him prove his commitment and fitness in reserve games for the past month. Rumors of back rubs and foot massages remain unconfirmed.
[+] Enlarge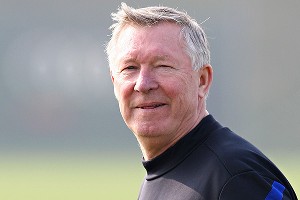 Matthew Peters/Getty ImagesThe mind games have officially begun after Sir Alex Ferguson called Mancini's use of Tevez desperate.
On Wednesday, Mancini got his reward when Carlito showed a remarkable absence of rust for someone who's spent more time trying to chip a golf ball than a soccer ball since September. Oh, and he looked kind of fat, but his brilliant, quick-thinking reverse pass to Nasri was as slick an assist as you'll see all season.
With City's most creative player David Silva fading like cheap Hong Kong satin down the stretch, its rearguard left agape by captain Vincent Kompany's injury and Mario Balotelli being Mario Balotelli (15 goals, 7 yellow cards, 1 red and 856 tabloid headlines), the re-emergence of Tevez should ensure that the race for the championship of the Manchester Premier League goes down to the wire.
Frustratingly, despite all his small-minded antics, Tevez has always been a big-game player. He kept West Ham from going down on the final day of the 2007 season when he scored the only goal against United, then flourished under Sir Alex the next two seasons, helping to lead the Reds to consecutive titles. Tevez is versatile enough to form a fearsome striking partnership with both his nimble little countryman Sergio Aguero and the more doltish and imposing Edin Dzeko, and his work rate can compensate for the less-than-industrious Balotelli. Though Sir Alex calls City's use of Tevez desperate -- a bit similar to how he pleaded with Paul Scholes to un-retire and fix his flagging midfield earlier this season -- the first half-hour of Tevez' Contrition Tour was an indisputable success.
David Hirshey

For more from David Hirshey, check out his columns on all things soccer.
• The All-EPL Team, 2011-12
• Saying goodbye to Chinaglia
• Time to dethrone King Kenny Dalglish?
• In praise of Fulham
• The comeback artists
• Call it a comeback
• Death by Manchester
• The battle for third
• Spurs' title credentials
• EPL's best starting XI
• City handed first EPL loss
• Chelsea pushed to brink
• Fragile egos crossing
• City and United
• Is Newcastle for real?
• The bad-behavior derby
Of course, it could still all end in tears -- no one enjoys a good cry like a City fan -- especially if Balotelli's looming sulk ultimately leads to his benching in favor of Tevez. The mercurial Italian did not look happy on Wednesday after being taken off at halftime because Mancini "didn't like how he played." But for now, City is grateful for a vital three points and that its title challenge has taken on a renewed menace and momentum.
So Mancini is a duplicitous, morally bankrupt liar? Good. Now when he wins the league, he'll have more in common with Sir Alex Ferguson.
David Hirshey has been covering soccer for more than 30 years and has written about the sport for The New York Times, Time, ESPN The Magazine and Deadspin. He is the co-author of "The ESPN World Cup Companion" and played himself (almost convincingly) in the acclaimed soccer documentary "Once in a Lifetime."
Soccer on ESPN.com

Follow Soccer on ESPN: Twitter
Coverage on ESPN FC
Euro 2012 in Review
MOST SENT STORIES ON ESPN.COM