Commentary
U.S. vs. Canada grades
The U.S. Olympic dream hangs in the balance after being shocked by Canada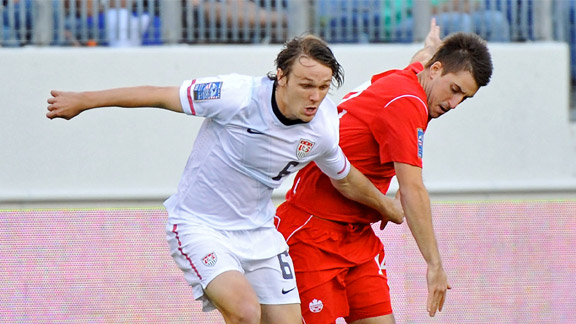 Frederick Breedon/Getty ImagesJared Jeffrey and the U.S. U-23s found little comfort against a spirited, well-deserving Canada side.
Two days ago, the path to the Olympics appeared to be a beautiful smooth road for the U.S. U-23 national team. But after falling to Canada 2-0, it's riddled with potholes, and the American Olympic soccer dream is officially in danger.
Canada, looking nothing like the team that struggled to tie El Salvador two days ago, deservedly prevailed thanks to second-half goals by Doniel Henry and Lucas Cavallini, their lead preserved by Michal Misiewicz's heroic goalkeeping. The U.S. underwent a remarkable (albeit troubling) transformation as well, looking ineffective in attack and vulnerable in defense, in stark contrast to Thursday's 6-0 drubbing of Cuba.
Now, the Americans' path to qualification is infinitely more complicated. With Canada facing what looks to be an easy encounter against an already eliminated Cuba side, the U.S. has the unenviable task of having to beat El Salvador just to reach the semifinals. If those two scenarios come to pass, the Americans will likely be forced to play Mexico in a winner-take-all semifinal. Unthinkably, a loss or tie against El Salvador will see the U.S. eliminated.
The night started off badly for the U.S., receiving the news prior to kickoff that forward Juan Agudelo sustained a torn meniscus in his left knee in the match against Cuba and would be unavailable for the rest of the tournament. But all seemed well in the early going, as the U.S. had no trouble implementing its possession game. And yet, as the U.S. hogged the ball, there was little end product. Thursday's hat trick hero, Joe Corona, found the going much tougher in this game, hounded and harassed effectively by young Canadian midfielder Samuel Piette.
[+] Enlarge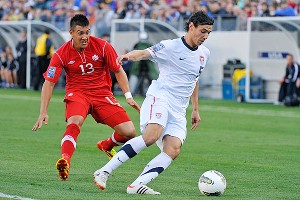 Frederick Breedon/Getty ImagesZarek Valentin performed well enough in defense, but sloppy play by Ike Opara and Bill Hamid undermined confidence in the U.S. rearguard.
The Americans' preferred approach was to find Freddy Adu in midfield and then switch the point of attack in a bid to find Brek Shea on the left wing. This resulted in several promising attacks, but the ensuing crosses were ably dealt with by the Canadian center back tandem of Nana Attakora and Doniel Henry.
Midway through the first half, the U.S. created its best scoring chances of the night. Adu collected the ball on the right wing in the 26th minute, cut inside, but his drive was easily handled by Canadian keeper Misiewicz. Three minutes later, Corona broke loose from the top of the box, but his strike was straight at the Canadian keeper.
With the U.S. largely stymied, Canada grew more confident and finished the half riding a wave of momentum. And had substitute Evan James -- who entered in the 20th minute for injured forward Babayele Sodade -- been more accurate with his finishing, Canada may very well have broken on top. A long cross from the right wing fell to a wide open James, but he fired his drive over the bar from 14 yards. A giveaway by U.S. midfielder Jared Jeffrey created another opportunity for James, but he could only shoot tamely at Hamid. Randy Edwini-Bonsu was causing problems as well with his speed, but also spurned a good opportunity when he shot straight at the U.S. keeper.
However, Canada had no such problems in the second half. Henry shook loose from U.S. defender Ike Opara in the box, and with Hamid taking a poor path to the ball, the Canadian defender easily nodded home Philip Davies' corner in the 58th minute.
The U.S. had already brought on Joe Gyau at half-time, and head coach Caleb Porter later introduced Terrence Boyd and Amobi Okugo. But the U.S. still couldn't find a way past an inspired Misiewicz, who parried away a shot from Adu in the 65th minute, and brilliantly denied Shea's header with five minutes to go.
ESPN FC on Twitter
Don't miss a moment of the latest soccer coverage from around the world. Follow us on Twitter and stay informed. Join »
Between those chances, Canada doubled its lead courtesy of another set piece goal. Russell Teibert played the ball short to Davies, whose cross was nodded home by Cavallini, although the Canadian did appear to get away with a shove on Opara.
As the final whistle blew, Canada celebrated a memorable, richly deserved victory. As for the U.S., the team must pick itself up off the floor and find a way to beat El Salvador. The Olympic dream depends on it.
Player ratings: (10=best)
G Bill Hamid, 4 -- Was sharp enough in his shot stopping, but took a terrible path to the ball on Canada's first goal, allowing Henry to knife in and score.
D Jorge Villafana, 5.5 -- Defended competently, and tried to get forward in support of Shea. His crosses didn't always hit their intended target, but did tee up Adu for a shot in the 65th minute that was well-saved.
D Perry Kitchen, 5.5 -- Looked solid for the most part defensively, but his distribution started to erode as the game went on.
D Ike Opara, 3 -- A brutal night. Started strongly enough, but looked shakier as the game progressed. He nearly turned the ball into his own net from one Canada cross, and failed to mark Henry on the first Canada goal. His inability to convert a free header in the 66th minute summed up his evening.
[+] Enlarge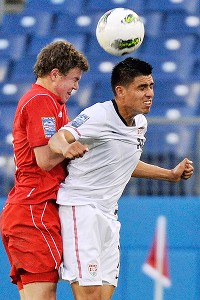 Frederick Breedon/Getty ImagesJoe Corona may have scored a hat trick against Cuba on Thursday night, but the Canadian midfield stymied and smothered his every attacking move in Nashville.
D Zarek Valentin, 5 -- Pressed into the opposing half often, but rarely deep enough to threaten the Canada defense.
M Jared Jeffrey, 4 -- Kept the U.S. attack ticking over in the early going, but grew more careless with possession in bad spots as the game progressed.
M Mix Diskerud, 5.5 -- Did what he could to find gaps in the Canadian defense, and was overall efficient on the ball. However, was never able to find the killer pass, and his inability to close down Davies late led to Canada's second goal.
M Joe Corona, 4.5 -- Found space tough to come by, and was largely ineffective. He was eventually forced to drop deeper and deeper into midfield. Couldn't complain about being subbed at half.
F Brek Shea, 6 -- On the plus side, Shea was active on the ball and effectively found space on the wing. But he spent way too much time jawing with the referee for calls that he was never going to get. Still, was unlucky not to score with a late header.
F Teal Bunbury, 4 -- Was barely heard from, although this was due in part to the poor quality of service from out wide.
F Freddy Adu, 6.5 -- Sprayed the ball around with confidence and looked the most comfortable on the ball of any U.S. attacker. Was superbly denied by Misiewicz in the second half.
Subs:
M Joe Gyau, 5 -- Never found the space he enjoyed against Cuba.
F Terrence Boyd, 5 -- Provided better holdup play, yet didn't have much more success than Bunbury.
M Amobi Okugo, 5.5 -- Tried valiantly to push the game with the U.S. trailing.
Jeff Carlisle covers MLS and the U.S. national team for ESPN.com. He is also the author of "Soccer's Most Wanted II: The Top 10 Book of More Glorious Goals, Superb Saves and Fantastic Free-Kicks." He can be reached at eljefe1@yahoo.com.
Soccer
Jeff Carlisle covers MLS and the U.S. national team for ESPNsoccernet.
SPONSORED HEADLINES
MORE SPORTS HEADLINES
MOST SENT STORIES ON ESPN.COM
Soccer on ESPN.com

Follow Soccer on ESPN: Twitter
Coverage on ESPN FC
Euro 2012 in Review