Commentary
Five EPL storylines to follow
City's striker dilemma and sad news for Aston Villa define the weekend
Updated:
March 30, 2012, 2:25 PM ET
By
Ravi Ubha
| ESPN.com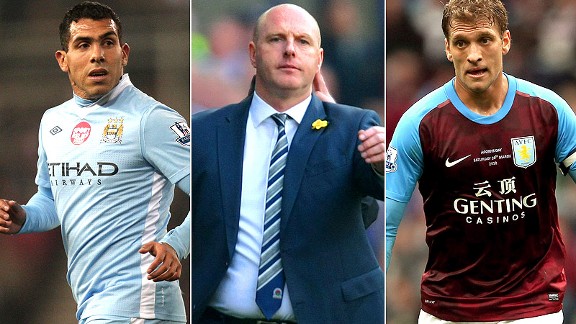 AP Photo/Getty ImagesThis weekend, will Carlos Tevez have an impact? Can Steve Kean's side cement its Prem survival? And how will Stiliyan Petrov and Aston Villa move forward after Petrov's leukemia diagnosis?
After Monday's contentious 1-0 win against Fulham -- Michael Carrick did seem to trip Danny Murphy in the 89th minute for a fair penalty shot -- it was advantage: Manchester United in the hunt for the Premier League title. Combined with Manchester City's 1-1 draw at Stoke, United boosted its lead atop the division to three points.
City, though, is a virtual lock to nab three points this weekend while United faces a difficult away trip. Slumping Liverpool, meanwhile, needs a win, Bolton tries to move further from the drop zone and Aston Villa will have stricken captain Stiliyan Petrov on its mind when hosting Chelsea.
Here are five reasons to watch the Premier League this weekend:
A likely start for Tevez
That Patrick Vieira would choose to take a shot -- and another Thursday, albeit one he quickly tried to retract -- at Manchester United is understandable. Not long ago, his former club, Arsenal, and Manchester United were the teams regularly battling for the Premier League title; not United and Chelsea or United and Manchester City. During the reign of the "Invincibles," the ill feeling between Arsene Wenger and Alex Ferguson reached a high, and Vieira led the Gunners on the pitch.
Those days, clearly, haven't been forgotten.
But the timing of Vieira's initial salvo -- the Frenchman is now an ambassador at City -- that claim United showed "weakness" in bringing back midfielder Paul Scholes was puzzling.
Save it for if City wins the title.
According to a Daily Telegraph poll, however, City and manager Roberto Mancini showed even more "weakness" by welcoming back bad-boy striker Carlos Tevez.
ESPN FC on Twitter
Don't miss a moment of the latest soccer coverage from around the world. Follow us on Twitter and stay informed. Join »
With Sergio Aguero out with what Mancini called a "stupid injury" -- the manager wouldn't elaborate -- Mario Balotelli cooling and Edin Dzeko seemingly out of favor with Mancini, Tevez could make his first league start since Sept. 10 when Sunderland visits the Etihad Stadium on Saturday. Tevez excelled against Morecambe -- which means his heart was into it -- in a reserve game Wednesday, but is reportedly still not fully match-fit.
While a start for Tevez would grab headlines, the probable return of Vincent Kompany is more important. He's been one of the top central defenders in England this season as well as a team leader, and without the Belgian in the lineup the past four games, City failed to keep a clean sheet.
Sunderland stunned City 1-0 in an entertaining contest on New Year's Day, but that was on the road, where City has struggled. Furthermore, Sunderland will be feeling the effects, physically and mentally, of Tuesday's loss to Everton in an FA Cup quarterfinal replay. Here's a chance, then, for midfielder David Silva to get going again. Since his partnership with Yaya Toure was interrupted by the Africa Cup of Nations, the Spaniard hasn't been the same in 2012.
All that said, City should cruise and improve to 16-0 at home in the league this season.
United's tricky visit to Blackburn
According to Ferguson, everything evens itself out. He spoke Thursday about penalties, penalty decisions and the like after Fulham was robbed of a spot kick late in the 1-0 defeat against United.
[+] Enlarge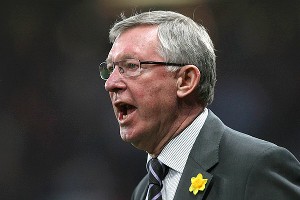 John Peters/Getty ImagesSir Alex Ferguson has been in a combative mood following Patrick Vieira's comments, but his Manchester United side should be strong enough to avoid a repeat of December's loss to Blackburn Rovers.
Do we have to tell you it was at Old Trafford?
Vieira, doing plenty of talking these days, wasn't at all surprised, with Ferguson keen to offer his rebuttal, and wouldn't it be something if it immediately evened itself out at Ewood Park when Blackburn hosts United on Monday? By that time, City figures to be leading the table on goal difference.
Blackburn manager Steve Kean, who has suffered far too much abuse this season, is indeed owed one. Last week at Bolton, Blackburn was denied a clear penalty with the game scoreless and eventually lost 2-1.
Nonetheless, Blackburn's relegation worries have eased, although a win at Bolton would have made life easier. As it stands, three points separate Rovers from 18th- and 19th-place QPR and Wigan, respectively.
Blackburn engineered the upset of the campaign when it won 3-2 at Old Trafford in December, has lost once to United since 2007 at Ewood Park and completed the league double over the Red Devils as recently as 2005-2006. Yet United is a far more settled side now compared to December.
"When Blackburn score first, they make it difficult for you, so maybe the answer is to make sure we keep our noses in front," Ferguson told reporters.
Fergie will be glad to know United hasn't conceded first in a Premier League game in nearly two months.
The once-savior returns to Newcastle
Liverpool fans are growing increasingly frustrated with manager Kenny Dalglish. One called a TV chat show and fumed that Dalglish was outdated, while another, on radio, questioned his buys in the transfer window.
He's not the only one. (Rafa Benitez, for the record, is available.)
Three of Dalglish's purchases -- Andy Carroll, Jordan Henderson and Stewart Downing -- have flopped, and Liverpool enters Sunday's clash at Newcastle with five losses in its last six in the Premier League. The previous two came courtesy of bottom-feeder QPR -- which rallied from 2-0 down in London -- and Wigan, at Anfield.
[+] Enlarge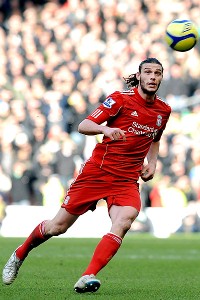 Andrew Powell/Getty ImagesWhat kind of reception awaits Andy Carroll in Newcastle this weekend? Considering his sluggish form -- 3 goals in 28 Prem games -- he might not even see the field to find out.
Perhaps this matchup, though, will reawaken the Reds and ease the pressure on Dalglish. Whenever Newcastle and Liverpool tangle, one thinks back to 1996 and 1997, when Liverpool edged a pair of 4-3 thrillers at Anfield with Robbie Fowler in his prime. Liverpool has kept on winning in their head-to-heads, emerging victorious in six of the past seven by a combined score of 21-5.
All eyes will be on the team sheet to see whether Carroll starts in his first visit to Newcastle since his overpriced 35 million pound transfer in January 2011. It remains unclear as to whether Carroll wanted to leave Newcastle, but he'll probably be booed if he plays -- or even deigns to warm up.
The Geordie faithful has not forgotten their former hometown hero, although Demba Ba's goals have shortened the fans' memories. Ba's fellow Senegalese striker, Papiss Cisse, looks to be a good buy for Newcastle (take note, Kenny), netting five times in six games since arriving from Freiburg.
The overachieving Magpies hope to keep the pressure on Chelsea as they battle for fifth and a spot in the Europa League.
Aston Villa's reply
British football has been struck by tragedy this season. First there was the death of Wales manager Gary Speed. Then Fabrice Muamba collapsed on the pitch at White Hart Lane. Thankfully, he's recovering and even posted a picture of himself on Twitter. But later Friday, Aston Villa announced that Petrov had been diagnosed with acute leukemia.
"Stiliyan is cherished by many and he will get from Villa every ounce of love and support that we have to help bring this to a positive conclusion," Villa said on its website, and Villa will surely want to put in a good performance for Petrov when it faces Chelsea on Saturday, as recent displays have been dismal.
Villa sits three spots off the relegation zone ahead of Saturday's game, has one win in its past eight and offered little in a 3-0 loss at Arsenal on Saturday. The visitors didn't register a shot on target and had an embarrassingly low share of possession, 28 percent. (Arsenal's opponents average 42.)
With Darren Bent sidelined for the remainder of the season with an ankle injury, scoring becomes more difficult; Gabriel Agbonlahor has moved up front from the wing, yet creating goals has been an issue.
Villa owns a dismal 1-6 record against the big five of City, United, Arsenal, Tottenham and Chelsea this season -- but collected the lone win at Stamford Bridge. And getting results against Chelsea at Villa Park isn't unusual. Dating to 1999 in the league, Villa has been beaten just once.
Chelsea might be vulnerable following its midweek trip to Benfica in the Champions League, too, but for Villa, it's all about doing it for Petrov.
Bolton's basement battle
In Bolton's first game since Muamba's cardiac arrest, it was perhaps written in the stars that Wanderers would down Blackburn. They did it for Fab.
Bolton can take a significant step toward safety and add to Wolves' woe when they meet Saturday at Molineux. Wanderers has won two straight for the first time in the league this season -- both against teams around them, QPR and Blackburn -- while Wolves are rock bottom, four points adrift of Bolton in 17th.
The Wolves' board, for now at least, is sticking with interim manager Terry Connor, despite four consecutive losses and a goal difference of minus-13.
London-based Ravi Ubha covers soccer and tennis for ESPN.com. You can follow him on Twitter here.
SPONSORED HEADLINES
MORE SPORTS HEADLINES
MOST SENT STORIES ON ESPN.COM
Soccer on ESPN.com

Follow Soccer on ESPN: Twitter
Coverage on ESPN FC
Euro 2012 in Review