Commentary
Ciao, Giorgio
Updated:
April 2, 2012, 4:14 PM ET
By
David Hirshey
| Special to ESPN.com
The last time I saw Giorgio Chinaglia was in the summer of 2006. He was standing outside the Tribeca Film Festival in New York City, surrounded by a buzzing swarm of paparazzi.
A documentary on the New York Cosmos, "Once in a Lifetime," had just premiered to a red-carpet audience that included several former Cosmos players. Photographers had assembled in the hope of snapping the money shot.
"Hey, Giorgio," one guy yelled out, "where's Pele?"
"I guess they couldn't pay him enough to attend," deadpanned Chinaglia, unable to resist one last dig at his fellow Cosmos legend who had declined to participate in the documentary without a six-figure "honorarium." But for Chinaglia, the brash, controversial Italian striker who died this past Sunday at the age of 65, it was as if nothing had changed in the intervening 30 years. Though he had scored more goals in his career than anyone in the history of the North American Soccer League and led the Cosmos to four NASL titles while helping to plant the flag of American soccer on the world stage, Chinaglia was still in Pele's larger-than-life shadow. And he wasn't happy about it.
"They made me out to be the villain," he said, referring to the documentary. "I'm the anti-Pele, the one everybody loves to hate. But I don't give a s--- because I delivered and I put people in the seats even if they were there to boo me."
Then, just to make sure I got the point, he added, "There will never be another Cosmos. Big names may come over here eventually -- Beckham, Ronaldo, Zidane -- but they'll be past their prime and they'll be doing it for the money."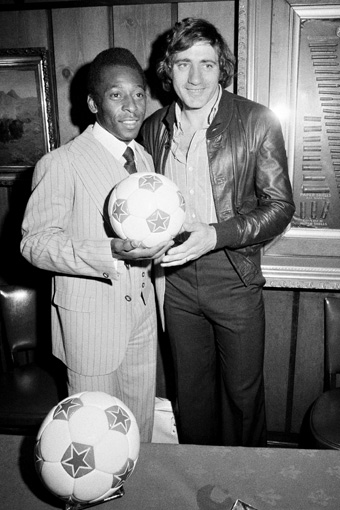 AP Photo/Ray HowardMaking nice: Chinaglia and Pele mug for the camera, but the two often clashed. "He's just another player I'll have to carry until he gets fit," Chinaglia said of Pele when he arrived at the Cosmos out of shape.
When Chinaglia arrived in New York in 1976, he was still in his prime, having been Serie A's leading scorer only two years earlier while leading Lazio to the championship. Despite a tempestuous performance in the 1974 World Cup that saw him flipping off Italy's manager after being substituted, Chinaglia was so beloved by Lazio supporters that they named their first-born after him and threatened to throw themselves beneath the wheels of the plane that whisked him to New York in the dead of the night.
When I asked him before his first practice with the team to characterize his American mission, he said, "I am here to score goals for the Cosmos and to let people know what a Chinaglia is."
He delivered spectacularly on both while becoming perhaps the most polarizing soccer star ever to step foot on U.S. AstroTurf. Though he initially said it would be an honor to play with Pele, he was quick to criticize the Brazilian demigod when he showed up late and overweight to Cosmos training camp in 1976.
"He's just another player I'll have to carry until he gets fit," Chinaglia said. The Latin fans hated him for that. Then, when word got out that the Cosmos were on the verge of signing the great German defender Franz Beckenbauer, Chinaglia opined that the team would be better off signing several American players for what they were paying Der Kaiser. The German fans hated him for that. "Every time I breathe, I insult someone," he once told me. "If a dog chokes on a bone around here, they blame Chinaglia."
They could blame him all they wanted, but he would outlast all the superstars -- not to mention all the managers, executives and dancing girls -- in the Cosmos galaxy because of his unusual bond with Steve Ross, the head of Warner Communications, the entertainment conglomerate that owned the Cosmos. Ross saw in Chinaglia the kind of celebrated athlete who could thrive in the wheeler-dealer culture of the boom years. This became clear to me one day in 1977 when I went to interview Ross in his sprawling office suite on the 29th floor of the Warner building. After negotiating a phalanx of security guards, I was ushered into the throne room, where Ross sat behind the desk punching up numbers on an electronic ticker that spat out the latest Wall Street quotations. Across from him were two matching pigskin sofas. On one of them reclined Chinaglia, sipping 21-year-old Chivas, straight up.
I asked Ross about his close relationship with his star striker. "Giorgio is my eyes and ears in the locker room" he said unabashedly.
And what a locker room it was! During the glory years of the late '70s, you were liable to run into the most glittering posse of groupies to frequent any sport in this country. Mick Jagger, Robert Redford, Barbra Streisand, Elton John, Rod Stewart and, of course, the former goalkeeper-turned-Secretary of State Henry Kissinger all had the run of the Cosmos locker room. In the middle of the celebrity circus stood Chinaglia, holding court with the media in his blue-and-white striped velvet bathrobe, often with a cigarette in one hand and a glass of scotch in the other. "Giorgio was like the Godfather," former Cosmos goalkeeper Shep Messing said. "Because of his relationship with Ross, everyone was expected to kiss the ring."
And everyone did except for a certain 5-foot-6 Brazilian known to the world as The Black Pearl. When your mere presence in a war-torn country is enough to cause a 48-hour ceasefire, as it did when Pele visited Nigeria in 1967, you are not about to genuflect to anyone. So when Chinaglia pointed out during a tactical session that Pele should play in a wider position to give him more room to operate in the penalty area, Pele lost his preternatural expletive-free cool.
"You shoot from no f------- angle in the box," Pele fired back.
Chinaglia was incensed and, according to Messing, sprang off his stool as if to throttle Soccer's Supreme Being, shouting "I am Chinaglia. If I shoot from some place, it's because Chinaglia can score from that place."
I recounted that anecdote on screen in "Once in a Lifetime," and when Chinaglia enveloped me in a bear hug outside the movie theater in 2006, I wasn't sure whether he was happy to see me or wanted to crush the life out of me for my breach of journalistic omerta.
ESPN FC on Twitter
Don't miss a moment of the latest soccer coverage from around the world. Follow us on Twitter and stay informed. Join »
"I hope you didn't mind me telling that story about you calling out Pele," I said to Chinaglia. His eyes twinkled with that familiar blend of menace and mischief.
"If I did," he replied, "you wouldn't be standing here."
Rest in peace, Giorgio, and here's hoping no one boos you in heaven.
David Hirshey has been covering soccer for more than 30 years and has written about the sport for The New York Times, Time, ESPN The Magazine and Deadspin. He is the co-author of "The ESPN World Cup Companion" and played himself (almost convincingly) in the acclaimed soccer documentary "Once in a Lifetime."
Soccer on ESPN.com

Follow Soccer on ESPN: Twitter
Coverage on ESPN FC
Euro 2012 in Review
MOST SENT STORIES ON ESPN.COM