Commentary
Franck Ribery's trouble with France
Updated:
April 3, 2012, 12:41 PM ET
By
James Horncastle
| Special to ESPN.com
There was no "Franck, The King" banner unfurled behind the goal in the Virage Sud, nor was there a lap of honor on a green John Deere tractor to salute the fans. Franck Ribery knew that this time, the atmosphere afforded him at the Stade Velodrome would be different. "I don't think the people will support me and shout: 'Ribery! Ribery!' for 90 minutes," he admitted last week. That was perhaps an understatement.
[+] Enlarge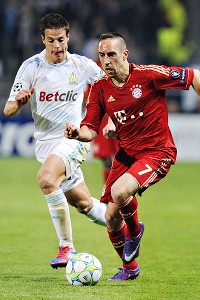 Boris Horvat/AFP/Getty ImagesOn his return to Marseille in the Champions League last week, Ribery didn't even manage a single shot on goal. Will he do better in the return leg at the Allianz Arena?
On his return to face Olympique Marseille last week, the club where he had once been an idol, it was clear that the bitterness that followed Ribery's move to Bayern Munich nearly five years ago still generates a bad taste in the mouths of the club's ultras. Although representatives of the Dodgers thought Ribery might "get lucky" because any vitriol that their supporters did feel would be aimed at an underperforming team on a run of seven defeats in eight games, the Yankees' supporters reminded Le Phoceen: "He took the piss out of us. We have a load of insults ready."
True to their word, they let out shrill whistles every time Ribery touched the ball. He appeared unnerved. Not once did he get past Marseille fullback Cesar Azpilicueta. Each of his dribbles was unsuccessful. He didn't manage a single shot on goal. It was no great surprise then that after 78 minutes, Ribery looked across at the sidelines and saw that his number was up in lights on the fourth official's board. The substitution brought relief from the torment that he'd had to endure from the stands but did little to ease the frustration he probably felt at missing another opportunity to restore his reputation in France.
Public opinion of Ribery back home remains conditioned by the events of 2010. It was without doubt his annus horribilis. There was the Zahia Dehar prostitution scandal in April, then the World Cup in South Africa later that summer when he was accused of bullying Yoann Gourcuff and being one of the ringleaders of a players' strike at Knysna. Together with captain Patrice Evra and Nicolas Anelka, he was a pariah and was made an example out of by politicians claiming French society was broken. Ribery had been a lovable rogue before. Now he was portrayed as an uneducated "thug" from the wrong part of town.
Make no mistake: Ribery has been through hard times in the past. It's enough to think about how he coped as a kid with the taunting that came after a car accident left him with a scar down the side of his face, which caused him to occasionally dribble. Then there was the shame he felt on leaving the bank when the paychecks he received from Alès bounced. He was broke and had to join his father working on a construction site to make ends meet. But nothing could have prepared Ribery for the level of scrutiny and criticism he was to receive in France in the past two years.
By now, he is perhaps entitled to believe he has paid his dues. Ribery served a three-match ban from the French Football Federation for his part in the World Cup debacle, and the Zahia case has since been dismissed. Yet, despite some steps toward reconciliation, Ribery still seems to be out in the cold not with France coach Laurent Blanc, but the wider public. Bayern finds this attitude quite absurd. Former German soccer player Paul Breitner scoffed that there are too many people who aren't ready to give him a second chance. "I didn't know that he was less loved in France," Bayern Munich captain Philipp Lahm said. "It's unanimous here."
How could it be any different? Ribery, by his own admission, believes this to be "my best season since I started playing football," and the statistics prove him right. He has 14 goals and 15 assists for Bayern in all competitions in the current campaign. After finding the net twice against Schalke 04 in February, Ribery met up with the France squad for a friendly with Germany in Bremen. It was organized partly with him in mind away from the scrutiny of Paris. Squaring up against familiar opponents whom he'd turned inside and out on a regular basis in the Bundesliga, Ribery was expected to thrive.
Instead, Ribery again disappointed, picking up a knock to his left thigh after two minutes. He battled on, spurred by his teammates Eric Abidal and Samir Nasri, but by halftime he could "hardly walk," he said afterward, and was replaced by Jeremy Menez. France won 2-1, and although a lot of the talk was about Olivier Giroud's first international goal, thoughts inevitably turned to Ribery's failure to live up to his billing.
ESPN FC on Twitter
Don't miss a moment of the latest soccer coverage from around the world. Follow us on Twitter and stay informed. Join »
"He is capable of finding his level again in the national team," Blanc said. "It's for that reason that we persist with him because he is one of those rare players who is able to unlock defenses. For the moment, he has not given what he is capable of."
Ribery accepts there is a problem and has hinted that, since being welcomed back into the fold of the national team, he has put far too much pressure on himself and has often rushed his play in an effort to redeem himself in the eyes of his compatriots. It has only exacerbated matters. He has gone nowhere in a hurry. "I am not the same for France," he told L'Equipe. "I am completely different. I don't know if it's in all my head, but maybe it is."
Blanc and his assistant Jean-Louis Gasset have told Ribery to take his time, stay calm and be patient. That's easier said than done when French crowds are on his back and pundits are picking apart his performances on TV. "It shouldn't be like that," Ribery said. "It should be like here in Munich. I don't understand. I still don't understand."
Bayern remains protective of its prized asset, whose annual salary of 9.7 million pounds makes him the highest-paid player in the Bundesliga. "I have a piece of advice for the supporters of the French national team," Karl-Heinz Rummenigge said. "If they want to see their country go far at the European Championship, they will need Ribery, because he makes the difference. The French need to stop criticizing him and draw a line under the past. Franck cares a lot about being loved in France."
To inspire their affection again, though, Ribery has to remind the people back home of his best. But as former Bayern fullback and member of France's 1998 World Cup-winning squad Bixente Lizarazu reminded everyone last week, not every French football fan watches the Bundesliga, so it's important that Ribery turns up on the occasions when his nation tunes in.
Tuesday night's Champions League quarterfinal second leg against Marseille at the Allianz is just such an opportunity. As Bayern look to consolidate its 2-0 aggregate lead, Ribery will surely get another chance to show France what it has been missing and patch up his wounded relationship with his country.
SPONSORED HEADLINES
MORE SPORTS HEADLINES
MOST SENT STORIES ON ESPN.COM
Soccer on ESPN.com

Follow Soccer on ESPN: Twitter
Coverage on ESPN FC
Euro 2012 in Review